Two North Carolina State University employees were among 16 winners of State Employees' Awards of Excellence recognized during a ceremony at the North Carolina Museum of History Oct. 15.
Ann Turner, a customer service representative in the cashier's office, received her award for outstanding state government service, embodied in selfless devotion to duty far above and beyond normal requirements. Women's basketball coach Kay Yow received the Spirit of North Carolina award, a new award given to state employees who embody North Carolina's motto, "To be, rather than to seem."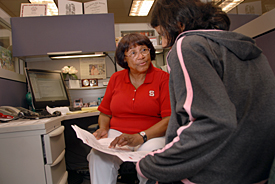 Providing exemplary service while collecting tuition payments can be a tricky task, but the 81-year-old Turner handles it with aplomb. Calling it "the Ann Turner way," she carefully combines a grandmotherly charm with important messages about responsibility and doing things the right way. Students enjoy her wit and wisdom, frequently asking for "Miss Ann" or "Mama Turner" when visiting the cashier's office.
In 32 years as NC State's women's basketball coach, Yow has amassed more than 700 wins, becoming only the seventh woman in history to perform the feat. She has also coached U.S. Olympic teams to two gold medals. She's also a member of the Naismith Basketball Hall of Fame.
But beyond the numerous wins, medals and awards, Yow has been an inspiration during her ongoing battle with cancer. Her game promotion, Hoops for Hope, has raised thousands of dollars for cancer research and has uplifted and inspired thousands in the fight for the cause and the cure.
Created in 1982, State Employees' Awards of Excellence are the highest honor a state employee can receive for dedicated service to the state and the citizens of North Carolina. Each year, state agencies and universities nominate their most outstanding employees for awards in five categories: human relations; innovations; outstanding state government service; public service; and safety and heroism. Recipients are chosen by a five-member awards committee.