Heart of Darkness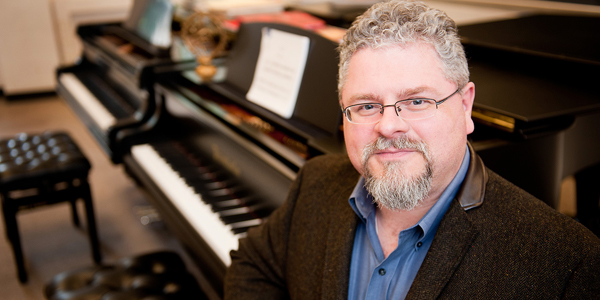 If you've notice the lights burning late into the night in Broughton Hall, there's a natural explanation. Lightning seems to have struck NC State's prolific composer, J. Mark Scearce, on several occasions in the past month – in a metaphorical sense, of course – igniting his creative energy.
First came the announcement that Scearce had been commissioned by a New York opera company to compose a new opera – a signature honor and an opportunity to burnish his reputation as a rising talent.
That was followed less than a week later by reports that Scearce had found inspiration in a darkly stylish horror novel and was moving to secure the dramatic rights from the author.
Then came news that the composer would team up with New York playwright Lucy Thurber to adapt the book for an entirely new genre of their own creation: opera noir.
Anything Goes
"We're stretching the form," Scearce said in a recent interview, scheduled in the middle of a daylong collaboration with Thurber. "Opera lovers will look critically to see if we succeed. If we do, we'll bring new converts into the fold."
Growing the audience for opera would be an enormous achievement. Although many major American cities have an opera company, few have the resources to underwrite new works, even if they wanted to take the risk.
But if Scearce and Thurber feel the weight of high expectations, neither shows it. In fact, during the interview they seemed like kids in a candy shop, eager to overindulge.
"Opera is tremendous fun," Thurber said. "Anything goes. There's no subtlety in it."
The Power of the Dark Side
When Scearce received the commission from the Center for Contemporary Opera, along with funding from the Virginia B. Toulmin Foundation, he first considered setting his music to an original story. But he's a longtime fan of William Hjortsberg's 1978 novel, "Falling Angel," unique for its genre-crossing storyline – part hardboiled detective novel, part supernatural thriller.
Movie buffs will remember the story from the graphic 1987 film adaptation, "Angel Heart," starring Mickey Rourke as a private investigator, Robert De Niro as the devil and Lisa Bonet as a voodoo priestess.
When Scearce found out the author still owned most of the non-film rights, he moved fast and inked a deal to option the novel for his new opera.
Thurber said it was a smart decision.
"It would make a killer opera," she told Scearce. "It has everything you look for: huge drama and very clear archetypes."
"There's no better archetype than Satan," Scearce agreed.
Touched by an Angel
The devil may give the collaboration its spark, but it was an angel that brought the artists together – in the form of a seed grant from the College of Design, where Scearce recently received tenure as a professor of art and design. The college's Strategic Research Fund awarded Scearce a grant this spring so he could interview potential librettists for the project in New York.
"Lucy stood out," Scearce said. "She gave me four plays to read and I loved them all. I love all her work."
The feeling is mutual.
"I find life to be a beautiful, dark and funny thing," Thurber said. "Mark's music is deeply romantic, and I'm deeply romantic. So there's a shared sensibility. We were predestined to work together."
Scearce is director of the music department at NC State. He won the Raleigh Medal of Arts in 2010 and the prestigious Sackler Prize in music composition in 2009. His works for orchestra, chorus, chamber, opera and ballet have been performed worldwide and are available on seven commercial recordings.
Thurber, the author of 10 plays, won the Gary Bonasorte Memorial Prize for Playwriting in 2008 and a Manhattan Theatre Club Playwriting Fellowship in 2000. She teaches at New York University and Sarah Lawrence College.
"Falling Angel" will receive its world premiere at the Center for Contemporary Opera in New York in the fall of 2015. It may be performed in Europe and the United States, including North Carolina, after its New York run.