Odierno Honored for Service to Football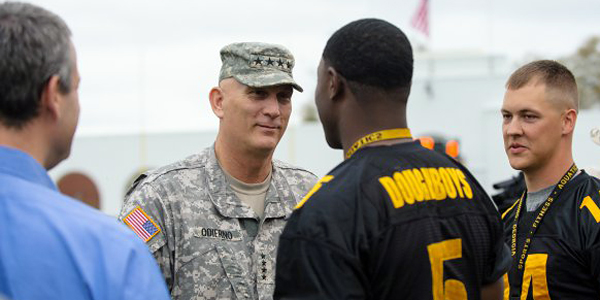 The National Football Foundation announced today that Gen. Ray Odierno, an NC State alumnus who serves as Army chief of staff, will receive the organization's 2013 Distinguished American Award at its annual awards dinner in New York on Dec. 10. The award recognizes an outstanding person who has maintained a lifetime of interest in the game and who, over a long period of time, has exhibited enviable leadership qualities and made a significant contribution to the betterment of amateur football in the United States.
Odierno will become the 42nd recipient of the award. Previous honorees include journalist Tom Brokaw, comedian Bob Hope, NFL coach Vince Lombardi and actor Jimmy Stewart.

"Gen. Odierno is a great example of those who played football growing up and used what they learned to become exceptional leaders and do great things in life," said foundation CEO Steve Hatchell. "His accomplishments and sacrifices make him the perfect recipient of the NFF Distinguished American Award."
A 1976 graduate of the United States Military Academy at West Point, Odierno became the 38th chief of staff of the United States Army on Sept. 7, 2011. He boasts more than 37 years of military experience, and has served in Albania, Germany, Kuwait and Iraq.
An executive officer in operations for Desert Shield and Desert Storm in the 1990s, Odierno returned to the Middle East in 2003 as the commander of the 4th Infantry Division during Operation Iraqi Freedom. His troops captured Iraqi leader Saddam Hussein outside of Tikrit in December 2003.
Odierno grew up in Rockaway, N.J., playing tight end on a championship football team at Morris Hills High School.  At an imposing 6 feet 5 inches, he was recruited by West Point to play football and baseball, but Odierno suffered a knee injury his freshman year, which forced him to forgo football. He shifted his focus to baseball, earning three letters as a pitcher for the Black Knights.
A lifelong football fan, Odierno recently strengthened his connection to the game, joining NFL Commissioner Roger Goodell to announce a collaborative effort between the military and the NFL to combat brain injuries by sharing information and resources. Both organizations have placed special sensors in the helmets of soldiers and players to detect head trauma, and they are coordinating strategies and tests to ascertain if a concussion has been sustained.
Odierno holds a master's degree in nuclear effects engineering from NC State. He graduated from the Army War College and received a master's degree in national security and strategic studies from the Naval War College. Odierno has two honorary degrees: a doctorate in humane letters from NC State and a doctorate of laws from the Institute of World Politics.
Odierno has received some of the country's top accolades, including four Defense Distinguished Service Medals, two Army Distinguished Service Medals, the Defense Superior Service Medal, six Legions of Merit, the Bronze Star, the Defense Meritorious Service Medal, four Meritorious Service Medals, the Army Commendation Medal, the Army Achievement Medal and the Combat Action Badge. He has also received the Secretary of State Distinguished Service Medal and Orders of Military Merit from Brazil, Columbia, Romania and Italy. He is an officer in the French National Order of the Legion of Honor.
The NFF awards dinner will provide the stage for the induction of the 2013 College Football Hall of Fame class from the Football Bowl Subdivision; the awarding of the 2013 NFF National Scholar-Athlete Awards presented by Fidelity Investments; and the bestowing of the 24th NFF William V. Campbell Trophy to the nation's top scholar-athlete.
This year's College Football Hall of Fame FBS class includes: Ted Brown (NC State), Teddy Bruschi (Arizona), Ron Dayne (Wisconsin), Tommie Frazier (Nebraska), Jerry Gray (Texas), Steve Meilinger (Kentucky), Orlando Pace (Ohio State), the late Rod Shoate (Oklahoma), Percy Snow (Michigan State), Vinny Testaverde (Miami, Fla.), Don Trull (Baylor), Danny Wuerffel (Florida) and coaches Wayne Hardin (Navy, Temple) and Bill McCartney (Colorado). The 2013 NFF National Scholar-Athlete class will be announced on Oct. 31, and the winner of the Campbell Trophy will be announced live at the event.