10 Named to Athletic Hall of Fame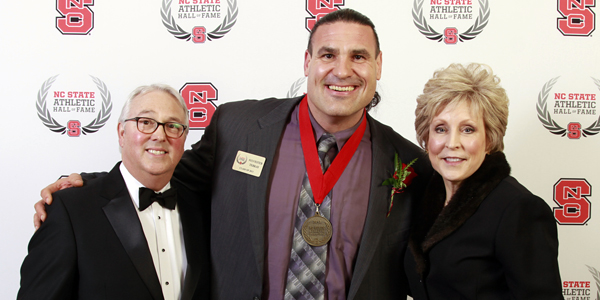 The newest 10-member class of the NC State Athletic Hall of Fame includes the most versatile student-athlete of the school's first half-century and two of legendary head coach Everett Case's most decorated players.
Jack "Spindle Legs" McDowall earned 11 letters in four different sports and led State College to its first Southern Conference championships in both football (1927) and basketball (1929), while also playing baseball and running track. He is the school's most decorated multi-sport athlete, selected for the North Carolina Sports Hall of Fame and the College Football Hall of Fame.
Both Dick Dickey and Lou Pucillo helped Case, a member of the hall's inaugural class, build and sustain his nationally recognized program. Dickey is one of the school's three three-time All-Americans in basketball, while Pucillo was named both the 1959 ACC Player of the Year and Athlete of the Year.
Five other athletes, one coach and one special contributor are also included in the new class: football players Dennis Byrd and Danny Peebles, women's basketball player Chasity Melvin, women's soccer standout Charmaine Hooper, swimmer Steve Rerych, former baseball and assistant basketball coach Sam Esposito and longtime financial booster Wendell Murphy.
McDowall, Dickey and Byrd will be inducted posthumously, while the remaining members of the class are expected to be on hand for the Oct. 10 induction ceremony at Reynolds Coliseum. They will also be recognized the next day at halftime of the NC State-Boston College Football game at Carter-Finley Stadium.
"Once again, the [election committee] made excellent choices for the third class being inducted into the NC State Athletic Hall of Fame," said director of athletics Debbie Yow. "Telling the NC State story through the inductions makes the achievements come alive to those who attend the gala. And, by the fall of 2016, the hall will have a new and permanent home in the Reynolds Walk of Fame and History."
The new class brings the total number of athletes, coaches and special contributors in the hall to 30, representing a total of 10 varsity sports.
2014 NC State Athletic Hall of Fame Class:
| | | |
| --- | --- | --- |
| Name | Sport | Years Competed |
| Dennis Byrd | Football | 1964-67 |
| Dick Dickey | Men's Basketball | 1946-50 |
| Sam Esposito | Baseball Coach | 1967-87 |
| Charmaine Hooper | Women's Soccer | 1987-90 |
| Jack McDowell | Multi-sport (Football/Basketball/Track) | 1926-29 |
| Chasity Melvin | Women's Basketball | 1995-98 |
| Wendell Murphy | Special Contributor | |
| Danny Peebles | Track & Field/Football | 1984-88 |
| Lou Pucillo | Men's Basketball | 1957-59 |
| Dr. Steve Rerych | Men's Swimming | 1964-68 |
Current Members of the NC State Athletic Hall of Fame:
| | | |
| --- | --- | --- |
| Student-Athletes | | |
| Name | Sport | Year Inducted |
| Genia Beasley | Women's Basketball | 2012 |
| Tommy Burleson | Men's Basketball | 2013 |
| Mike Caldwell | Baseball | 2013 |
| Ted Brown | Football | 2012 |
| Roman Gabriel | Football | 2012 |
| Steve Gregg | Men's Swimming | 2013 |
| Torry Holt | Football | 2013 |
| Tab Ramos | Men's Soccer | 2012 |
| Jim Ritcher | Football | 2012 |
| Ronnie Shavlik | Men's Basketball | 2013 |
| Betty Springs Geiger | Track & Field/Cross Country | 2013 |
| Julie Shea Sutton | Track & Field/Cross Country | 2012 |
| Andrea Stinson | Women's Basketball | 2013 |
| Sylvester Terkay | Wrestling | 2013 |
| David Thompson | Men's Basketball | 2012 |
| Coaches | | |
| Everett Case | Men's Basketball | 2012 |
| Earle Edwards | Football | 2013 |
| Norman Sloan | Men's Basketball | 2013 |
| Jim Valvano | Men's Basketball | 2012 |
| Kay Yow | Women's Basketball | 2012 |