Cuban Rhythms Reverb in Talley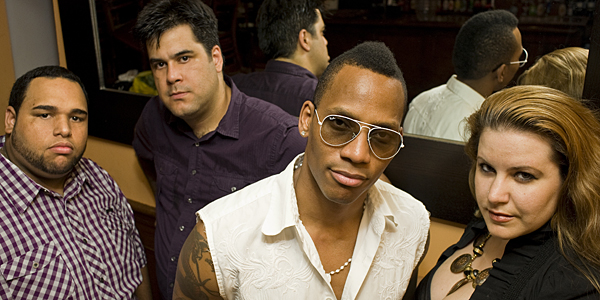 "Complex, blenderized Africa-to-the-New-World funk."
That's how Ben Ratliff of the New York Times summed up the percussion-charged sound of the Pedrito Martinez Group, the tightest Afro-Cuban band in New York, led by world-class conga player, singer and bandleader Pedrito Martinez.
The band performs at the Talley Student Union at 8 p.m. Saturday, April 12. Buy tickets via Ticket Central at 515-1100 or order online at go.ncsu.edu/pedrito. Show up at 7 p.m. for a free lesson in the basics of Cuban salsa dance.
Rumba Roots
Born in Havana in 1973, Martinez began his musical career at the age of 11, performing as a vocalist and percussionist with such Cuban legends as Tata Güines and Los Muñequitos de Matanzas. Since moving to New York, Martinez has collaborated with Sting, Paul Simon, Wynton Marsalis, Paquito D'Rivera, Meshell Ndegeocello, Eddie Palmieri, Cassandra Wilson, Joe Lovano, and the Jazz at Lincoln Center Orchestra.
The Pedrito Martinez Group has its roots planted firmly in the rumba tradition and in the batá rhythms and vocal chants of the music of Yoruba and Santeria.
A consummate master of Afro-Cuban folkloric music, Martinez doesn't just play the obligatory handful of standard batá rhythms – he plays the monumentally complex Oru seco exquisitely on each drum, or on all three at once. He's also the world's first-call rumbero – playing, singing and dancing with dozens of groups and on over 100 recordings and contributing to or appearing in several important films, including "Calle 54" and "Chico and Rita."
Martinez is joined in the band by Ariacne Trujillo from Cuba (piano and lead vocals), Alvaro Benavides from Venezuela (electric bass and background vocals) and Jhair Sala from Peru (percussion and background vocals).
This final performance of the 2013-14 NCSU Center Stage season will also be a first: Martinez and his band will be the first to perform in the ballroom of the new Talley Student Union.  Using the ballroom for this concert offers an ideal opportunity for a lively mixed standing/seated event with a dance floor.