Faculty and Staff
Jenkins MBA Scores Again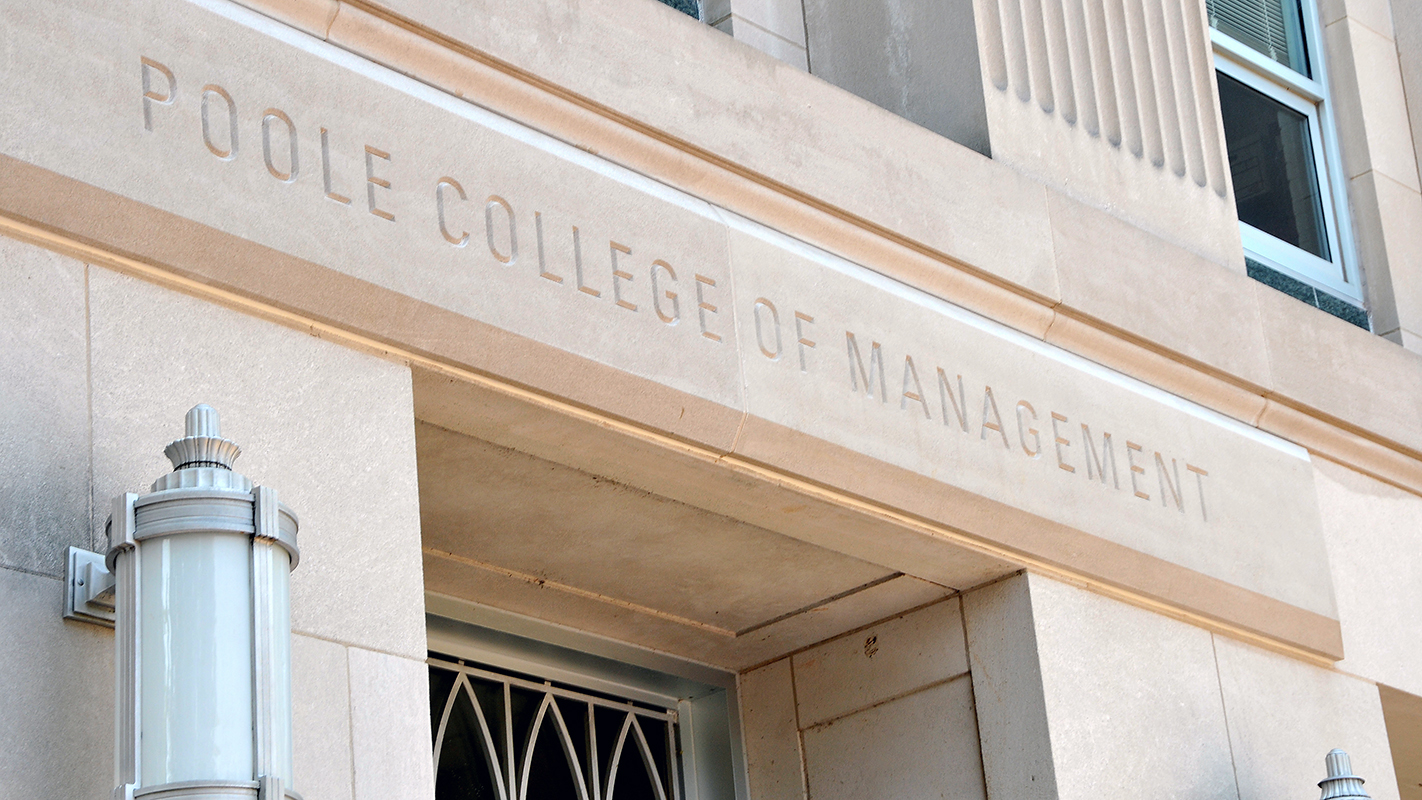 NC State's Jenkins Graduate School of Management moved up six spots on a widely watched ranking of MBA programs, continuing its impressive drive to enhance its national reputation for quality and innovation.
Jenkins marched to 72nd place on an annual list of the nation's top 100 business schools, up from 78th place last year. The list, published online by the popular website Poets & Quants, collects data from the five most influential business school rankings in the world to assign an overall score.
Metrics include GMAT and GPA scores of incoming students, acceptance rates, starting salaries of graduates and job offers at graduation.
NC State academic leaders said the program's reputation is well earned, reflecting the university's strategic efforts to foster collaboration, innovation and experiential education.
"The Jenkins MBA program focuses on cross-disciplinary solutions to business and industry's most complex problems, from the challenges of big data to the pressures of global supply chain management," said Steve Allen, associate dean for the graduate school. "NC State's remarkable mix of world-leading faculty, technology leadership, and real world project opportunities through industry partnerships makes the Jenkins MBA program uniquely tailored to the needs of both our students and their future employers."
Innovation and Technology Leader
"Our hands-on, practical approach to MBA education coupled with our focus on innovation and technology pays dividends for our graduates, our program, and perhaps most notably the companies we serve," said Ira Weiss, dean of the Poole College of Management.
"I am incredibly proud of the growth of performance of our Jenkins MBA programs," added Weiss, who was recently named the inaugural recipient of the Stephen P. Zelnak Jr. Chair, the first endowed Dean's Chair at NC State.
Building a National Reputation
This is the second time Poets & Quants has delivered good news about the Jenkins Graduate School in the past three months. In September, the site named Jenkins' online MBA as one of the top 20 programs in the nation.
The school's national rankings have increased sharply in recent years. Bloomberg BusinessWeek ranked the full-time MBA 54th in the nation last month—up nine spots from 2012—following its top-20 ranking of the part-time, professional program in January. U.S. News & World Report ranked the online program No. 36 on its January list of the best graduate online business programs, an increase of six spots from the previous year, and judged the full-time MBA 65th in the nation, up 23 spots. The part-time program jumped a dozen spots this year to rank 61st in the nation on the U.S. News list.
The Jenkins MBA, launched in 2002, is offered through the Poole College of Management.