Athletics
Hoops Standout Fuller Gets Another NC State Degree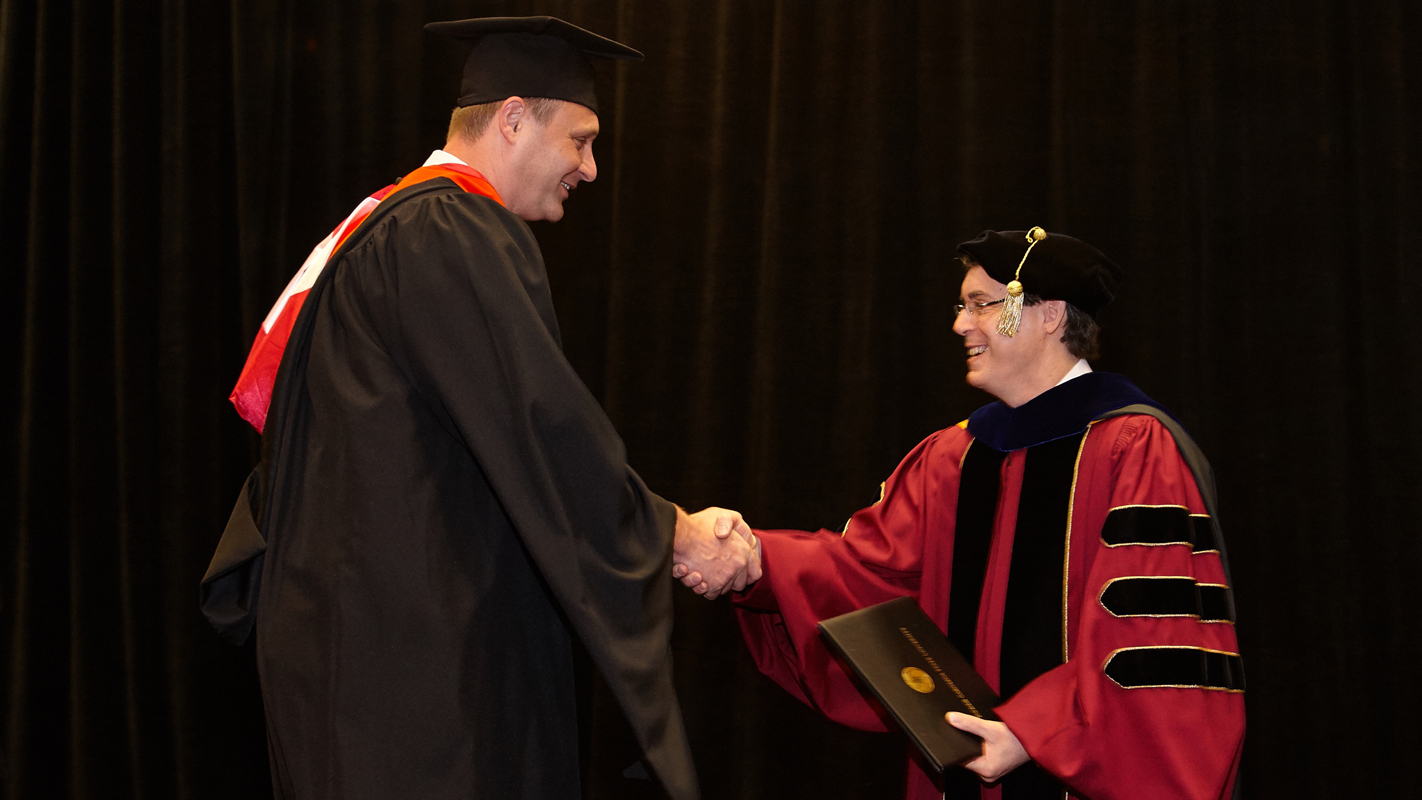 Like many students in the NC State Graduate School, Todd Fuller took some time between getting his undergraduate and master's degrees.
Twenty years, in fact.
That's because the former NBA first-round draft pick spent 12 years traveling the globe pursuing professional basketball on every continent on which James Naismith's game is played. After retiring in 2007, he took some time trying to decide what he wanted to do next.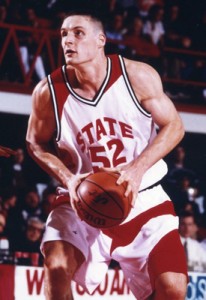 He coached a seventh-grade basketball team and was the athletics director for a small private school in his hometown Charlotte. He spent five years as a high school math teacher.
He and his wife Libby started a family. They now have two daughters and a son, all under elementary school age.
He fulfilled a longtime dream of getting his pilot's license and served on the Airport Advisory Committee for the Charlotte-Douglas International Airport.
He continued to work with NC State mathematics professor John Griggs on holding the annual Todd Fuller Mathematics Competition for Raleigh-area high school students, donating the scholarship money given to the top three competitors. He's also served as a member of NC State's Park Scholarship Selection Committee.
Two years ago, at Griggs' suggestion, Fuller started looking into NC State's innovative and rigorous Master of Science in Analytics program offered through the Institute for Advanced Analytics. For each of the last three years, nearly every student that has completed the year-long course has been placed in a high-paying job in the field of data analytics before commencement.
Last fall, Fuller was accepted into the largest class in the program's nine-year history, a total of 114 students in the intensive 10-month program. He packed up his family and moved back to Raleigh, where he became reacquainted with classwork, long nights of studying and group projects with similarly talented students.
He loved every minute.
"It seemed like a good fit for me," said Fuller, a 1996 summa cum laude graduate in applied mathematics who was a member of NC State's first Phi Beta Kappa class.
The 6-foot, 10-inch forward always enjoyed breaking the stereotypes associated with being a college basketball player and math major. In 1996, when he was named GTE's top academic All-American and was a first-team All-ACC selection, Fuller averaged a league-leading 20.9 points per game and was second to Wake Forest's Tim Duncan with 9.9 rebounds per game. He was named the Paine Webber Scholar-Athlete of the Year and an NCAA Postgraduate Scholarship.
His dual academic and athletic accomplishment merited having his No. 52 jersey honored in the rafters of PNC Arena.
"Whatever I get into, I want to excel at it to the best of my ability," he says. "A lot of people in society stereotype and think that if someone is into basketball they are probably not going to get into something that is academically intense.
"I never felt that way."
Fuller was a candidate for a Rhodes Scholarship, but the financial future as an NBA player was too great not to pursue. He was the 11th overall pick in the 1996 draft by the Golden State Warriors.
"Todd is one of the finest gentlemen I've ever taught … ever known, for that matter," says Griggs, who doubles as the coordinator for statistics for Wolfpack home basketball games. "He was a true student-athlete in every way, maximizing his abilities in both endeavors.
"He was the top scholastic athlete in the nation his senior year—a 3.97 grade point average in applied mathematics, while achieving first-team All-ACC honors in basketball."
Last weekend, the IAA held commencement exercises for Fuller and his classmates. They also will be part of the regular commencement exercises on May 6 at PNC Arena, the home of Wolfpack basketball, though not the place where the Reynolds Coliseum-era Fuller played his home games. Not all have accepted jobs in the burgeoning analytics field just yet, but they are close.
For the 41-year-old Fuller, the opportunities seem endless, whether it's in basketball, education, finance, healthcare or aviation.
"The analytics field is so broad and growing," he says. "There are so many opportunities for anyone getting into this field."