Alumni
Alum Robertson Finalist for 'MythBusters' Host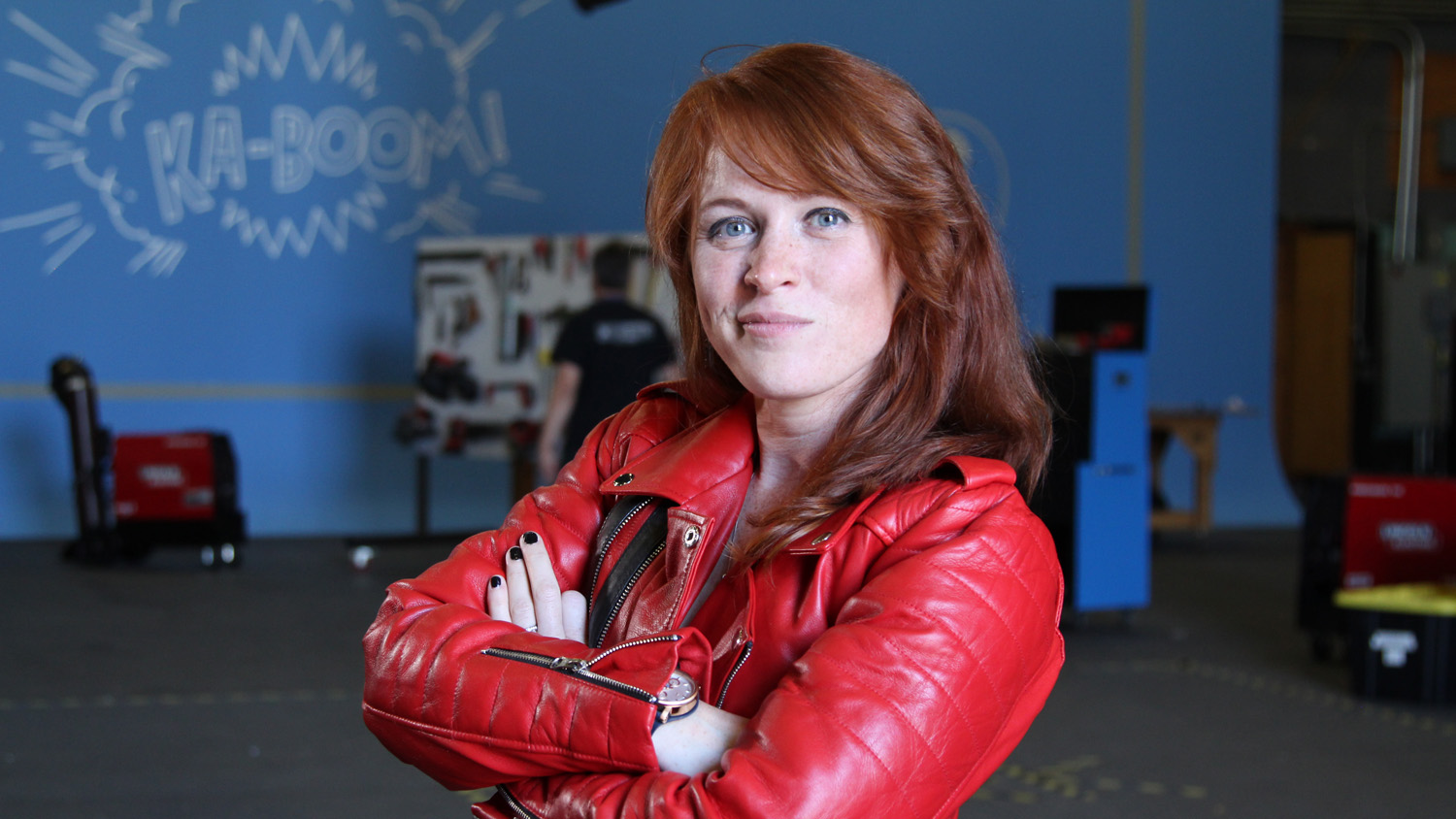 She has built an ejector seat for a moving car, used a homemade crossbow to launch heads of cabbage at targets and allowed rats, snakes and worms to crawl all over her. On Saturday night, Tamara Robertson will find out if it was enough to make her a Mythbuster.
Robertson, who graduated from NC State in 2009 with a degree in chemical and biomolecular engineering, is one of four finalists in a reality show on the Science Channel to find the next hosts for a new iteration of MythBusters. The popular show aired on the Discovery Channel for 14 years before it came to an end last year.
The Science Channel is bringing the show back, and so the network pitted 10 contestants against each other in a reality show, MythBusters: The Search, to find replacements for previous Mythbusters Jamie Hyneman and Adam Savage. After seven episodes featuring a variety of scientific challenges (and, not surprisingly, blowing stuff up), the final episode will air at 9 p.m. Saturday. Robertson is one of four finalists to make it to the last show, and the new Mythbusters will be revealed live on Saturday night.
"They have not told us how many will be picked," Robertson said on Thursday. "We will find out with the world how many there will be and who it will be. It's going to be an exciting day. Nerve-wracking, as well."
Robertson, who lives in Los Angeles, worked as an engineer for companies such as Novartis and Milliken before deciding in 2015 to put her career on hold while she pursued another passion – acting. She gave herself a year to make it work. She landed parts in a few small independent films, Web series and television pilots, but had to take jobs in wardrobe design to make ends meet. Her year was almost up when she got the call that she would be on MythBusters: The Search.
No matter the outcome on Saturday, Robertson says the experience has been fantastic. One of the highlights was building a suction device that allowed her, like Spider Man, to walk up the outside of a seven-story building. She says her scariest moment on the show will be aired Saturday night in a previously taped segment. "Every experience has been so amazing, so unlike anything you get to do in industry," she said.
One aspect of the experience that stands out for Robertson is the platform the show has given her to connect with girls and young women interested in the STEM fields of science, technology, engineering and math. She has heard from countless parents wanting to thank her for being a positive role model for their daughters. "It's been incredible," she said. "It's so much more than I thought it would be."
As she awaits the news of her fate, Robertson will have Monk-Monk, a tie-dyed stuffed orangutan with her for good luck. "He was with me every step of the way on the search," she said. "He will be with me now."