Faculty Strengthen Communities Through Extension and Engagement
This weekend, eager theatergoers in Raleigh will line up to see the Carolina Ballet's darkly beautiful production of Dracula, just in time for Halloween. The crowd-pleasing show will bring in crucial revenue for the nonprofit arts organization, helping them to mount other productions during the year that may sell fewer tickets despite their artistic merit. It's a win-win-win for local dance fans, the ballet company and the art form itself — and it wouldn't have happened without the purposeful community engagement of an NC State faculty member.
J. Mark Scearce, professor of art and design and former director of the Music Department, is also a professional composer, and he created a new original score for Dracula as a special commission for the Carolina Ballet. He says his experience is a good example of what faculty engagement looks like and how it strengthens local communities.
"In 2010 this struggling ballet company came to me and said, 'You know what we need? A Halloween show that will bring in crowds to support our work year round,'" Scearce says. "That made sense, so we worked together to devise the best way to reach people and get them to come to the show. Then I went away and hammered out the music for a full evening of dance that's not just fun for audiences; it also generates the support the company needs so they can do other work that's less popular, even though it's just as good from an artistic standpoint." The current production of Dracula marks the fourth time the company has mounted the successful show since its 2010 premiere.
That year, NC State's Office of Outreach and Engagement recognized Scearce's service with an Outstanding Extension Service Award, and he was inducted into the university's Academy of Outstanding Faculty in Extension and Engagement. In 2018 he was elected chair of the academy, which promotes and recognizes excellence in extension and engagement.
"Extension and engagement are part and parcel of who I am," Scearce says, "so it's a real honor to be the chair of something I've been doing my whole life. It's an acknowledgment of my work, but it's also an opportunity to wave the flag for something that I have always thought is really important. If the university exists on a hill and doesn't serve the community, that's anathema to what we're here to do."
The academy was formed in 1978 under a slightly different name: the Academy of Outstanding Faculty Engaged in Extension. Earlier this year the academy changed its name to highlight the distinction between engagement and extension.
"When you think about extension, you typically think about faculty working in a field like crop science," Scearce says. "They're taking their expert knowledge, transferring it to those in the community who need it and helping them apply it. So a crop scientist uses their knowledge to help farmers fight pests or increase yields."
Engagement, on the other hand, is characterized by reciprocal partnerships that engage external communities to address community-identified needs, such as the Carolina Ballet asking Scearce to compose the score for a show that would draw large crowds and sustain them financially.
In addition to changing its name, the academy worked with the Office of Outreach and Engagement to split the Outstanding Service in Extension Award into two new awards: the Outstanding Extension Award and the Outstanding Engagement Award. As with the name change, the new award categories reflect the fact that faculty may be performing outstanding service through engagement activities that don't necessarily qualify as extension, and vice versa.
Each year the Office of Outreach and Engagement presents the awards to winners selected from a slate of 25 faculty and EHRA nonfaculty nominees that are distributed proportionally among NC State's colleges and units. The academy then selects eight new academy members from among the 25 nominees. Faculty who are inducted into the academy remain members of it until they leave the university or retire.
The academy's selection committee also chooses three of its new inductees to be winners of the Alumni Outstanding Engagement Scholarship Award, a monetary prize funded by the NC State Alumni Association.
"Extension and engagement are things that a lot of people do without getting full credit for it, so we like to give these prizes as a way to call attention to it and recognize it," Scearce says.
The Office of Outreach and Engagement will send out its next call for nominations for the Outstanding Extension Award and the Outstanding Engagement Award on Nov. 1. The next Outreach and Engagement Awards Celebration will be held April 12, 2019.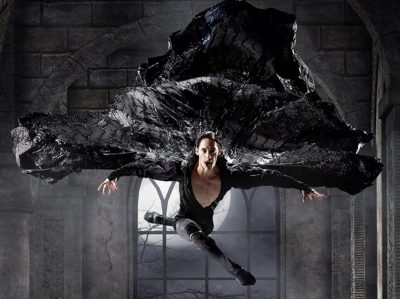 In the meantime, Scearce is looking forward to this weekend's performances of Dracula, but with a twist: The orchestra's regular conductor has a scheduling conflict for the Saturday shows, so Scearce himself will be stepping down into the orchestra pit to take up the conductor's baton.
"I haven't conducted an orchestra for ages," Scearce says. "I should be terrified. But I'm not."
He may yet change his mind, especially as showtime draws nigh. The Carolina Ballet will perform Dracula in the Fletcher Opera Theater at the Duke Energy Center for the Performing Arts in downtown Raleigh on Saturday, Oct. 27, and Sunday, Oct. 28. The show will include an adaptation of Edgar Allan Poe's story "The Masque of the Red Death." Ticket information is available online.