Beyond the Bricks
Paving the Way to the Stars
North Carolina Space Grant supports STEM education statewide through student scholarships, startup funding and educational activities.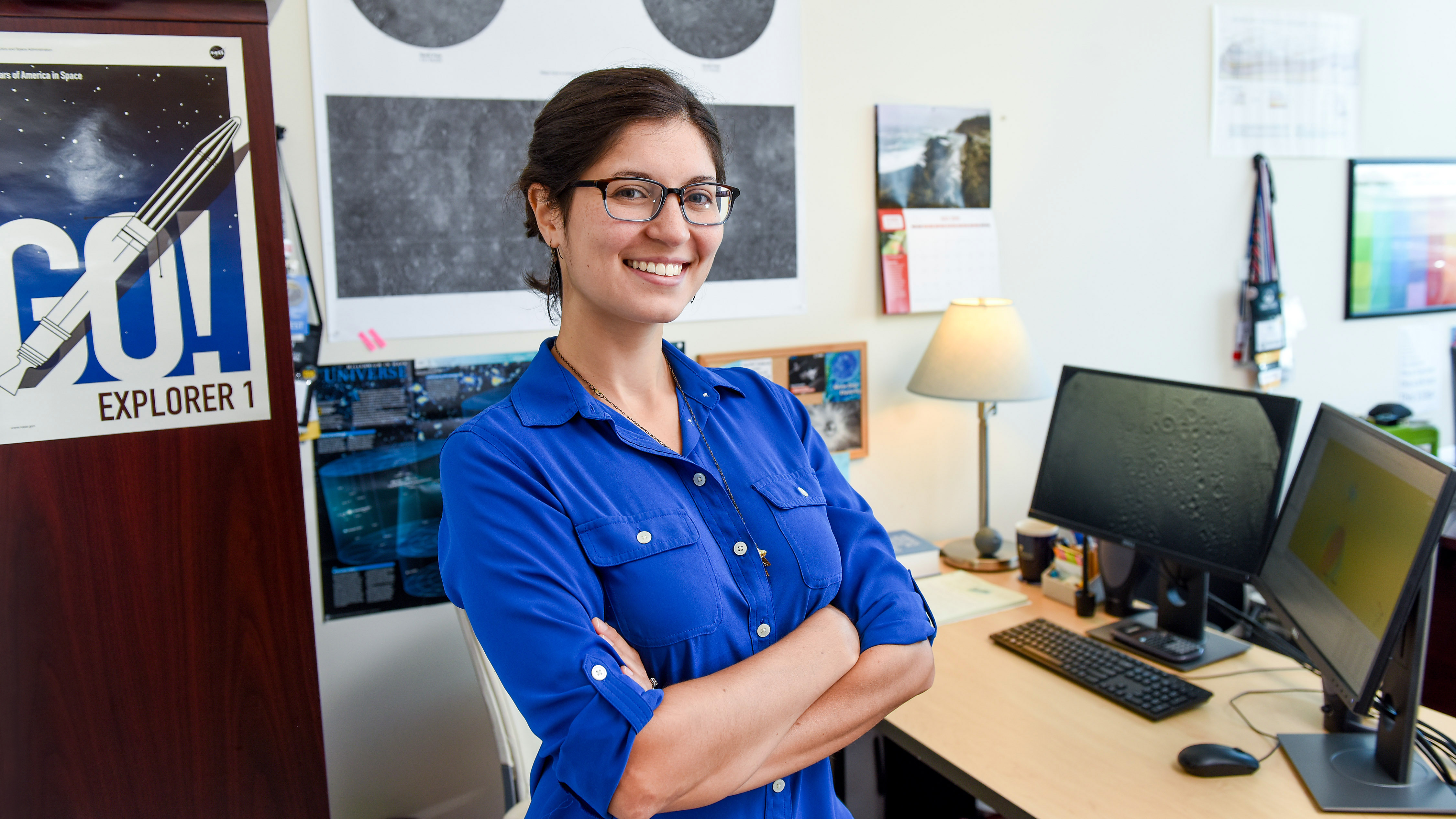 Two weeks from now, the NC State community will gather in Talley Student Union's State Ballroom to participate in a live video chat with a very special alumna: NASA astronaut Christina Koch, who will call campus from Earth orbit aboard the International Space Station. One of the pivotal experiences that led Koch to her career in space was a competitive NASA internship she won through North Carolina Space Grant, an NC State-based program that promotes education in science, technology, engineering and mathematics (STEM) statewide.
North Carolina Space Grant is directed by Susan White and managed by NC State alumna Jobi Cook, associate director of the program.
"When I first enrolled at NC State as an undergrad," Cook says, "I wanted to be a veterinarian, but I've always been a space nerd."
Watching a launch of the space shuttle Discovery in person at Kennedy Space Center in Florida was a formative moment for her, and she still vividly remembers how the ground rumbled beneath her feet at liftoff, even though the launch pad was five miles away. Cook's degrees in zoology and natural resources prepared her for a master's degree — and later a career — in science education.
NASA's Office of STEM Engagement administers the National Space Grant and Fellowship Program, which was founded in 1988 to promote STEM education as a way to replenish a NASA workforce that was aging out and retiring. There are 52 Space Grant programs nationwide — one in each state, Puerto Rico and the District of Columbia — all based at institutions of higher education.
The work of North Carolina Space Grant is divided into four primary programmatic areas:
• NASA internships, fellowships and scholarships. Undergraduate and graduate students from North Carolina colleges and universities can apply to receive undergraduate research scholarships or graduate research fellowships to pursue STEM research that has aerospace or NASA-related applications. Students can also apply for paid internships at NASA operations centers, as Christina Koch (then Christina Hammock) did in 2001. She applied for and won funding to support her internship at NASA's Goddard Space Flight Center in Maryland, which was the beginning of her professional experience with NASA.
• Research infrastructure. Space Grant's New Investigator Program seeks to strengthen North Carolina's research infrastructure by providing startup funding to early-career faculty who are conducting research aligned with NASA's mission. For instance, Imara Perera, a research professor in the Department of Plant and Microbial Biology in NC State's College of Agriculture and Life Sciences, won Space Grant funding to study how the genetic profiles of Arabidopsis seedlings are affected by growing in a microgravity environment aboard the International Space Station.
• Undergraduate STEM competitions. "This is where we have the most fun," Cook says. Space Grant allows undergraduate teams from across the state to apply for funds to support participation in STEM-related competitions. For example, since 2012 NC State's Tacho Lycos High-Powered Rocketry Club has successfully applied for and won Space Grant funding each year to support the club's participation in the NASA Student Launch Initiative, a rocketry competition held at the NASA Marshall Space Flight Center in Huntsville, Alabama. NC State's Aerial Robotics Club and Underwater Robotics Club have also successfully applied for and won Space Grant funding to support their participation in STEM competitions.
• Education. Space Grant offers funding to support a variety of educational initiatives, such as professional development for K-12 teachers, STEM-related activities for K-12 students, and informal STEM educational opportunities at institutions such as museums and planetariums. For instance, Space Grant provides funding to support Star Parties, in which designated host sites coordinate astronomical observation activities on the same night all over North Carolina.
Leveraged Partnerships Make a Difference
Space Grant collaborates with all 17 UNC System institutions and all 58 community colleges in North Carolina, as well as partners in private industry. Collier Research Corporation, a Newport News, Virginia-based aerospace company, co-sponsors three Space Grant internships each year to give undergraduates a chance to gain real-world professional experience. Collier is the proprietor of HyperSizer, a computer-aided engineering software package used for stress analysis of metallic and composite structures, such as wind turbines, aircraft and spacecraft.
"Leveraged partnerships like the one with Collier make it possible for Space Grant to do much more for students than we otherwise could," Cook explains.
Space Grant's research funding has provided a significant boost to the academic career of NC State student Mallory Kinczyk, a Ph.D. candidate in the Department of Marine, Earth and Atmospheric Sciences in the College of Sciences. Kinczyk's field is planetary geology, which involves using the techniques of Earth-based geology to study other planetary bodies in our solar system.
"Planetary geology is a relatively young and evolving field," Kinczyk says. "It's only been in the past 50 years that we've been able to use spacecraft to study planetary bodies through remote sensing from space or in situ analysis on the planet's surface. What we've learned tells us that Earth's geology exists on a spectrum of how planetary surfaces develop and evolve throughout the solar system."
Kinczyk's graduate studies are supported by a NASA grant funding the creation of a global geologic map of the planet Mercury. When she's not scrutinizing maps of the planet closest to the sun, however, Kinczyk is studying Enceladus, an icy moon about as wide as the state of Arizona that's in orbit around Saturn.
And what does that involve? "Well, first I counted all the visible craters on Enceladus," she says with a chuckle (there are about 25,000 of them, in case you were wondering). Then she noticed a region of ancient craters with much younger cracks running through them, a phenomenon that is uncommon on other worlds. Kinczyk hopes to use data from this region to determine the thickness of the icy crust of Enceladus, which would help scientists understand how deep the moon's subsurface ocean of water is — a fact that could have a major impact on NASA's attempts to understand how life might survive and evolve on other planets.
Kinczyk is writing her dissertation about her Enceladus research, which involves monetary costs that are not covered by her Mercury-related graduate funding. That's where Space Grant's graduate research fellowship provided crucial support. Kinczyk applied for and won a grant to fund the purchase of specialized multiphysics software, classes to learn how to use the software, travel to a meeting of NASA's Outer Planets Assessment Group and several trips to the Johns Hopkins University Applied Physics Laboratory to work with a collaborator there on her Enceladus project.
She says her time at NC State has been tough but rewarding so far. "Grad school is hard," Kinczyk says. "Going through grad school when you have a partner or a spouse is hard. Grad school as a woman is hard, especially in the sciences. So I really do appreciate the support of Space Grant because it helps to give me stability for my family while I'm pursuing my career."
Space Grant's Cook says helping students like Kinczyk is the best part of her job.
"That's what I love most about doing what I do: It's the students," Cook says. "They inspire me to try to inspire more students."
During NC State's educational video downlink event with Christina Koch on Aug. 30, North Carolina Space Grant will host an exploration station inside Talley with information about upcoming activities and funding opportunities. More information about the downlink event is available here.