NC State Named a Hot Spot for 5G Innovation
As the global race toward 5G heats up, NC State will lead research to create a faster, smarter wireless network.
Ultra-fast speed meets unparalleled responsiveness. That's the promise of fifth generation (5G) wireless networks. And now, NC State is the newest hub for driving 5G innovation.
Earlier this year, the Research Triangle region was selected to host the country's third advanced wireless research facility. It's part of a nationwide effort to explore avenues for improving wireless communication, led by the National Science Foundation (NSF) and jointly coordinated by U.S. Ignite and Northeastern University.
Over the next seven years, the NSF and an industry consortium are investing $100 million to build next-generation wireless research platforms across the country. The goal? To accelerate the development and commercialization of promising technologies, ensuring our nation's leadership in wireless communications and preparing tomorrow's workforce.
Salt Lake City and New York City were the first to receive funding under the NSF Platforms for Advanced Wireless Research (PAWR) initiative. Now, the Triangle joins the team with a $24 million, five-year grant called Aerial Experimentation and Research Platform for Advanced Wireless, or AERPAW.
Establishing three new experimentation sites across Raleigh and Cary, AERPAW will be the first wireless research platform to study the convergence of 5G technology and autonomous drones.
So, What Is 5G?
Say hello to the next big leap in wireless communication.
Each generation of cellular network technology represents a transformation in how we communicate — and 5G is no different. The first generation introduced analog voice calls. 2G brought us text messaging, and 3G technology allowed for mobile apps and web browsing. Then 4G made everything faster, enabling services like video streaming.
Looking forward, there are three major characteristics of 5G that have the potential to unlock unprecedented capabilities.
For one, the network is expected to be ten times faster than today's 4G counterpart.
That speed will be paired with near-zero latency. Latency is the time it takes between sending and receiving information across devices. In fact, 5G devices are expected to communicate in almost real time, with just one millisecond of lag. By comparison, the average human reaction time is closer to 150 milliseconds.
We'll also be able to connect more devices at once. By next year, experts anticipate as many as 200 billion connected devices globally. 5G's high-speed, high-bandwidth network will support that growth, opening the door for more smart technology.
With a powerful combination of speed and responsiveness, 5G is set to revolutionize our wireless systems. That's got major implications for our economy and the growing Internet of Things. And now, discoveries made on NC State's campus may help pave the way.
A PAWRful Platform
AERPAW's grant supports the creation of an experimental network platform to drive wireless innovation.
Three experimentation sites — basically, outdoor labs — will be established across the Triangle. Each location has been strategically selected, allowing researchers and industry to put their ideas to the test in various real-world scenarios.
A site in Cary will offer a suburban environment, a site near Lake Wheeler Field Laboratory will offer a rural environment and one on NC State's Centennial Campus will serve as an urban environment.
"5G is a very complex technology system with many brand-new technological components, including radio frequencies that have never been used before for cellular telecommunications," says Ismail Guvenc, associate professor of electrical and computer engineering at NC State and the primary investigator (PI) on the project.
"Extensive experimentation is needed to understand how well and reliably radio communication in these frequencies will work across different landforms," he adds. "Until now, such communication has been all ground-to-ground. But not anymore."
AERPAW is the first platform nationally to combine 5G research with another area that's ripe for exploration: drones.
Today's conventional networks use fixed nodes to enable 4G signals to connect to wireless devices. AERPAW will allow researchers to experiment with mobile nodes, which have the ability to transmit and receive radio waves from user devices while moving.
These mobile nodes will be placed on vehicles including cars, buses, golf carts and rovers. But they'll also reach new heights on autonomous drones.
"On the AERPAW platform, drones and 5G are integrated to be mutually beneficial," says NC State Vice Chancellor for Information Technology Marc Hoit. "Drones are supporting 5G by providing increased coverage and connectivity; and 5G is supporting drones by providing improved signals and location data."
These drones aren't glorified versions of popular RC toys, though. Designed and built by AERPAW's creators, each device carries a powerful computer that enables it to be programmed with a specific mission. Therefore, the drones can essentially fly themselves.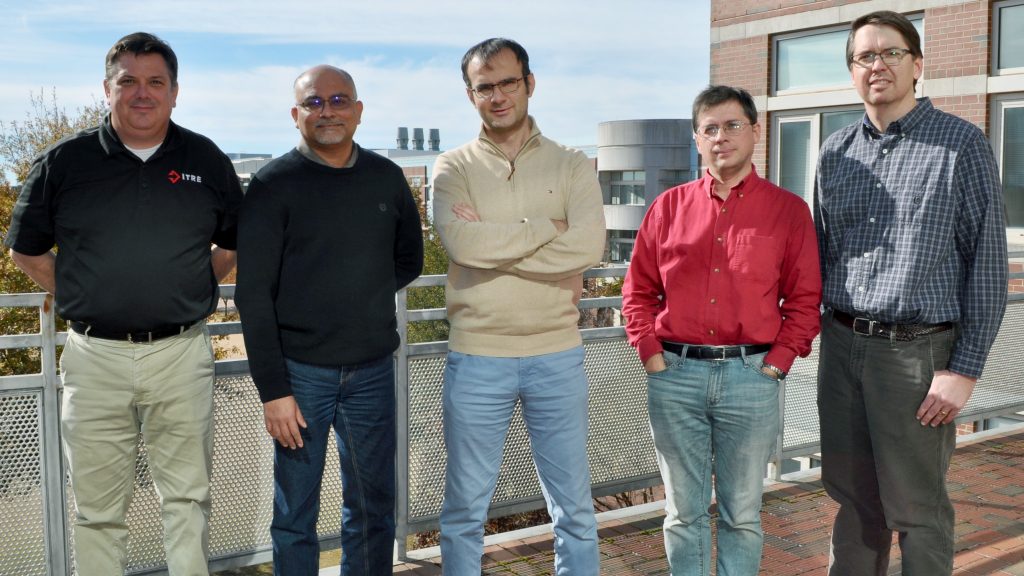 "Designing a programmable AERPAW drone allows us to instruct it to fly the exact same route many times over, gathering and transmitting wireless data, to ensure the repeatability that is so important for scientific experiments," says Mihail Sichitiu, professor of electrical and computer engineering at NC State and a co-PI on the project.
"Our prior experience with many kinds of commercial drones — and our knowledge of FAA regulations and processes to certify for exemptions — puts us in the perfect position to incorporate such programmable drones into the AERPAW platform," adds Thomas Zajkowski, a co-PI and flight operations manager at the Institute for Transportation and Research Education.
Pioneering the Future of 5G
From self-driving cars to crops that water themselves, plenty of real-world solutions lie at the intersection of 5G and drones. And NC State researchers are ready to explore them.
The AERPAW platform is poised to yield new insights in areas including:
---
Connectivity
5G is the first network with the bandwidth and speed needed to connect an ever-increasing Internet of Things — from smart devices in your home to entire smart factories for industry.
The network could also solve a pesky problem for football fans and festival-goers. AERPAW will host experiments with mobile towers that, ready to be assembled in as little as three minutes, can strengthen signals in congested areas. These hot spots for wireless connectivity can be placed anywhere from packed stadiums to natural disaster sites.
Traffic Control
The platform has the potential to develop and mature algorithms for autonomous drones, which could help pilots fly the devices reliably beyond their line of sight and allow for improved air traffic control under FAA regulations.
Deliveries
Bolstered by 5G's improved signals, drones will one day enable safe, on-demand package delivery.
Vital medical supplies like defibrillators — or even blood — could be delivered throughout hospitals using drones. Earlier this year, WakeMed's Raleigh campus was the first hospital in the country to pilot such a program.
And industry leaders are already working on drone delivery services that will drop your shopping list at your doorstep in a flash. This November, UPS and CVS Pharmacy launched a program to deliver prescription drugs to customers via commercial drones. It was piloted at a CVS location in Cary, North Carolina, with plans to expand in the coming months.
Disaster Relief
After natural disasters, the combination of drones and 5G could provide fast, reliable relief to devastated areas — and help save lives.
Drones could be used to drop off medical supplies in large-scale emergency events. And mobile 5G nodes and towers (which can be quickly positioned in response to need) could help victims and first responders who might otherwise lose cell connectivity after an emergency.
Harnessing the responsiveness of 5G could also allow doctors to give real-time instructions to first responders via video chat in areas that aren't easily accessible.
Smart Agriculture
You've heard of smart homes, but 5G may empower smart farms. In the future, fields embedded with thousands of sensors could collect samples and report on metrics (such as soil quality) to smart agriculture technology. Then, that data could be used to make optimized decisions and improve crop yields.
5G-enabled drones may play a role, too. Flying over expansive fields, the devices could intelligently decide what data is most valuable to collect as they go.
Autonomous Vehicles
NC State faculty have plans to study vehicle-to-vehicle communication, a research area that would support accident reduction and accelerate autonomous driving technology.
In a 5G world, our daily commutes could be powered by a network of self-driving cars, able to safely connect and communicate with each other in real time without requiring continuous human intervention.
---
While the outcomes of AERPAW are potentially transformative, the platform itself is also a pioneering effort.
"Programmable radios, programmable drones, programmable networks — all in one outdoor testbed embedded in the real world, all to be made remotely accessible to a nationwide community of researchers in a safe and predictable manner. That's something of a tall order," says Rudra Dutta, a co-PI and professor and interim associate head of computer science at NC State. "We are combining a careful selection of state-of-the-art and best-practice technologies so that the AERPAW facility behaves exactly as we intend it to."
A Community Effort
Turning this 5G vision into a reality requires the engagement of stakeholders from academia, government, industry and our community.
AERPAW's experimental platform will see collaboration from corporate leaders, entrepreneurs, civic organizations and beyond to turn research into real-world applications. And everything from public services to leading-edge products could find their roots in these testing sites.
"AERPAW is not just a platform. It's a meeting place for a complex ecosystem of technologists, policymakers, entrepreneurs and other change agents," says Brian Floyd, a co-PI and professor of electrical and computer engineering at NC State. "We will host workshops, tutorials and technology summits to bring these stakeholders together."
Local partners in the deployment of the technology include the Town of Cary, City of Raleigh and N.C. Department of Transportation. And NC State will lead research working closely with the Wireless Research Center and researchers at Mississippi State University, Renaissance Computing Institute (RENCI) at the University of North Carolina at Chapel Hill, Purdue University and the University of South Carolina.
AERPAW's experimentation sites will be ready to host initial experiments by September 1, 2020, and equipped for the full envisioned range of experiments within another two years.
In later phases, the sites could be extended to the Town of Wake Forest, Town of Holly Springs, Koka Booth Amphitheater and the City of Wilson.
"NC State is committed to groundbreaking research that benefits our communities," says Chancellor Randy Woodson. "We're excited to work with our public and private partners to advance wireless communications and drone interaction."
---