Athletics
Growing on the Mats
As he prepares to graduate with a degree in business administration, All-American and ACC champion wrestler Hayden Hidlay reflects on his personal growth on the mats and in the classroom.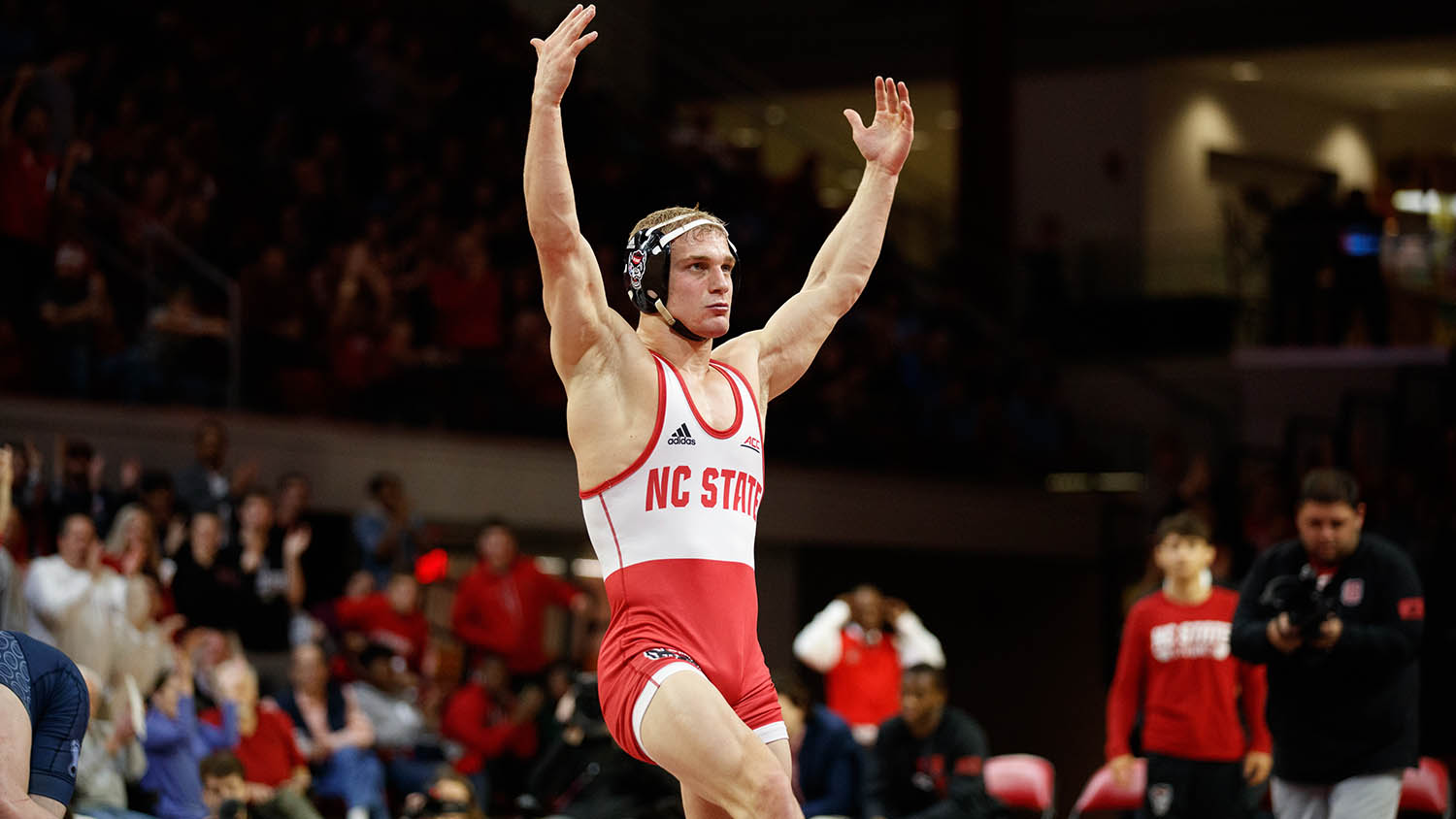 NC State's last two NCAA champion wrestlers, Nick Gwiazdowski and Mike Macchiavello, also earned the distinction of being named the ACC Wrestling Scholar-Athletes of the Year in 2016 and 2018, respectively, a rare combination of athletic and academic acumen that makes Wolfpack head coach Pat Popolizio proud.
Red-shirt junior Hayden Hidlay, who will receive his NC State business administration degree with a human resources concentration Saturday, was on the same track earlier this spring when his wrestling season – along with all other intercollegiate athletics – was shut down because of the COVID-19 pandemic.
A three-time ACC champion and a three-time All-American, Hidlay was the No. 2 seeded wrestler in the 157-pound division prior to the start of the NCAA Wrestling Championships, which were canceled on March 12, just a week before they were slated to begin.
So he was unable to duplicate his predecessors' national championship feats, not because of a lack of performance but because of the cancellation of the competition. Still, he was named both the ACC Wrestler of the Year and the ACC Wrestling Scholar-Athlete of the Year, thanks to strong performances during the 2019-20 season and school year.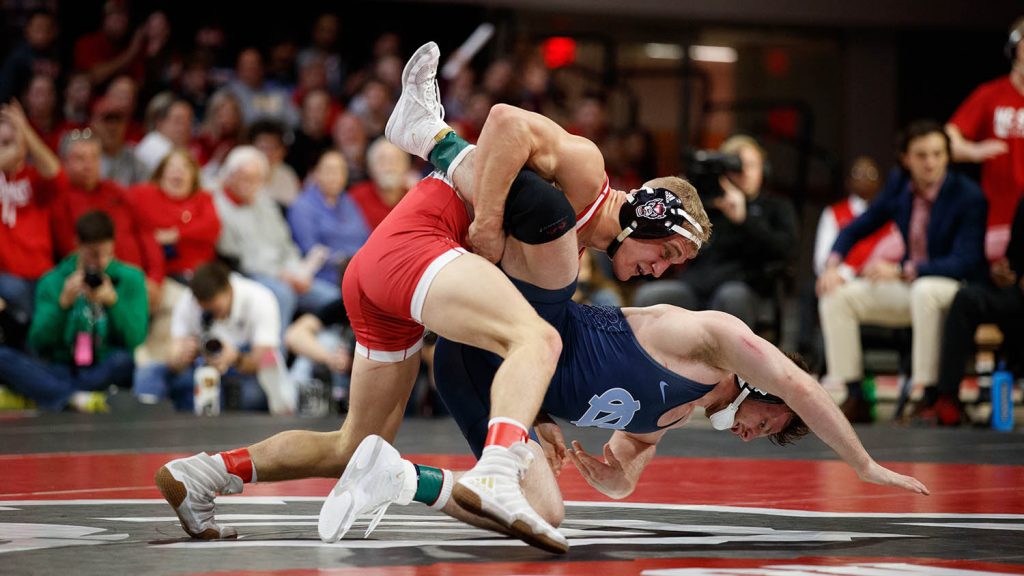 Hidlay, despite having already earned his degree, will have another season of eligibility next winter to compete for a wrestling national championship, something he's already eager to pursue.
For Hidlay, coming to NC State was an opportunity for growth. A member of the nation's top-ranked recruiting class, Hidlay sat out his first season on campus as a redshirt, learning and training for what he needed to do to become a successful wrestler and a successful student.
When he entered the Wolfpack lineup a year later, he became a sensation, winning his first 26 matches before losing in the national title bout to a two-time defending champion. Hidlay's runner-up finish matched the best ever for an NC State freshman at the NCAA Championships.
"That first year was hard, but the coaches just told me, 'Your time's coming, your time's coming,'" he says. "And so I took a lot of joy in being able to go out and succeed immediately when I was finally in the lineup."
He continued on the path to success for the next two seasons, winning ACC titles and earning All-America honors both years, while helping the Wolfpack program dominate league opponents.
"I feel like I could write a book about the first four years of my career, and the growth that I've had being part of the wrestling program and in academics," Hidlay says. "I've matured into somebody that can be a leader and can help others who need it.
"Of all the things I've done, that's probably what I'm most proud about."
The Lewiston, Pennsylvania, native admits his transition to college academics wasn't nearly as smooth as it was in athletics.
"The learning curve was a lot sharper," he says. "I kind of took it on the chin my second semester while I was redshirting. I kind of had to regroup and figure out how to be successful in both wrestling and in the classroom."
He took some time to focus on what he wanted to pursue academically in his business administration degree and found an interest in the problem-solving involved with human resources. He realized while serving as team captain for the last year, he was often working as a liaison between teammates and coaches.
"I felt like working to mitigate problems or issues on the team was just like problem-solving human resource issues," Hidlay says. "I started looking more into courses about staffing and compensation. It was really eye opening for me."
And, he admits, he thinks the background in such a physical, combative sport is good training for human resources work.
"I think it would be interesting to have someone walk in on their first say and say to them 'Hi, I'm your HR rep,'" Hidlay says.
For now, Hidlay is finishing off his application for graduate school and plans to return to action as soon as he is allowed to begin preparations for the 2020-21 season. He wants to pursue an advanced degree in working with nonprofits.
Unlike most wrestlers, Hidlay has a built-in workout partner while sheltering in place in his Raleigh apartment. Younger brother Trent Hidlay is a sophomore wrestler for the Wolfpack. They have been working out as much as possible together, trying to maintain fitness and strength, both mental and physical.
"It's kind of hard because we have developed this identity of who we are," Hayden Hidlay says. "Sometimes you wake up and think, 'I can't go into the wrestling room today,' which has become second nature to everything we do.
"For me, it's made me realize that I have to take advantage of every opportunity because what we do has been taken away from us right now."
And, like sitting out his freshman year, Hidlay is trying to let patience lead to personal growth.
"At the end of the day, it just comes down to how intrinsically motivated you are by this because it would be easy to fall off and not keep doing the right things because of the circumstances," he says. "We're just trying to make the best of it.
"I think we will be better for it at the end of all this just because we felt like we faced so much adversity and had been able to change gears, act on the fly and be able to still be members of the team."
And, Hidlay's business administration training teaches him, that will pay bigger dividends down the road.