Research and Innovation
Using Leaf Fungi to Improve Crop Resilience
A GRIP4PSI Project to Increase Disease and Drought Resistance
Microscopic fungi can be found almost everywhere, from the surface of your skin and the soil beneath your feet to inside the leaves of corn and soybean plants. Many of these fungi are harmless, and some are helpful, producing needed vitamins or fending off harmful fungi.
An interdisciplinary team of researchers at NC State is setting out on an ambitious three-year project to identify the beneficial fungi found in five key crops: corn, soy, wheat, hemp and switchgrass.
The team is led by Christine Hawkes, a professor in the Department of Plant and Microbial Biology. Once the beneficial fungi are identified, the team will work to determine how the fungal species help plants fend off diseases and tolerate drought stress.
The team will also work on tools to detect the types of fungus present in a field and methods to improve the fungal community present – like eating yogurt to improve your gut health.
"Our overarching goal is to improve plant health management and increase crop sustainability through the use of beneficial fungi in plant leaves," said Hawkes, who is also a member of the Microbiomes and Complex Microbial Communities Cluster, a Chancellor's Faculty Excellence Program cluster of excellence. "We hope to mitigate unnecessary crop yield losses to stresses like drought and disease, which will help us safely increase our food supply and better feed the world."
The project is one of four interdisciplinary projects selected by NC State's Office of Research and Innovation to receive seed funding to address the global challenges facing agriculture identified by the North Carolina Plant Sciences Initiative (N.C. PSI).
Finding Friendly Fungi in the Field
Last summer, Hawkes and her team collected samples of fungi living in the leaves of corn, soy, wheat and the potential biofuel crop switchgrass.
Using the Official Variety Testing program led by Ryan Heiniger, the team collected leaf samples from locations across the state, both from research stations and partner farmers' fields. They isolated around 3,000 different fungi from the leaves, which they are currently identifying.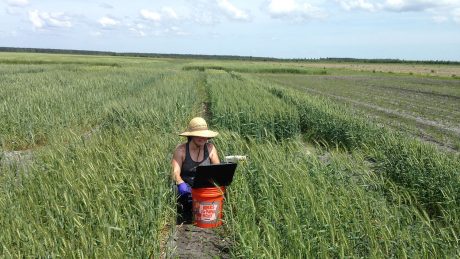 Now, Hawkes and her team are analyzing these fungi to determine how the species vary between varieties, crops, locations and regions. Perhaps they will find some fungi are only in soybeans, others are more common in coastal regions, and a third group is common in fields plagued by a particular pest. Ultimately, this information will help them decide the best scale for interventions.
Next, the team will select some of the fungal species that were found in fields for their ability to "rescue" plants from disease or drought in collaboration with U.S. Department of Agriculture-Agricultural Research Service researchers Peter Balint-Kurti, Gina Brown-Guedira and Anna Locke.
Initially, they will use detached leaves in microplates to rapidly screen many fungi against a small number of wheat and corn pathogens. Those that prevent pathogen infection will be tested in more realistic conditions to see if they protect whole plants.
From there, they will determine which fungi are beneficial and how they are helpful at a molecular level. For example, it is known that some fungi produce plant hormones, while others release antibiotics to protect their hosts. Ross Sozzani, a researcher in Plant and Microbial Biology, and Cranos Williams, a researcher in Electrical and Computer Engineering, will use computational modeling tools to identify the genes most likely responsible for any observed benefits.
"One big challenge will be to understand the molecular mechanisms by which these fungi exert their beneficial effects," said Nathan Crook, a researcher in the Department of Chemical and Biomolecular Engineering. "Knowledge of these mechanisms could inspire us to develop additional technologies to improve plant traits, or could allow us to identify other beneficial organisms."
To meet this challenge, Crook will collaborate with Kevin Garcia, a researcher in Crop and Soil Sciences, to develop CRISPR tools for manipulating fungal genes in ways that enhance their benefits for the plant. These tools could revolutionize our ability to use fungal symbionts for crop disease and stress management.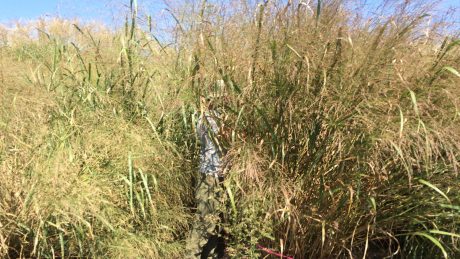 A second part of the project is focused on developing a tool to quickly detect the presence of different beneficial fungi in a field, which is critical for using those fungi as tools for crop management. This part is led by Michael Kudenov, a researcher in the Department of Electrical and Computer Engineering.
Starting in the lab with a benchtop machine commonly used to "fingerprint" different chemicals, Kudenov will look at the fungi — both inside plant leaves and by themselves — to attempt to pinpoint markers specific for the beneficial species.
In addition to identifying fungal markers, the team will need to determine how specific the markers are to each fungal species and how much fungus needs to be in the leaf in order to be detected.
After they tackle these challenges, Kudenov and his team will work on developing a portable sensor to bring the detection of beneficial fungi to the field, and eventually to help North Carolina producers. In collaboration with Josh Gray, a researcher in the Center for Geospatial Analytics in the College of Natural Resources, they will attempt to link detection from the leaf level to aerial images from drones, which may allow for more rapid and extensive assessments.
"I've learned a lot more since working with researchers from the College of Agriculture and Life Sciences than I would have by just staying in my own little bubble," said Kudenov, who is also a member of the big data for better sweet potatoes GRIP4PSI project. "Also, interdisciplinary research like this provides a unique opportunity to provide impact, especially directly to North Carolina. In this case, we're interacting closely with stakeholders and people who have significant problems, many of which affect their livelihoods. That adds a lot of meaning."
Educating Stakeholders from the Field to The Hill
Hawkes and the rest of the team agree that working with growers, producers, and other stakeholders is critical for their project. In fact, working with growers to determine their needs and educating them on the benefits of helpful fungi is the third part of the project.
Lindsey Thiessen, a researcher and Extension specialist in the Department of Entomology and Plant Pathology, will lead this part along with Ryan Heiniger.
At first, Thiessen and Heiniger will focus on educating Extension agents through regular corn, soy and wheat trainings. Since NC Cooperative Extension agents work throughout North Carolina, delivering research-based solutions directly to farmers, educating them about the beneficial fungi that live inside plant leaves is critical.
"For training, I might bring some plants that have been treated and some that haven't," Thiessen said. "Or I might bring microscopes and culture plates to give them an idea of what the fungi look like. Even though they're microscopic, it's usually pretty fun to look at a fluffy fungus on a plate."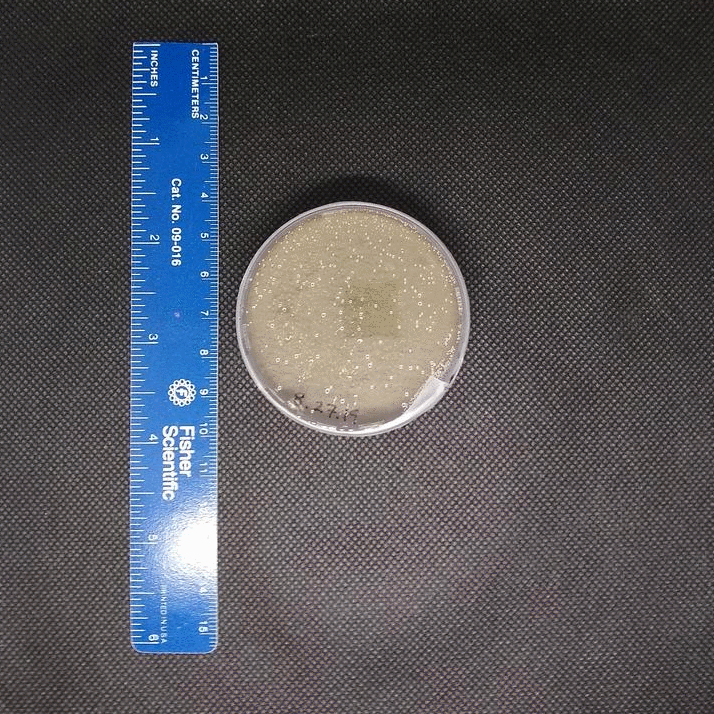 In addition to the hands-on demonstrations and back-and-forth conversations with the agents, Thiessen and her team will produce fact sheets to help make the information accessible. And as the GRIP4PSI project progresses, she will be able to demonstrate treated and untreated fields and explain how the beneficial fungi can be applied to commercial fields. Though the research is still in early stages, the GRIP4PSI team imagines beneficial fungi could be applied to fields during planting, or as a treatment applied to a field as needed for disease or stress control.
Of course, the COVID-19 pandemic and the uncertainly as to whether face-to-face trainings, field days and commodity meetings will be held as usual this year is causing the team to re-think how they can reach agents, growers and other stakeholders.
"As COVID-19 keeps being a concern, a lot of the information we share will not necessarily be at face-to-face meetings but will be through videos or through Zoom meetings," Heiniger said. "I think that's going to be our predominant form of communication until we have a vaccine or something changes."
CALS faculty and Extension specialists have already held successful virtual field days, webinars and countless phone conversations.
In addition to engaging with Extension agents, growers and the agricultural community, the project team also plans to engage with politicians, regulators and the general public.
"The other challenge is going to be communication with the general public, not just the agriculture community," Theissen said. "We need to communicate well with the general public about the benefits and long-term sustainability of using these fungi. And we can't forget about the regulatory groups and politicians. Fortunately, we've already met with stakeholder groups to talk about their interests and their concerns with our project, so we've started early."
Jason Delborne, a researcher with the Genetic Engineering and Society Center and the College of Natural Resources, will lead the efforts to assess public opinion and analyze the potential regulatory pathway for techniques to introduce beneficial plant fungi to crops.
This interdisciplinary project is funded by the GRIP4PSI seed-funding program, based on NC State Office of Research and Innovation's 2016 Game-Changing Research Incentive Program (GRIP). The new program is led by the Office of Research and Innovation in partnership with eight NC State colleges and offices. GRIP4PSI is intended to support visionary ideas in the plant sciences that will result in large-scale funding, meaningful impact for future research and first-class interdisciplinary graduate education and training.
Our interdisciplinary research delivers real-world solutions.
This post was originally published in College of Agriculture and Life Sciences News.