Academics
Inside the Institute for Advanced Analytics
Now in its 15th year, the institute — and its prestigious Master of Science in Analytics program — is at the forefront of data science education and practice.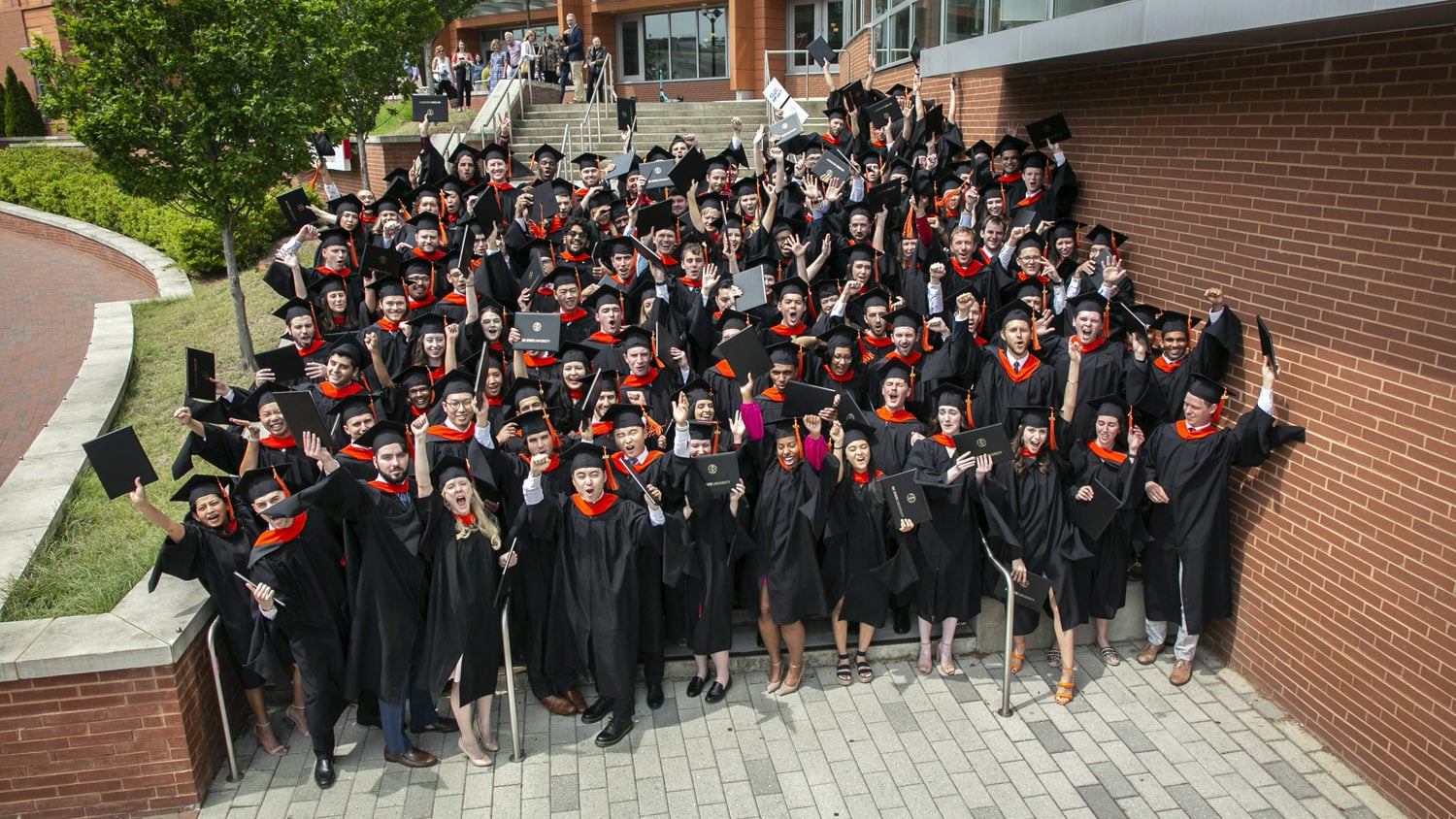 Nestled on Centennial Campus is NC State's smallest academic unit, the Institute for Advanced Analytics, which has quietly made a big name for itself as a pioneer in higher education. Earlier this year, the institute marked its 15th anniversary by doing what it does best: producing some of the university's most sought-after graduates in its Master of Science in Analytics (MSA) program.
Renowned as the country's first full-fledged degree aimed at producing a new generation of data-savvy professionals, the program was launched in 2007 with two dozen students. Today, more than 1,200 MSA alumni are employed in 400 organizations from coast to coast and in 25 countries.
1,225 Alumni
Since its founding in 2007, the institute has sent forth a host of career-ready data scientists.
$107,900 Average Starting Salary
Students are in high demand, with 100% finding employment by graduation.
The institute is a key reason why NC State is a prime destination for aspiring data scientists. Over the past 15 years, it has quickly climbed the ranks to become the university's fourth-largest producer of STEM master's graduates, according to data compiled by the UNC System Administration office.
The institute's class of 2022 had much to celebrate at commencement in May. All 115 candidates for the degree had accepted new employment, earning a median starting salary of $112,500. The average graduate realized a 90% increase in their earning potential after completing just 10 months of intensive studies.
On a campus as expansive as NC State, many students may not have heard of the institute. But those who learn of it discover an ideal pathway to becoming a data scientist. Nearly 300 Wolfpack undergrads — from aerospace engineers to zoologists — have successfully completed the degree, representing 46 different majors and every college.
"A common question I hear is 'Do I have to be a computer science or statistics major to succeed in the program?'" said Christopher Healey, professor of computer science and a longstanding member of the institute's faculty. "The answer is no."
Big Idea
In 2006, the institute's director, Michael Rappa, convened a group of faculty from a dozen academic departments in six of NC State's colleges. Their goal was to develop a professional master's degree with an entirely new curriculum and to enroll its first students within one year. Through a collaborative effort, they built the program lecture by lecture, with a focus on connecting classroom lessons to real-world problems.
The resulting degree melds multiple disciplines into a singular experience that immerses students in the subject matter. They learn how to become practicing data scientists by acquiring knowledge and applying it quickly and iteratively through daily engagement, in keeping with NC State's "Think and Do" philosophy. And the curriculum is well-suited to a diverse group of learners — everyone from new graduates to Ph.D.s, including those with several years of practical experience under their belts.
"It's what I like most about teaching MSA students," said Andrea Villanes, a member of the institute's faculty with a Ph.D. in computer science, and herself an MSA graduate. "It's an eclectic group, and they're really motivated to learn."
The MSA is built to be responsive to the ever-evolving skill set of data science. Students work in teams in a fast-paced three-semester sequence of modules spanning 30 credit hours. An ambitious practicum calls for student teams to tackle a challenging problem with data from a sponsor. The institute's students have completed 250 such projects with 128 lead sponsors representing diverse organizations — from sports clubs to intelligence agencies — and some of the world's leading brands.
With its team-driven format and mix of disciplines, the MSA is finely tuned to produce the kind of graduates employers need. But technical chops alone are insufficient; students must master communication and teamwork skills — and apply ethical decision-making to everything they do. Graduates of the MSA are able to tell a story that connects data analysis to actionable insights.
"There are lots of programs out there that can teach people the technical skills to crank through data, clean it and analyze it," said Val Schwartz, the institute's head of admissions. "We opt for a more well-rounded approach. We hone in on what companies want — and what they want are people who can do the job holistically. That means not just cleaning data and building models but being able to communicate findings in ways that are audience-appropriate. Our faculty spend a lot of time talking with students about ethical data storytelling."
Big Lead
By 2012, when data science was first heralded as the next high-flying career, the institute was already an established leader in the field, with hundreds of graduates to its name. That immediate success served as a blueprint for dozens of similar degree programs, as curious faculty from other institutions flocked to the institute to get a firsthand look. More than 100 university delegations — including department heads, deans, and university presidents — came from as far away as Australia to gain insights into the institute's novel approach.
Even today, the institute is a key destination for those seeking to develop new programs in analytics and data science. What began at NC State with a few dozen intrepid students in 2007 became the benchmark for the fastest-growing field of graduate study in a generation. It is estimated that 20,000 students will earn analytics and data science master's degrees from U.S. universities this year.
Big Results
A growing cadre of employers relies on the institute as a leading source of data science talent. The job placement season — known as the institute's version of "March Madness" — attracts as many as 150 employers, who log 1,500 interviews and make hundreds of job offers. This year, one-third of the class garnered three or more offers. With these numbers, it's easy to see why the institute has such a superb track record of placing data science professionals in meaningful, rewarding careers.
The program has proved to be a huge success for NC State.
The institute earns high marks from its students. An annual survey by NC State's Office of Institutional Strategy and Analysis reveals graduates' satisfaction with their experience in the program, their job outcomes and the quality of education delivered by faculty and staff. In each of the survey's first four years, the institute registered the university's highest level of student satisfaction — with a near 100% response rate.
"Looking back, the MSA has proved to be a huge success for NC State," said Rappa. "Throughout its 15 years, the institute has demonstrated both resilience and dedication to deliver an education of the highest quality with remarkable consistency and unparalleled student outcomes. It looks toward a promising future with equal determination."