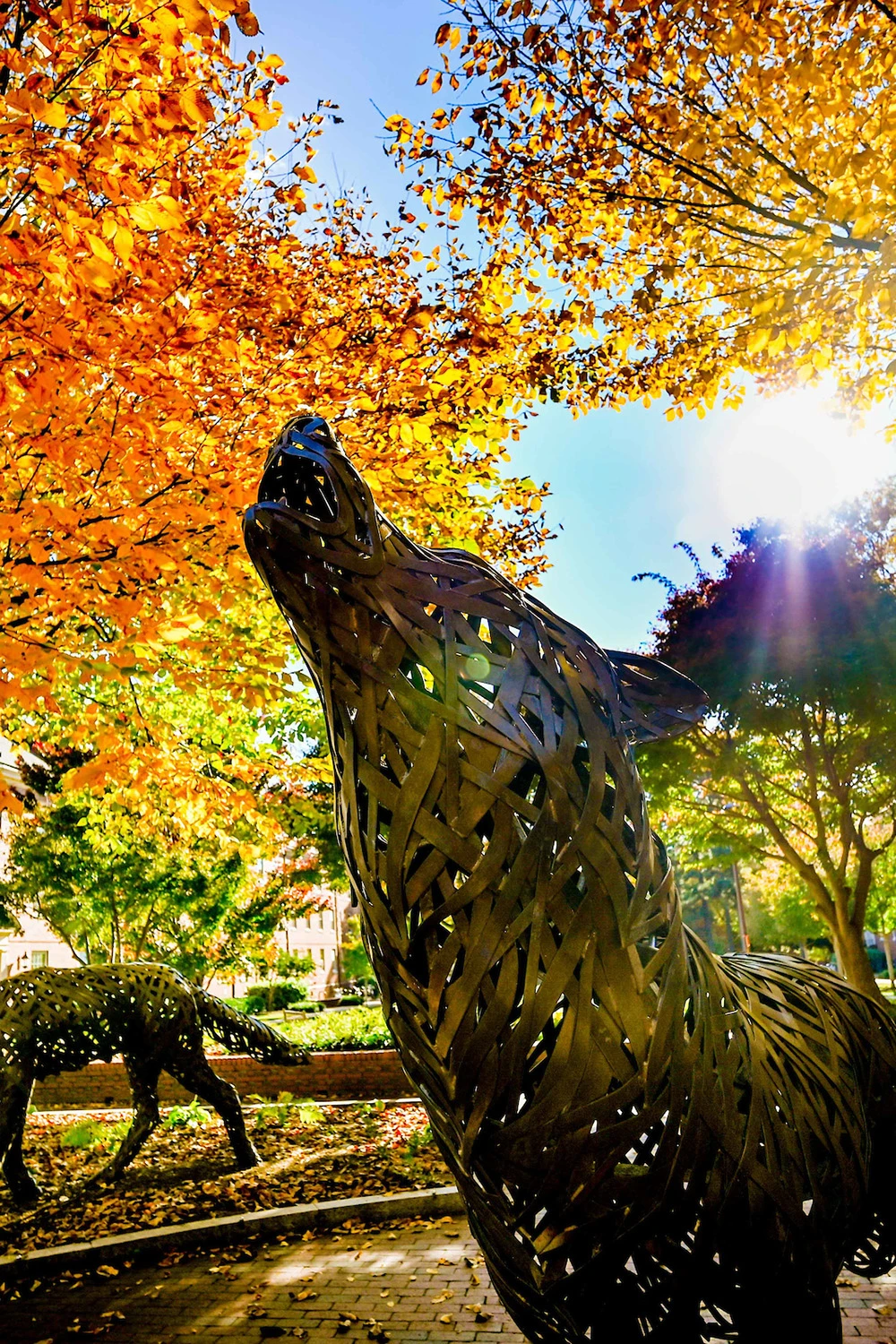 Campus Life
Look Back on the Fall 2022 Semester
Bundle up, Wolfpack. We're taking a brisk walk through the biggest moments of NC State's academic year so far.
Autumn is winding down, the last lingering leaves are dropping and we're quickly approaching the halfway point of the academic year. Wolfpack, you've amazed us already — and we can't wait to see what's in store next.
Before you finish your final exams and bid farewell to 2022, let's reflect on the last four months spent together in our favorite place.
---
We Welcomed You Back to Campus
Aug. 18-27: After a sleepy summer, new and returning students headed to our Raleigh home to fill campus with activity once again.
We kicked off the fresh academic year with our annual back-to-school bash, Wolfpack Welcome Week. Festivities included 100-plus events and the comeback of Packapalooza, our daylong street festival, after a two-year hiatus.
What's more, we said hello to the largest and most diverse incoming class in our university's history. They represent 98 North Carolina counties, 43 U.S. states and 41 countries. (In case you missed it, we profiled five newcomers about their hopes for the journey ahead.)
As #NCState26 settles into campus, get to know a few first-year students and their reasons for choosing NC State. 🐺 https://t.co/qY6ZocGW3K pic.twitter.com/KR61gwG3rQ

— NC State University (@NCState) September 29, 2022
---
We Honored Our Diverse Pack
The strength of NC State is its people, and we found plentiful opportunities to honor our Pack's diverse perspectives and experiences this semester.
NC State's campus community centers led monthlong programming to inform, support and expand the horizons of our student body. The GLBT Center organized events for LGBTQ+ History Month (Oct. 1-31), the Women's Center organized events for Domestic Violence Awareness Month (Oct. 1-31), and Multicultural Student Affairs organized events for Latinx Heritage Month (Sept. 15 to Oct. 15) and Native American Heritage Month (Nov. 1-30).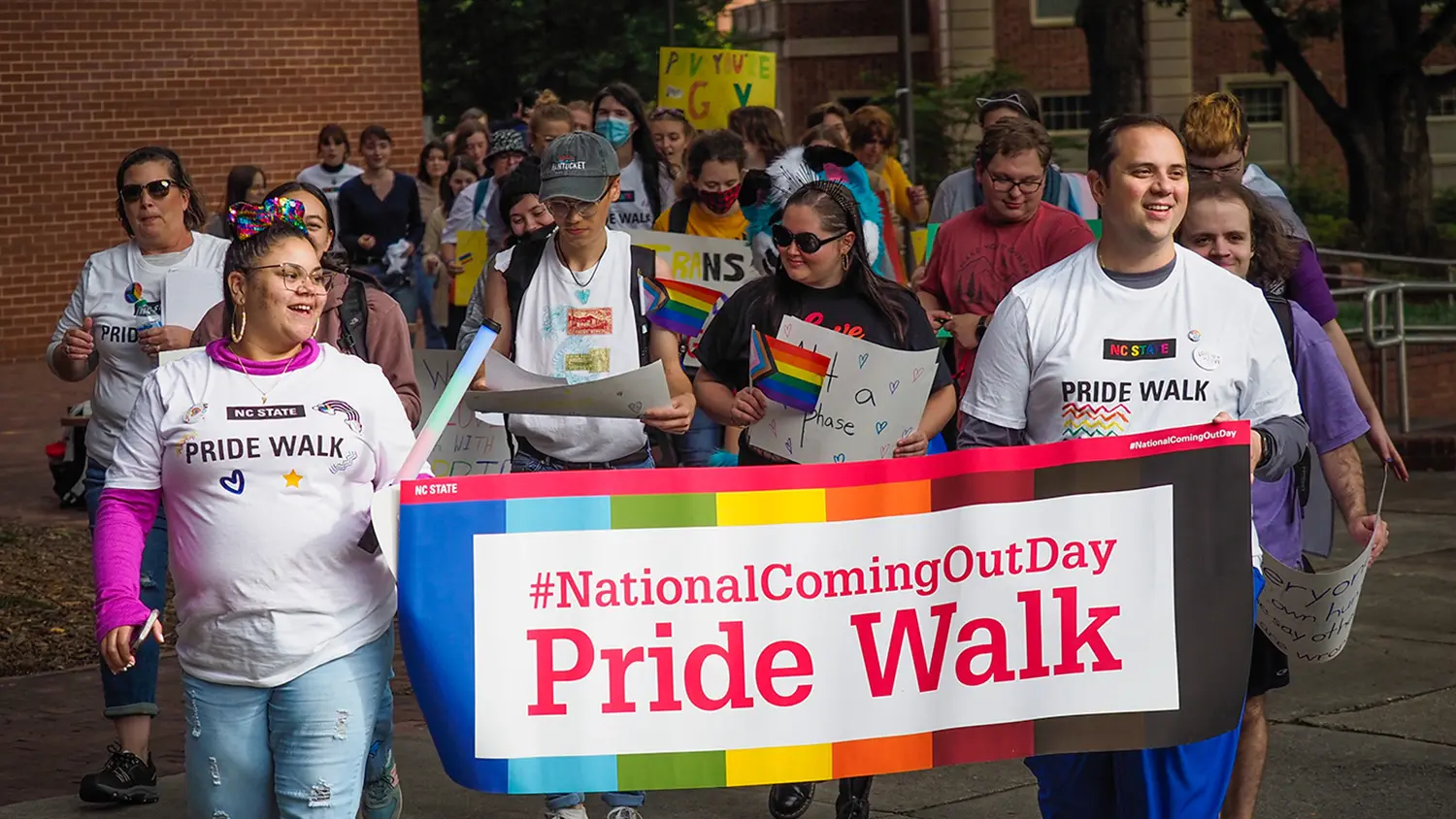 ---
We Reunited for Red and White Week
Oct. 30 to Nov. 5: During our annual homecoming extravaganza, Red and White Week, we invited students, faculty, staff, alumni and friends to celebrate NC State and all the people who make it special.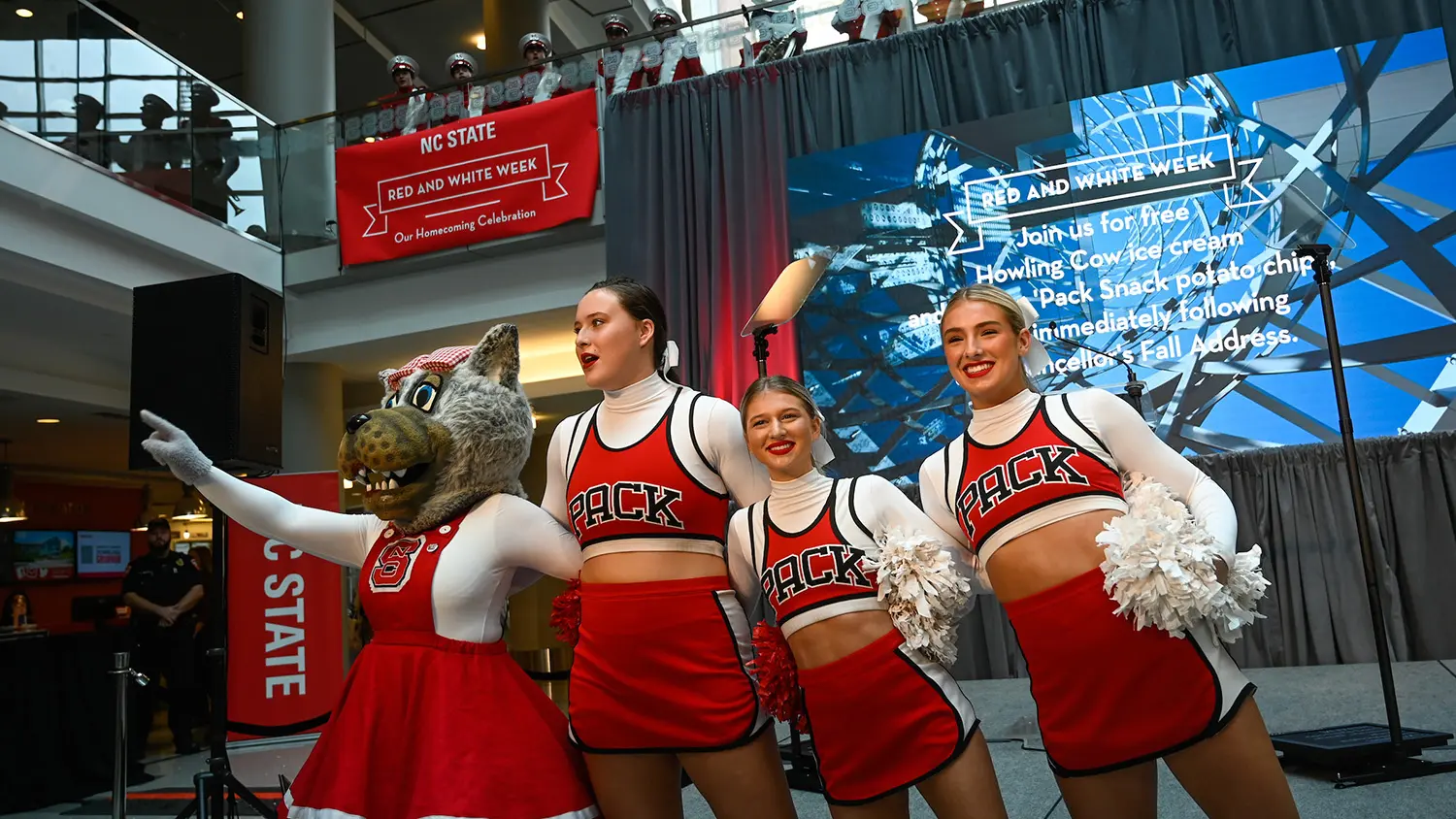 These fan-favorite events helped us kindle pride for the Pack all week long.
Chancellor's Fall Address
Oct. 31: Live from the atrium of Talley Student Union, Chancellor Randy Woodson delivered his "state of NC State" speech and shared bold plans for the future.
Pack Appreciation Day
Nov. 2: More than 2,500 students gathered across Stafford Commons, Centennial Campus and Centennial Biomedical Campus to craft messages of appreciation for the supporters who help power our university.
NC-SYNC
Nov. 3: Student groups performed Disney-themed mashup songs — and engaged in some friendly competition — during a lip-syncing contest on Stafford Commons.
Harambee!
Nov. 4: The African American Cultural Center took to Harris Field for its annual block party and showcase, Harambee, which featured food, music, games and fellowship.
Homecoming Game
Nov. 5: Red and White Week's grand finale did not disappoint. You painted Carter-Finley Stadium red, and our Wolfpack scored a victory against Wake Forest. Plus, we announced this year's Leader of the Pack, electrical engineering major and Goodnight Scholar Minh-Thu Dinh.
---
PackHowl
Nov. 10: The University Activities Board hosted its annual hip-hop concert, PackHowl. You may have spotted a few classmates on stage — 47 Eyez On Me, a music collective featuring several NC State students, opened for headliner Waka Flocka Flame in the group's biggest gig to date.
---
Our (Award-Winning) Ginkgo Tree Changed Colors
It's official: NC State is home to the best tree in Raleigh, North Carolina. Our Ginkgo biloba with a cult following — situated outside of Park Shops and lovingly dubbed "The Tree" — won the title in a landslide earlier this year. Now, its stunning fall transformation is underway and it's clearly showing off for the fans.
---
We Got Into the Holiday Spirit
We're grateful for you all the time, but the season of thanks makes us feel extra warm and fuzzy. This year's celebration included two of our favorite things: scholarship and service.
Nov. 15: The College of Agricultural and Life Sciences shared which holiday comfort foods are made in North Carolina. Turkey, ham, sweetpotatoes — all the VIPs made the list.
Nov. 20-27: Who says rivals can't team up? We competed against UNC-Chapel Hill in the second annual Pantry Bowl to see which university could rack up the most gifts for its campus food pantry. You led NC State to its second win against the Tar Heels that week, and our universities collectively raised nearly $150,000.
Nov. 21: NC State was selected as the home for the National Thanksgiving Turkey — and his wingman — following the birds' trip to the White House. Glad to have you in the Pack, Chocolate and Chip!
On Monday, the @natlturkeyfed presented Chocolate and Chip to Pres. Biden at the White House National Thanksgiving Turkey Presentation. 🦃 They'll now live out their days at @ncstatecals under the expert care of university poultry specialists.

Read more: https://t.co/nYFENhTbJU pic.twitter.com/vGOwclw7dc

— NC State University (@NCState) November 23, 2022
---
Other Campus Happenings
New campus spaces, new university rankings, new (and questionable) state fair foods. Find out what else our students experienced this semester.
Want to keep up with NC State all year long? Find us on Instagram for the latest updates.
---