Academics
Growing Tomorrow's Natural Resource Leaders
In the College of Natural Resources, planet Earth provides the classroom, and nature's bounty the curriculum — but it's the people who set it apart.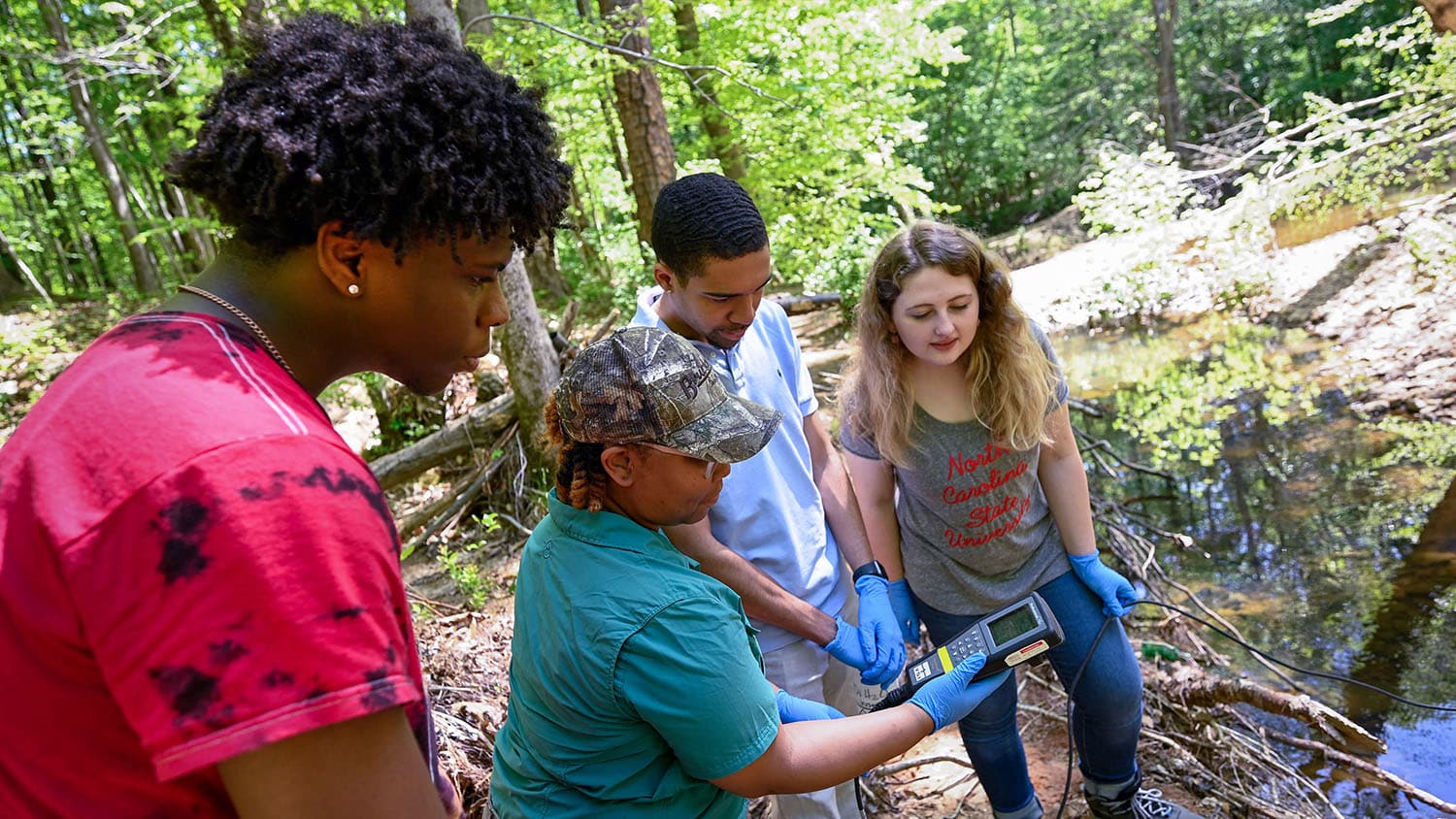 With each passing year, the need to transition to more sustainable modes of production and consumption grows more evident — and more urgent. From stronger hurricanes to overfishing to environmental injustice, the strain of our traditional approach to natural resource management is mounting, and young people, especially, are taking note.
But building a sustainable world won't happen overnight. It will take people collaborating across disciplines, innovating from the bottom up and the top down, to connect solutions that work in the field with the policy reforms, business practices and development models needed to foster lasting change in our communities.
The College of Natural Resources (CNR) offers a full suite of undergraduate and graduate degrees to prepare the next generation of problem-solvers for a lifetime of meaningful work managing our planet's precious reserves. Within CNR, majors that fit neatly into the fields of conservation and ecology — like environmental sciences, forest management, and fisheries, wildlife and conservation biology — sit next to less obvious majors, like paper science and engineering, and parks, recreation and tourism management. There's a good reason for that.
What unites these areas of study is a focus on using the resources at humanity's fingertips to make wiser choices about the environments we nurture, both natural and human-made. The people making these choices work a broad range of jobs across countless industries; learning to make those choices also requires a cross-disciplinary approach.
The Environment to Grow
When you hear from current students, it's easy to understand why CNR is consistently ranked among the top 10 places in the nation to study natural resources: The close-knit community the college offers is second to none.
"The biggest thing with CNR that I think is different, is the people," said Sami Anthony, a junior studying paper science and engineering in CNR's Department of Forest Biomaterials. "Just the overwhelming support you get from people who barely know you. They become some of your biggest mentors and biggest supporters."
For many students, that support starts with the faculty. CNR's award-winning professors and advisers bring real-world knowledge and experience to the classroom, often from the heights of their respective fields, giving every CNR student opportunities for mentorship as well as exposure to diverse perspectives.
"Most of our professors have also worked in industry, so they can give you their experiences while also giving you the facts about what's happening from an academia standpoint," said Anthony. "It's all about preparing you for the next steps. From the very beginning, they're always preparing you for after graduation."
Micaela Nardino, a senior studying sustainable tourism in CNR's Department of Parks, Recreation and Tourism Management, found that her connections with CNR faculty opened unexpected doors.
"One of my professors actually found my summer internship," said Nardino. "He connected me with the people that I worked for, which was the best experience. And then I did a talk in front of the Dean and some stakeholders about my experience, and another professor reached out to me with a research opportunity. The professors here are always looking out for you. They want you to succeed, and they want to partner with you."
It's not just the faculty who contribute to the college's strong sense of community. With 1,600 undergraduate students and 450 master's and Ph.D. students from an array of backgrounds, CNR boasts a diverse and welcoming peer network while preserving the feel of a small college within a big university. For students like Nardino, those peer connections often prove essential catalysts for growth, revealing new pathways to link their passions to a meaningful course of study.
"I transferred from environmental sciences to sustainable tourism because my peers actually guided me toward that," said Nardino. "I had people in my classes that were like, you know, you're missing the people side of things that you love, you should consider going this way. And with my classes, because there's such a broad variety of things that I learn, it's been so easy to say, 'I do like this, I don't love that,' and it's helped me find my way."
The Freedom to Find Your Path
NC State's guiding mantra, "Think and Do," is on full display across the College of Natural Resources, where students and professors are knee-deep in the learnings that will lead to tomorrow's breakthroughs.
The college offers nine undergraduate degree pathways, many of which can be customized and combined, to give anyone with a passion for people, problem-solving or the great outdoors a seat at the table. To make it easier to choose, CNR breaks down its majors into four buckets.
The Experience to Thrive
If CNR's community provides the support, it's the curriculum, with its emphasis on in-the-field learning, that gives its graduates the hard skills for sustainable success. Each degree within CNR encourages — and many require — students to complete an internship before graduation. The courses themselves are filled with hands-on experiences, offering learners ample opportunity to apply knowledge gained in the classroom to the real-world situations they'll face in the fast-changing fields they're preparing to enter.
"CNR puts you out in the world, whether you're ready for it or not," said Nardino. "We learn about problems and issues in the environment, and within the week we're out there. We're helping out. We're in the community."
Nardino's internship took her to North Carolina's Outer Banks, where she gained experience working with a local vacation rental agency. She spent her summer at the coast grappling with pressing problems in sustainable tourism, like affordable housing, while learning to surf in her spare time. Anthony, the paper science and engineering major, spent her internship in Cowpens, South Carolina, learning how process engineers in a local recycling mill answer the questions that come up in their daily work — and learning more about her own aspirations in the process.
"I didn't come from a paper mill town," said Anthony. "I didn't know what the paper industry was, and it was actually a thing people went into. So getting that internship really helped me figure out what I wanted to do with my future."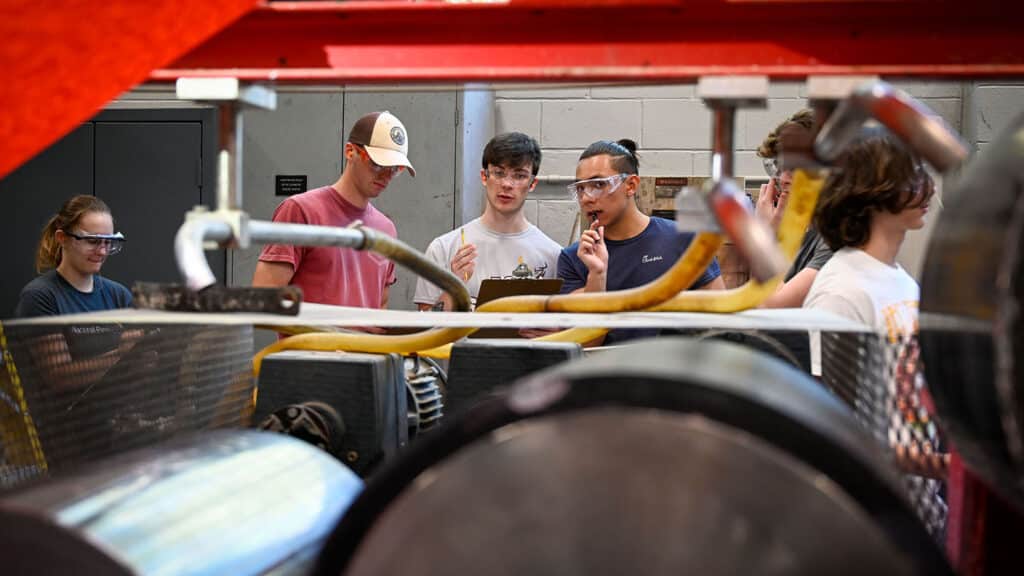 You don't have to look far for proof that a CNR education translates to real-world success. That proof can be found anywhere CNR alumni ply their trade, often right here in North Carolina, where rich natural spaces and thriving industries offer endless options for ambitious graduates. Teshawn Lee (Sustainable Materials and Technology '20) and Holly Walsh (Environmental Technology and Management '22), two recent graduates of the college, are prime examples.
Walsh, a staff scientist with environmental consulting firm Hart & Hickman, channels her CNR degree toward a career spent outdoors, conducting assessments to help preserve — and restore — our natural spaces. She credits her classes for ingraining the hard skills needed to properly collect and analyze soil and water samples, while she credits her classmates and professors for nurturing her softer skills, like critical thinking.
"Now, in the field, when I have to do something, it's not as difficult as it would be if I didn't have [those skills]," said Walsh. "Because of how interdisciplinary [CNR] is, I'm not just thinking about the chemistry or hydrology of a problem — I'm thinking about everything that goes into it."
Lee, a graduate of both CNR and NC State's ROTC program, splits time between his role with a sustainable building supply company, CaraGreen, and his post as a second lieutenant with the U.S. Army National Guard; but he applies the knowledge he gained from CNR across the full spectrum of his work. Since he started helping CaraGreen retool its shipping processes to incorporate more sustainable principles, he's seen his efforts boost the company's efficiency — and its bottom line. He brings that same renewable mindset to his role as a tanker, where he's been known to eagerly broach the topic of a cleaner tank fuel with fellow service members.
The experiences of CNR graduates like Lee and Walsh, and those of current students like Anthony and Nardino, exemplify the holistic approach to natural resource management that sets the college apart — and sets its graduates up for success, wherever their paths may lead.
"What I've learned from CNR is that our ecosystem is literally the ball of wet dirt that we're sitting on," said Lee. "And how you place into that, and how you can influence that system, that's what CNR put into my mind. They taught me that, hey, you need to start designing, you need to start acting on the idea that we have these limited resources, that while they're replenishable, we need to ensure that we're using them in such a way that there's enough for everyone."