Exploring the Magic of 'Life After Life'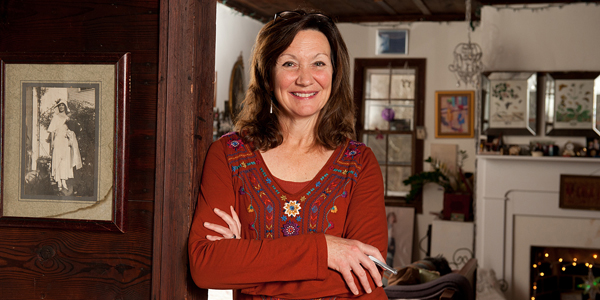 English Professor Jill McCorkle's fame extends well beyond NC State. Her first two novels, "The Cheer Leader" and "July 7th," were published to critical acclaim when she was just 26. Since then she's had five works selected as New York Times Notable Books, and her writing even inspired a popular Broadway play, "Good Ol' Girls."
Now her fans have another accomplishment to cheer. McCorkle has published a new novel, "Life After Life," based around the lives of the residents and staff of Pine Haven Estates, a retirement facility in Fulton, N.C. The book is her first novel in 17 years.
"It's been a long time coming," she says during an interview at her Hillsborough farm, where she keeps pet chickens, goats and dogs.
Vibrant Characters
From her study, lined with rows of bookcases filled with handsome photography and books, McCorkle describes her new characters who are deep and vibrant with strengths, weaknesses and secretive pasts. Take third-grade teacher Sadie Randolph who believes, "we are all 8-year-olds in our hearts." Stanley Stone, a retired lawyer, is "feigning dementia to escape life with his son," and the recently-widowed Rachel Silverman mysteriously left Massachusetts, settling in Fulton instead.
McCorkle says "Life After Life" is partly inspired by family experiences – her grandmother's battle with dementia, the passing of her beloved father, the hospice workers who helped him and ongoing experiences assisting her mother, currently living with Alzheimer's in a nursing facility.
"I'm interested in memory and the way that truth and fantasies sometimes run parallel," she says.
"Life After Life" also addresses living different lives. McCorkle herself grew up in Lumberton, N.C. before living outside of Boston for 20 years. She became a mother and professor; divorced and re-married, settling into this huge, historic home.
"Many of us have large life transitions and in my new book this is an ongoing theme."
Balancing It All
McCorkle says her long hiatus from novel writing came purely from lack of time. Between her teaching, home and family, McCorkle found short stories and essays better suited to her schedule.
"I was wearing many hats and lacked the time I needed to write a novel. I've taken notes for years – always thinking of the characters and just trusted those big chunks of time would come."
Now her kids attend college. But McCorkle remembers hiring a babysitter when they were preschoolers, leaving by the front door and then sneaking back inside to write. Several of her early books were handwritten, sometimes in her car outside a grocery-store. She couldn't have done it any other way, she says.
"For me not writing is like going without water or oxygen. I decided early on my writing must continue."
Teaching at NC State helps her writing also. McCorkle says her students keep her tuned into popular culture and language – and working with her students' manuscripts reminds her to return to her own writing.
In 2013 McCorkle is working on more short stories and yet another novel. Her parting advice for aspiring writers is simple: put ink on paper.
"The more you write, the more you write. The more you think, the more you think. Write that first draft not worrying who is going to buy or read it," she says.
"And read all you can of work you admire. Writing is like any other physical endeavor – you must stay in shape."