Parker Steps Up as Williams Steps Down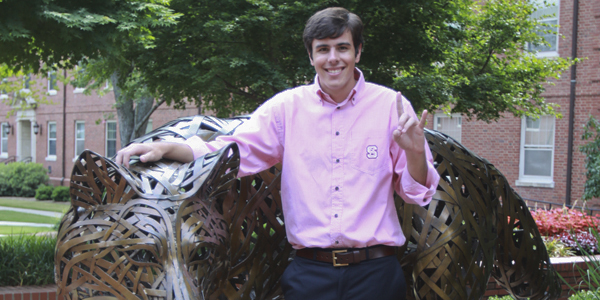 Alex Parker was in the final stages of packing for his month-long study abroad trip to Spain when he received news that would radically change his junior year at NC State.
Parker, a Raleigh native and Broughton High graduate who had won the race for Student Senate president in the spring elections, learned that student body president Matt Williams had decided to step down from his position after only two months because he was unable to fulfill the time commitments of the office, according to a June 19 email Williams sent to members of NC State's student government.
Based the best interpretation of the student government constitution, the Student Senate president is next in line if an elected student body president resigns. Parker also had the choice of calling a special election this fall to choose a new president, but after talking with advisers, past presidents and current student leaders, he decided that would not be feasible. Student government rules would have prevented a special election before the end of September or early October, meaning students would have had no representation at the September Board of Trustees meeting and at several important early semester committee meetings.
Into the Fire
So he leaped into the fire, becoming the leader of the student government's executive branch and the student representative to the NC State Board of Trustees.
"My final decision was a mix of personal and professional factors and came after much reflection and consideration of all my options," Parker said. "Former student body presidents told me that this was a once-in-a-lifetime opportunity and that it would be a great chance for me to grow in leadership and professional skills, which I am excited to fulfill."
The sudden veer from one position to the other made for a busy week before he left for Valencia, Spain, where he is part of an academic program sponsored by the foreign languages department. He will return to Raleigh in late July after a busy schedule of study, cultural engagement and sightseeing.
"Challenging our assumptions and view of the world is a healthy, if not distressing, part of the college experience and I have lived that challenge and growth here in Spain," said the Spanish major with a teaching education option in an email exchange. "I think I will leave this country surer of myself and more open to new ideas and ways of living which I hope will be useful in my personal and professional career."
Parker is both a North Carolina Teaching Fellow and a Caldwell Fellow who became involved in student government through CSLEPS, the Center for Student Leadership, Ethics and Public Service. He then served two years as a student senator before running for Student Senate president.
"I wanted to run for Student Senate president because I thought it was a good opportunity to give back," Parker said. "I also knew I could bring an interesting view from my time as a student director in the service leadership team in CSLEPS. My reasons for running for Student Senate president and for accepting the role as student body president are very similar. I want to learn how to lead by serving others, and both of these opportunities provide me with an avenue to accomplish that goal."
Embracing the Role
He never had his sights set on student government's highest office, but has embraced the role since deciding to take over the position. Kelsey Mills, chosen as the president pro tempore, will take over as Student Senate president. Parker is now finalizing his goals for the upcoming academic year, working off the platform established by Williams during the spring campaign.
"I believe when the student body elected Matt Williams they approved his vision for the university for the next year," Parker said. "I hope to transform this vision into tangible goals that my team and I will seek to accomplish this year. The concrete goals are being determined during summer, and this fall I will send out a HOWL [a student government email to the NC State community] detailing our plan."
While Parker accepted his leadership role under less-than-ideal circumstances, he is ready for whatever challenges he may face when he returns from Spain.
"No student body president can run a perfect organization or advocate for students flawlessly," he said. "One of the rewards I hope for this coming year is learning how to overcome the challenges. I know this position is going to provide me with a great opportunity to grow and learn."