White House Honors IEI Director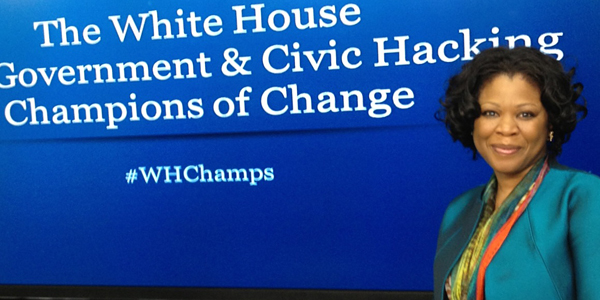 Anita Brown-Graham and NC State's Institute for Emerging Issues caught the eye of the White House during last year's Redesigning Democracy Summit, when national leaders gathered on campus to talk about innovative ideas for community engagement.
Several representatives on hand were more impressed with what they learned than what they taught: that NC State is at the forefront of citizen engagement in civic participation.
Soon after, Brown-Graham was nominated separately by her staff and by UNC system president Tom Ross as a Champion of Change, part of President Barack Obama's "Winning the Future" initiative. On July 12, Brown-Graham was notified by email that she had been selected with 13 other individuals in a category called open government and civic hacking. Last week, she traveled to the nation's capital to receive the award and to present at an educational workshop conducted by the winners for some 200 government, industry and civic leaders.
National Visibility
It was a flattering and fulfilling event, not because she received a personal accolade, but because so many key leaders are now more familiar with the work of NC State's unique institute.
"This award is about IEI and the promise people seem to think it has for being groundbreaking on how to bring people together to work on issues that are important to our state," Brown-Graham said. "It has the side benefit of validating for the people within this state that this is a unique and important asset. A lot of people hope – and I hope – that is already true, but it may now have picked up a larger group of supporters who are curious about the work we do."
Brown-Graham and her staff already have plenty of advocates on and off campus, including the university's leadership.
"Anita and her team exemplify NC State's commitment to tackle the toughest challenges facing society," said Chancellor Randy Woodson. "By leveraging our university's legacy of service together with 21st century tools and technologies, Anita and IEI are able to build powerful partnerships that are working to generate prosperity and improve the quality of life in communities across our state and nation."
Uncommon Commons
Earlier this year, IEI opened the Emerging Issues Commons, a physical and virtual tool that transforms how citizens across the state connect with each other, access information and work for change. It's another way the Centennial Campus-based think-and-do tank advances its mission to ensure the state of North Carolina's competitiveness.
For Brown-Graham, earning the Champion of Change designation has allowed her to talk to other university engagement and extension organizations, public sector and federal agencies and large municipal governments about how they can use the lessons learned from IEI as a model to grow their organizations.
"It's been the coolest week, to talk to all these people and be able to share what we think we know and also to admit to them that we are on the front end of an experiment and that we will all learn together," she said. "And that's what universities do: experiment with new discoveries and share them with others and collectively improve them."
It has also raised the expectations for IEI moving forward, which is just fine with Brown-Graham, a native of Baton Rouge, La., who earned an undergraduate degree from Louisiana State and a law degree from UNC-Chapel Hill before becoming IEI's director in 2007.
"People expect us to be at the forefront of thinking about new strategies, new tools and new techniques for engagement," she said. "This award only serves to propel those expectations to an even higher level, and that is a good thing for us. We don't ever want to be in a place where we become complacent about what we have been able to accomplish, especially given some of the challenges and opportunities that are confronting North Carolina.
"We need to get bigger, we need to get better and we need to do it pretty quickly."