Crowd Awed by Park Gift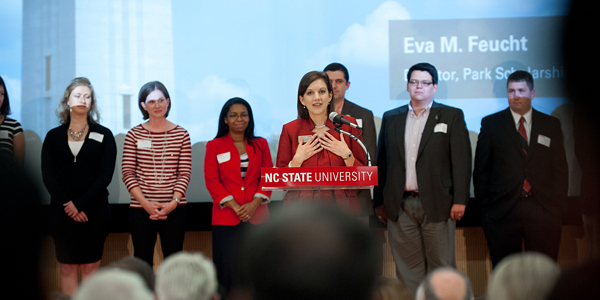 More than 500 people were on hand Friday afternoon in the Hunt Library when NC State chancellor Randy Woodson and UNC president Tom Ross joined with Adelaide Gomer to announce the largest financial gift in NC State's history.
Gomer, president of the Park Foundation and the daughter of media mogul Roy Park, announced that the foundation would give $50 million to the university to change the 18-year-old Park Scholars program from an annual gift from the foundation to a permanent part of the university's ever-growing endowment of nearly $800 million.
The total is not only the largest gift in NC State's history, it also matches the largest gift ever received by a UNC system school.
Instead of getting an annual gift from the foundation to pay for 45 new Park Scholarships every year, the university will add the gift to its endowment and begin a seven-year fundraising campaign to raise another $100 million to fund the scholarship in perpetuity.
The foundation was created by Park, a Dobson native who founded a comprehensive media empire as well as Hines-Park Foods, the company that created the popular Duncan Hines cake mix. The Park Scholarship was established in 1996, about three years after his death.
The auditorium was packed with more than 400 people to hear the announcement, while the lobby just outside was filled with current and former Park Scholars on hand to hear the announcement. They audibly gasped when Woodson announced the gift's amount.
"I think Mr. Park would be proud of the legacy he has created at NC State and the legacy each class of Park Scholars leaves behind," Woodson said in a letter to faculty and staff on Friday.