In Praise of Working Dogs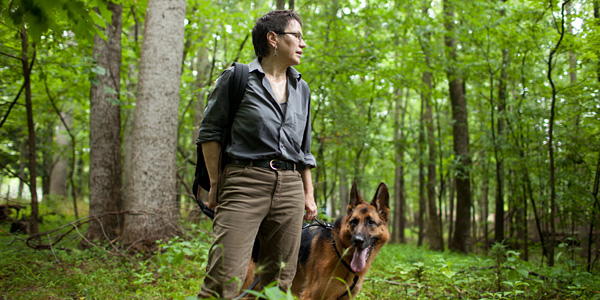 Let's get this part out of the way first: Yes, a person named Cat wrote a book about her dog.
One person in the marketing arm of her publisher even gently asked if she might consider using her given name, Catherine, which no one except the for-now shuttered passport office has called her for decades. She said no.
"And the sad thing is – I'm deeply allergic to cats," says Cat Warren, an associate professor of journalism in the English department who teaches science writing, editing and reporting.
But definitely not dogs. She's owned them for years, dating back to her youthful days growing up in the woods of Oregon. She never had one quite like Solo, however, the playful and sometimes uncontrollable German shepherd she and her husband brought home more than nine years ago.
And it's his face that gets prominent billing on the cover of "What the Dog Knows: The Science and Wonder of Working Dogs," published this week by Simon & Schuster's Touchtone Books.
Teamwork
Already with high praise, the book is one part memoir, one part science and one part history as it details how her obedience-school dropout became proficient in an unusual hobby: helping law enforcement officials search for missing and presumed-dead people. Warren and Solo have trained with several organizations, including the Durham police and sheriff's K-9 units, since Solo was certified more than eight years ago. They have answered more than three dozen calls from all over the state.
Warren's narrative takes the reader through the history of cadaver dogs, dispels longstanding myths about dogs' sense of smell and details Solo's transformation from an unruly puppy to focused search dog, looking to please his handler and trainer solely for the promise of a simple game of "tug."
She also goes in depth about their sad triumphs in the woods of North Carolina, where she and other handlers and dogs locate people who have gone missing due to homicide, suicide or dementia.
Ultimate Mystery
Though there are times when Solo's story has its touching scenes, this isn't "Marley and Me." It's a frank discussion of the science behind the training, written by a former journalist and science writer who has done research on all aspects of her accidental avocation.
It's something she's grown to love as much as Solo.
"As [cadaver dog trainer] Andy Rebman said, 'Search is the ultimate mystery,'" Warren says. "So I loved it from the beginning. I loved being in the woods of North Carolina, even though they are very different from where I grew up. The same challenges are there.
"It was such a pleasure to see that this dog immediately loved the work. It gave him an immediate focus and it gave me a focus to train him."
Like any first-time author, Warren is excited and a little nervous about this week's publication of her first "serious nonfiction" book, which she has worked on – with approval from the trainers and officers she's worked with – for more than three years.  Warren has several local book signings in the coming weeks, including one Thursday in Chapel Hill and another on Oct. 30 at Quail Ridge Books in Raleigh.
"I'm eager to see the reaction and obviously a little scared," she says.
Book Appearances
Thursday, Oct. 3 at 7 p.m.
Flyleaf Books
752 Martin Luther King Jr. Blvd., Chapel Hill, NC 27514
Details
Thursday, Oct. 10 at 7 p.m.
Regulator Bookshop
720 Ninth St., Durham, N.C. 27705
Wednesday, October 30 at 7:30 p.m.
Quail Ridge Bookstore
3522 Wade Ave., Raleigh, N.C., 27607
Friday, Nov. 1 at 7 p.m.
Science Cafe talk
North Carolina Museum of Natural Sciences
11 West Jones St.  Raleigh, N.C. 27601
Monday, Nov. 11, 6 to 7:30 p.m.
Cimos
111 E. Hargett St. Raleigh. NC
Benefit and Book Signing for Raleigh Public Record