First in the Future of Flight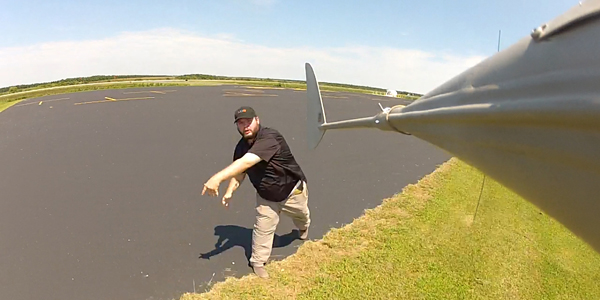 The distance between the Hyde County Airport and the sandy dune where Orville and Wilbur Wright first took flight is only 40 miles, as the UAV flies.
But those two remote outposts on the North Carolina coast mark the distance between aviation's past and its future.
For Kyle Snyder, the director of NC State's NextGen Air Transportation (NGAT) Center on Centennial Campus, the future flies with Vireo, a small unmanned aviation vehicle, or UAV, barely larger than a football.  Its capabilities, however, are enormous in the fields of agriculture, law enforcement and first responders. And its costs, compared to larger, piloted aviation, are low.
"North Carolina's legacy as a leader in aviation is indisputable," Snyder says. "To miss out on this opportunity would be crazy. We want to be First in the Future of Flight."
FAA to Name Test Centers
Currently, unmanned aviation systems (UAS) for research and state agency use are not permitted without Federal Aviation Administration approval, while commercial use is strictly prohibited except for a handful of unique exemptions. Congress ordered the FAA to develop safety regulations to address commercial operations and privacy concerns by September 2015.  Part of that order includes the establishment of six UAS test sites – to be named in December – that "must be geographically and climactically diverse."
NGAT researchers hope a proposed test facility at the Hyde County Airport in Engelhard – about 200 miles due east of NC State – makes the cut.
The state's Department of Transportation Aviation Division provided $2.5 million to fund the development of a UAS program to address a variety of issues, including "agriculture intelligence." The College of Agriculture and Life Sciences, industry partners and local farmers all support research related to capturing imagery to help farmers, large and small, manage crop health and improve yield predictions.
"This program is like taking a seed and putting it in fertile soil," says Bobby Walston, director of the state's Aviation Division. "There is so much research going on at NC State, and this program is bringing it all together. There are multiple applications in every business sector.
"It is not just about aviation."
Snyder believes the state is in position to be a turnkey leader in the industry, thanks in large part to the high-skill workforce provided by NC State and the region's other universities.
"We have engineering talent," he says. "We have maintenance and technician talent. We have analysts who understand the information we are getting from these UAVs for these new capabilities and new markets that we are creating. We have operators that understand the equipment, understand airspace and know how these can be safely integrated and used in commercial operations."
Law enforcement would like to use the UAVs to gather information at crime scenes, in searches and during times of crisis, such as natural disasters. Other agencies are interested in the low-cost possibilities of using UAVs. Under a waiver from the state's office of information technology, NGAT is allowed to handle all research into UAS applications and integration, while also developing governance and testing data management policies for future use.
"Every state agency has inquired about what it will take to get access to this capability," Snyder says.
Companies like Blue Force Technologies in Morrisville, N.C. – which is led by NC State aerospace and mechanical engineering graduate Scott Bledsoe – manufacture the lightweight, nearly indestructible composites used to make the plane bodies.
Charlotte-based UTC Aerospace Systems has just begun to manufacture the small planes, along with the control systems for flight management and data analysis.
Snyder believes there are additional manufacturing and research opportunities inside the state's borders, along with well-trained operators discharged from the state's major military installations to help drive a future industry that can make a major economic impact on the state's high-tech manufacturing sector.
He's even contributed to it himself: Through a grant from the Golden LEAF Foundation, Snyder recently bought a prototype UAS system from UTC for $134,000 to conduct his research, complete with a custom red-and-white paint job.
UTC's Vireo includes two airplanes, high-resolution digital cameras and two control systems for flight management and data analysis. An hour-long flight can produce still photographs, high-resolution video and infrared or multispectral imagery.
Regional Boost
The Hyde County Airport is a general aviation facility that is the least used of the North Carolina Department of Transportation's 72 public airports, located on a small strip of farm land between Lake Mattamuskeet and the Pamlico Sound. Not long ago, the largest unpiloted fliers in the area were the ubiquitous mosquitoes that breed in nearby waters of the state's largest natural lake.
With 5,718 residents, Hyde is the second least populous of the state's 100 counties. Its rich black soil is ideal for farming­—especially for the hundreds of acres of Mattamuskeet sweet onions—and provides the perfect location for agricultural research.
In February, the FAA approved NGAT's request to start testing UAVs at the site. The first test flights were launched in March on a rectangular path about 400 feet off the ground over some just-planted cotton fields.
Snyder and several aerospace and mechanical engineering students have made the four-hour trip to Engelhard on several occasions, including a demonstration day in October for Hyde County officials and several local and national media outlets.
Project Runway
Takeoffs and landings aren't especially high-tech. A student hand launches Vireo into the wind with a running start in a freshly mowed field, and it belly slides home near the same location after about an hour of flying. But these UAVs aren't toys—they're tools. And the information they gather is invaluable.
Still, the 30,000 acres in the test site footprint have exactly what NGAT and its industry partners need for their test flights: wide-open spaces, including an area that goes two miles out into the Pamlico Sound.
"This is ideal," Snyder says. "It is totally unique on the East Coast."
Newport News, Va.,-based Bosh Global Solutions began its partnership in 2012, testing UAVs like the Swiper and Super Swiper planes and the Condor II helicopter.  These tests include sensor calibration, collection of data for business model development and capabilities for supporting agriculture applications such as monitoring crop health.
Jaryd Tehini, a December 2012 NC State graduate with degrees in aerospace and mechanical engineering, joined Bosh as its lead integration engineer in February after supporting NGAT as an airworthiness engineer that fall. For the native of South Africa who arrived at NC State looking for an academic career as a physicist, participating in NC State's Aerial Robotics Club changed the direction of his future.
"It literally made all the difference in what I wanted to do," Tehini says. "I was incredibly fortunate to work with the faculty and in the aviation club to help find this path for a career."