NC State's Pinehurst Connections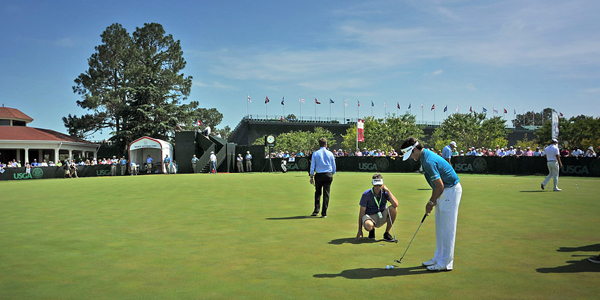 Looking for some NC State angles at this week's U.S. Open in Pinehurst? Here are a few tangible connections to this week's festivities, and some to next week's U.S. Women's Open.
The Player
Followers of NC State's successful golf program might be surprised that neither Tim Clark nor Carl Pettersson – two highly accomplished PGA touring pros – is in the field of 156 players at this week's U.S. Open Championship at Pinehurst No. 2. Clark tied for third in 2005, when the Open was last played at Pinehurst, while Pettersson missed the cut.
The two have combined for six PGA Tour wins and more than $41 million in career earnings.
But the lone player who will represent the Wolfpack in either the men's or the women's championships is former All-American Garth Mulroy, who has scraped his way across five continents to get to Pinehurst, less than 90 minutes away from his permanent home in North Raleigh.
Mulroy, after a season at Lon Morris College in Jacksonville, Texas, and Scottsdale Junior College in Arizona, played two years under NC State head coach Richard Sykes, qualifying for the NCAA Championship both seasons and finishing ninth at the 2001 ACC Championships and fourth at the 2002 ACC Championships. He was an All-American in 2002.
After a vagabond playing career that included 43 events on the PGA Tour from 2010 to 2012 and a slew of attempts on various mini-tours and minor-league stops, the native of Umkomass, South Africa, got his big break by winning the $3 million in the inaugural Big Stakes Match Play in 2005 with David Ping. On Thursday, he will make his U.S. Open debut when he tees off on the first hole at 12:30 p.m.
"He's really a very good player," says Sykes, the NC State men's coach for the last 44 years. "Just qualifying for the Open was not his goal. He hopes to do well this week, and he has a chance to do well."
Mulroy qualified for the tournament by finishing tied for second at the Walton Heath sectional qualifying event on May 26 in Surrey, England. He then hopped on a flight home to begin preparations for Pinehurst, after six months playing tournaments all over the world.
Since January, Mulroy has competed in tournaments in Chile, Brazil, Qatar, Malaysia, his native South Africa (twice), the United Arab Emirates (twice), China, England and the United States. Two of those international tournaments were on the Web.com Tour, the PGA's equivalent to baseball's minor leagues, where Mulroy has played in five events and won $33,000. His other eight tournaments were on the European PGA Tour, which plays tournaments in Europe, Africa and Asia. He's had one top 10 finish.
"He's been kind of a nomad," says Sykes, who plans to follow Mulroy in the first two rounds. "It'd be nice to see him do well so close to home."
The Super
It was 10 a.m. on Wednesday and Pinehurst No. 2 course superintendent Kevin Robinson was headed home for a nap. Don't accuse him, however, of laying down on the job.
No one has worked harder over the last four years to make sure the classic Donald Ross is ready for a new look and a new crop of the world's greatest golfer than Robinson, a 1992 graduate with a degree in turfgrass management. He's been at the course at 3:30 a.m. every day this week, organizing his staff and volunteers, turning on the sprinklers when necessary, giving instructions to his spray technicians and taking career of every minor detail that will make the legendary course look unkempt.
He will get a little rest beginning on Thursday as the world's best men's players begin their pursuit of the 118th U.S. Open Championship – but only for a short while. On Monday, practice rounds begin for the U.S. Women's Open, the first time in the history of the two tournaments they have been played on back-to-back weekends on the same course.
Though Robinson and his staff – which includes NC State grads John Jeffreys and Tom Lineberger – have been preparing for four years for this event, there are some variables that won't be taken into account until Thursday.
"It's a big sigh of relief once the competition starts, but also the underlying factor is the weather," Robinson says. "You always have to worry about what Mother Nature is going to throw at you. We're constantly worrying about the heat on the greens, and we have to worry about their condition for the duration, not just tomorrow or Friday or Saturday or Sunday.
"We have another full week of practice rounds and championship play after this. We have to have the course healthy for the women, too."
With the help of Trent Bouts of the Carolinas Golf Course Superintendents Association, Robinson is keeping a diary of his efforts at Pinehurst No. 2 over the next two weeks, with daily entries.
Robinson hopes he won't be so busy that he doesn't get to watch some of the play over the next four days, but he also has to make sure he gets a little rest.
Because there is another championship just over the horizon.
The Instructor
As a player at NC State, Kelly Mitchum was a four-time All-American and the 1991 ACC champion. He spent years on various tours as a professional player, but has made a name for himself as an instructor for the Pinehurst Resort and a four-time top 10 finisher in the PGA Professional National Championship.
He played in four PGA Championship tournaments and qualified for a handful of PGA Tour events since his college career ended.
While he has no specific duties over the next two weeks, Mitchum has been roaming the practice areas offering some advice about the course and soaking in how other instructors work with touring pros. For Monday's practice rounds, he was the official starter on the first tee. Wednesday morning, he spent a good bit of time watching Phil Mickelson on the range.
"It's fun to watch the players and the interaction the players have with their instructors," Mitchum says.
He is all for the changes made by redesigners Bill Coore and Ben Crenshaw, who oversaw the restoration of Ross' masterpiece.
"I like it so much better than what the course has been," Mitchum says. "It's going to be a completely different kind of Open. There will be some viewers who will miss seeing guys hacking out of the deep rough.
"It might take some getting used to, but I think this look is here to stay for No. 2."