Campus Life
This Week in 1889: NC State's First Class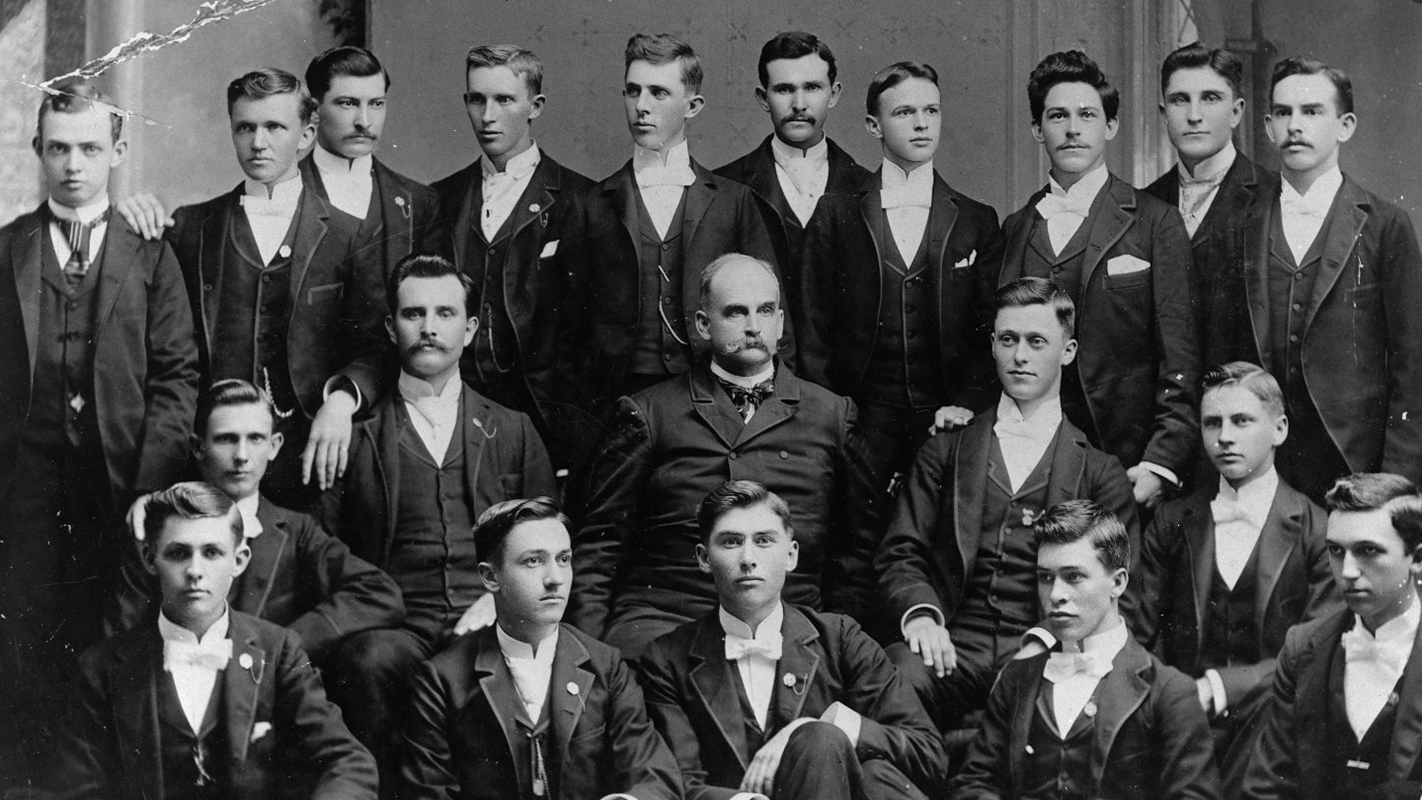 A quick nod to the 125th anniversary of NC State University's first day of class.
Two years ago, the institution began a year-long celebration of its founding on March 7, 1887, which we celebrate annually as Founders' Day. But the first classes didn't start until the fall of 1889.
After the institution was founded, much still needed to be done before the doors could be opened, beginning with finding a suitable plot of land. After considering Nash Square in downtown Raleigh and a site on St. Mary's Street near the modern-day Methodist Home for Children, the school was located on a 60-acre tract of farmland donated by Raleigh philanthropist R. Stanhope Pullen. Half the land went to the city for the state's first public park, which still bears Pullen's name.
The other half became the North Carolina College of Agriculture and Mechanic Arts. Construction began immediately on the school's only structure, a multipurpose facility built with 1.5 million bricks supplied by the nearby state penitentiary.
When the cornerstone was laid on Aug. 22, 1888, Watauga Club organizer William J. Peele spoke the following words:
No white marble pillars support the building whose cornerstone we have laid here today. At its feet no sacred river flows. In its walls are nothing but North Carolina brick and her still more solid sandstone. It is a goodly and worthy structure, yet I will not compare it to the temple of the ancient Indian king; but in one respect they are alike; both are monuments of a labor of love; for this too is a temple reared by North Carolina for her children.
It may be injured by the parsimony of some future lawgiver, or it may be enlarged by the generosity of some more princely benefactor than Mr. Pullen, but I make this prophecy: that the principle of industrial education, for the want of habitation wherein to dwell, shall walk naked in North Carolina no more again forever!
And to this building and the institution it embodies, and the principle of industrial education of which it is the home, I would say in the language of the Latin, itself an emblem of immortality, Esto perpetua! (Be eternal!)
The doors of the Main Building — now called Holladay Hall in honor of the school's first president, Alexander Quarles Holladay — opened on Oct. 3, 1889.
The first student to enroll was Walter J. Mathews, a farm boy from Asheville who was so disenchanted with hollering at the family mule that he hopped aboard a train and headed to the state capital to be a part of the new land-grant institution, NC A&M.
He was joined by 44 other young men from all parts of North Carolina, plus Stephen Anthony LaCoste, a 17-year-old from Lynchburg, S.C., for the first day of classes 125 years ago this week. The youngest freshman was 14; the oldest was 23. The class swelled to 72 during the academic year, but only 38 remained for final exams in the spring of 1890. The first graduating class, in 1893, had 19 members.
Here's what greeted those first students on their first day of class:
A bill that included $20 for annual tuition and $12.50 for books, stationery, fuel lights and medical care; and the first monthly bill of $8 for room and board and 75 cents for laundry.
A choice between two fields of study: a Bachelor of Science in Agriculture and a Bachelor of Engineering.
A single three-story building measuring 170 feet by 60 feet, with a basement that included a workshop, kitchen, storeroom, dining hall and gymnasium; first-floor classrooms and administrative offices; second- and third-floor dormitory rooms, all without heat; and no electricity or running water (steam radiators and electric lights were added in 1895).
The inconvenience of continued campus construction, as the Mechanics Building — which included shop rooms, laboratories and a forge — was hastily built for a grand opening in the fall of 1890.
Six faculty members: Holladay, president and professor of history; Joseph R. Chamberlain, professor of agriculture; Wilbur Fisk Massey, professor of horticulture, arboriculture and botany; William Alonzo Withers, professor of pure and agricultural chemistry; Daniel Harvey Hill Jr., professor of English and bookkeeping; and J.H. Kinealy, professor of mathematics and practical mechanics.
Three administrative assistants: B.S. Skinner, superintendent of farms; J.N. Hubbard, steward; and Susan C. Carroll, matron.
Mandatory chapel every morning through the Young Men's Christian Association, plus required Sunday attendance at the church of a student's proclaimed denomination.
A library that contained about 1,500 donated books.
A total endowment of $472,000, which provided appropriations of $7,500 per year from the state's Land-Scrip Fund and $15,000 per year from the federal Hatch Act.
All freshmen from 1889 to '95 were required to do manual labor on campus. For the mechanics students, that meant up to 12 hours a week in the shop, working as a blacksmith or carpenter. For the agricultural students, it meant work on the college farm, generally tending fields of peas, the initial cash crop that helped fund operations.
However, they weren't all that good at it.
"The students dislike manual labor, especially the farm work, and they spent a great deal of time throwing clods of earth or potatoes at each other or laughing at the city boys learning to milk cows," according to North Carolina State University: A Narrative History by Alice Elizabeth Reagan (1987).
Military sciences were added in 1894, requiring students to join one of three companies in an infantry battalion, to participate in mandatory military drills for three hours a week and, without exception, to wear gray military uniforms on campus.
Later, students worked in the power plant, made furniture and did construction work on new buildings.
The campus at what has become the state's largest university has surely changed over the years; construction, however, is still ongoing.