Service and Community
Thousands Honor Slain Students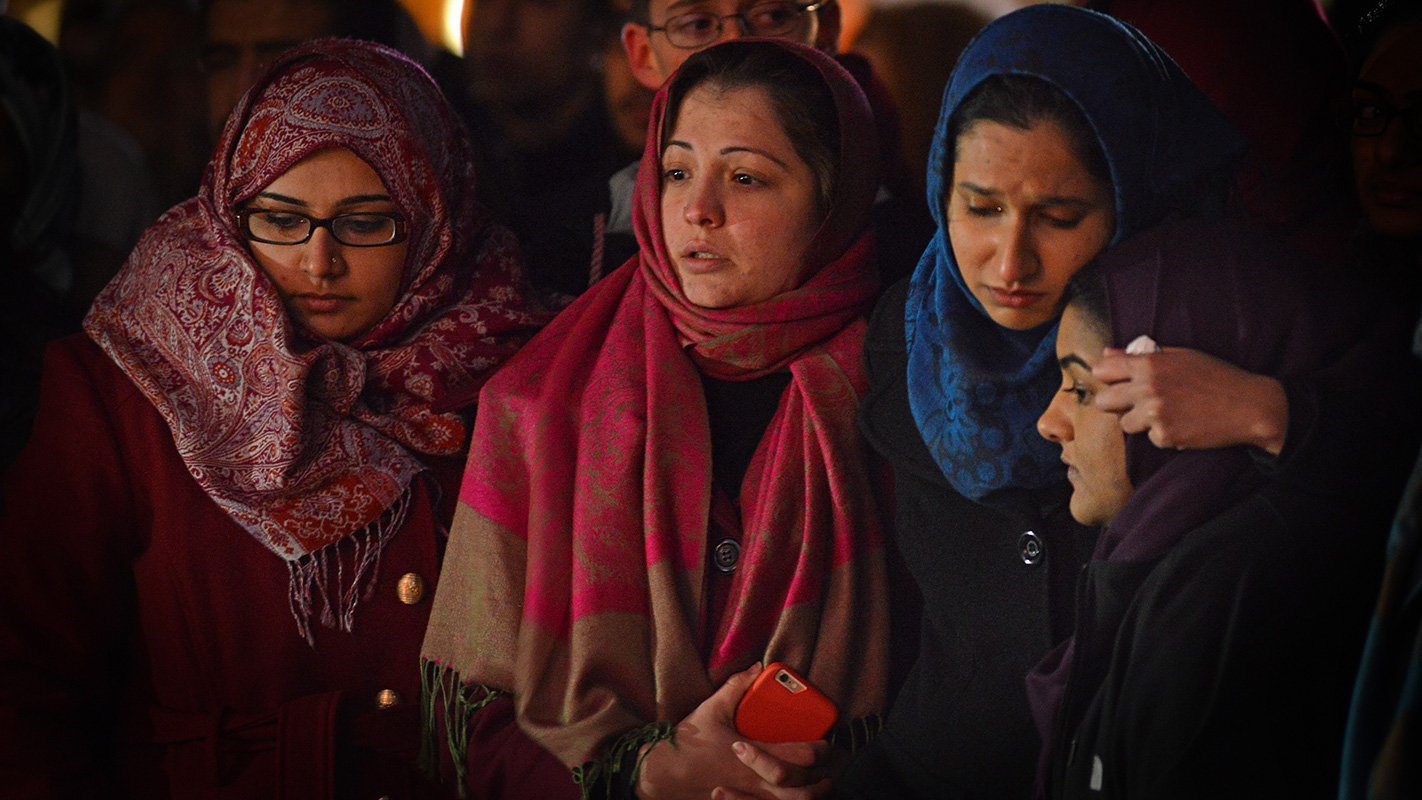 As an emotional and wrenching day turned into Thursday evening, random snowflakes fell on the Brickyard as the NC State Muslim Students' Association prepared for a prayer vigil for three slain members of the Wolfpack family.
That same light snow fell on the Islamic Association of Raleigh's cemetery in Wendell, N.C., as sisters Yusor and Razan Abu-Salha of Raleigh were buried together and Yusor's husband of six weeks, Deah Barakat, was buried nearby. The couple were NC State alumni enrolled at UNC's dentistry school. Razan was an NC State sophomore majoring in architecture.
"To us, it was a sense of cleanliness and purity that comes from snow," said Deah's older brother, Farris Barakat. "Literally, every step of the way, we have had so much to laugh and smile about."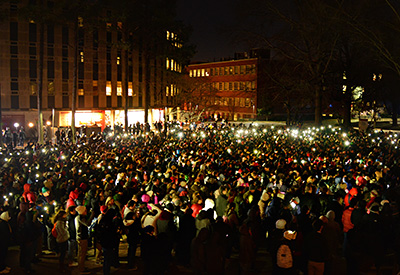 It was evident early on that the Brickyard event, a Night of Dua'a, would be a joyful remembrance of the three family members as NC State Chancellor Randy Woodson, UNC-Chapel Hill Chancellor Carol Folt, North Carolina Gov. Pat McCrory and others recalled their generosity, creativity and passion for life.
There was also a prayer vigil in Chapel Hill Wednesday night, as well as dozens of others across the country.
"Please do not cry for their losses, but be joyous for their peaceful return home to their creator," said Ali Sajjad, president of the NC State Muslim Students' Association.
Earlier in the day, the Federal Bureau of Investigation announced its own investigation into Tuesday's triple homicide in Chapel Hill, running parallel to the investigation underway by the Chapel Hill police. A suspect, 46-year-old Craig Stephen Hicks, has been charged with three counts of first-degree murder.
Three Caskets
Shortly after noon, the family of the three victims gathered at the Islamic Association of Raleigh mosque on the western edge of NC State's campus for a private funeral service. Afterwards, they moved across the street, along with three caskets — one silver, one gray and one white — for a public service on the field of the Method Road Soccer Complex.
More than 5,500 mourners attended the event, which included a midday call to prayer, remembrances of the three shooting victims by the father of the two sisters, Mohammad Abu-Salha, and a funeral prayer.
"These are heavy, heavy times," said the imam, while also offering joyful remembrances of the three young people.
The day began splashed in sun, but clouds rolled in with the funeral procession. Rain and snow speckled the afternoon during the heartbreaking burial at the cemetery 25 miles away.
No Better Legacy
By the time of the planned evening vigil and call to prayer, a strong wind and 35-degree temperatures had settled on the Brickyard. Still, more than 3,000 students, faculty, staff and members of the community were present as the candlelight vigil became a cell-phone light tribute.
Following words from McCrory, Woodson, Folt and Provost Warwick Arden, College of Design Dean Marvin Malecha extolled Razan Abu-Salha, a student in his Design Thinking class last fall.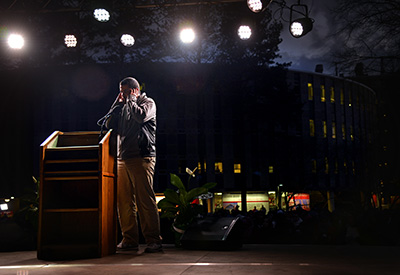 Like her father, who called Razan "the breeze of the day," Malecha spoke of her bright smile and caring heart.
"In the spirit of celebrating a life and a legacy, she will leave with us that gentle spirit and the determination to make this a better place for everyone," Malecha said. "There is no better legacy than that. It's that legacy that will help us be more creative and more determined.
"We can only hope that a lesson will be learned from this and that lesson is that we must value every point of view, every way of looking at the world, because without that point of view, we will not be innovative, we will not be creative and we will not make the kind of contribution that is expected of us in a country where we have so much to offer."
Strength in the Pack
Two of Barakat's older siblings spoke at the event.
"Our connection to this campus is deep," said Farris Barakat, who also attended NC State. "I hope that means something to each and every student at NC State. I hope that means we somehow touched your heart in a way that you can live in their legacy and you can take what they did that was good and you can live it in your life.
"It is the best thing you can do for my family now. Thank you all. We love you. God bless each of you. My faith has me very strong, very happy and very comforted. I hope you are too."
Suzanne Barakat, a multiple graduate of UNC, stood at the podium and held her arm high, flashing the wolf hand sign that is popular among NC State students and alumni. She spoke of her younger brother's commitment to serving others and his wife and sister's volunteer and charitable contributions to the local, national and global community.
"The message that we want to share is spread love, spread awareness because these three people were nothing but love and kindness," she said. "I'm sure they would want you to continue that for them."