In Memoriam: William Block
Retired political science professor William J. Block, a World War II combat veteran who started NC State's Master of Public Administration program, died March 24 in Raleigh. He was 97.
During his 27-year career at NC State, he chaired the political science department and served as chair of the Faculty Senate. Known as an excellent professor and advisor, Block continued to advise students for many years after he retired in 1984.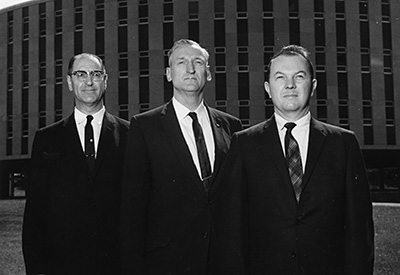 Block also advised many elected officials, and worked tirelessly to help elect his wife, Miriam, to five terms on the Raleigh City Council between 1973 and 1985.
He wrote "Washington Hearing Aids," a column for Agricultural Policy Review, for many years. And he was the author of numerous USDA Federal Extension Service pamphlets, brochures and articles.
Block was a recipient of the Order of the Long Leaf Pine, one of the state's highest honors, in recognition of his extraordinary service to North Carolina.
Block was predeceased by his wife of 64 years, who died in 2005. He is survived by his daughters, Cheryl J. Block, Carla J. Block and Christina J. Block Terrell and their families.
Memorial contributions may be made to SPCA of Wake County, Fairmont United Methodist Church in Raleigh, NCSU Friends of the Library or Transitions LifeCare in Raleigh. Learn more at the News & Observer site.