Pullen Road Extension Approved
The trip from NC State's traditional campus to Centennial Campus will soon be much shorter and, potentially, much safer for cyclists and pedestrians.
Fifty years after they were first drawn up, plans to extend NC State's eastern boundary, Pullen Road, to connect Centennial Campus were approved earlier this week by the Raleigh City Council. The road separates main campus from Pullen Park and currently dead ends into a difficult and often crowded intersection at Western Boulevard.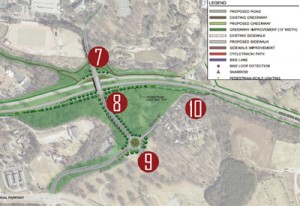 The $3 million extension project, which will begin next year and be ready for use in 2017, will connect Pullen Road with Centennial Boulevard, via Bilyeu Street, providing a better transit route for West Raleigh residents, worshippers attending the soon-to-be-built Roman Catholic Diocese of Raleigh cathedral and NC State's 1,125-acre technology campus.
The project is a joint venture, with $750,000 coming from the university, $750,000 from the diocese and $1.5 million coming from the city.
"This is going to be really huge for us," says Michael Ousdahl, NCSU Transportation's assistant director for planning and operations. "One of the biggest complaints we get about the Wolfline [bus service] is the amount of time it takes to get from main campus to Centennial Campus.
"The Western Boulevard and Avent Ferry intersection is always congested, between traffic and signal timing, and it can take a while to navigate through there going either direction. When this extension opens, the impact on travel time will be immediate."
The Wolfline's express engineering bus, about the quickest route between campuses, takes between 10 to 15 minutes by traveling from Avent Ferry Road to Varsity Drive and onto Main Campus Drive.
"That is a significant impact for those students going from one campus to the other," Ousdahl says.
Plans also call for bicycle lanes and sidewalks throughout the route of the next extension, removing some of the more treacherous obstacles for students trying to navigate across and around two major four-lane highways, Western and Avent Ferry.
"Those are just not very friendly places for bicycles and pedestrians," Ousdahl says. "By including dedicated bike lanes and sidewalks, this will become a true multimodal route between the campuses and a much safer connection."
However, he still has concerns about the safety of the bridge at the current intersection of Pullen and Western, because of the lack of room for cyclists and pedestrians. The bridge is scheduled to be redesigned and rebuilt in the near future.
"If we can make that a quicker, safer and fully integrated connection," he says, "it will be huge for people who have to make that trip between the two campuses."
It will also give greater access to the Spring Hill precinct adjacent to Centennial Campus. The Spring Hill House, one of two buildings on campus on the National Register of Historic Places, is home of the N.C. Japan Center.
"This road will not only provide a quick and direct route between campuses for our faculty, staff and students, but it will dramatically improve access our Spring Hill precinct to more of our campus community," says Michael Harwood, associate vice chancellor for Centennial Campus Development.