Campus Life
Former Chancellor Bruce Poulton Dies
Tall, affable and sometimes boisterous, Bruce Robert Poulton cast an imposing shadow on NC State's campus and was responsible for expanding the university's boundaries across Western Boulevard with the acquisition and planning of Centennial Campus.
Poulton, NC State's 10th chief executive officer who oversaw the acquisition and the development of the 900-acre research campus, died at his home in Raleigh on Friday. He was 88.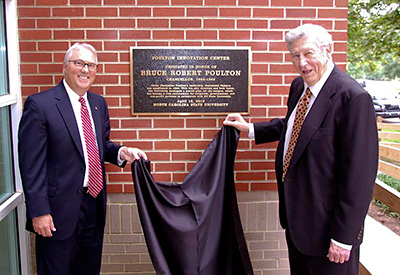 "We are saddened to hear of the passing of former Chancellor Bruce Poulton," Chancellor Randy Woodson said. "He was instrumental in the master planning for and development of Centennial Campus and led a major expansion of the university's research budget.
"On behalf of the entire NC State community, I'd like to extend our deepest condolences to the Poulton family."
Poulton came to NC State on July 1, 1982, and was installed as chancellor in September 1983 at the McKimmon Center in nontraditional ceremonies that included a three-day university-wide symposium exploring "The Role of Continuing Education in a High-Tech Society."
He was a long-time advocate for distance learning, well before the invention of the Internet, beginning with his work as the founding chancellor of the University System of New Hampshire in the 1970s. He continued that work after arriving in Raleigh.
"Bruce's commitment to the land-grant vision of meeting the needs for everyone, particularly less privileged people, was important to him, professionally and personally," said Karen Helm, NC State's SACS accreditation liaison, who worked with Poulton in New Hampshire. "At the time, it was remarkable, even though we are now used to distance education and online learning."
Among the achievements during his tenure were the broadening of NC State's liberal arts offerings, the expansion of the College of Textiles and celebration of the university's 100th anniversary in 1987. He was also responsible for the expansion of the university's graduate research programs, and for laying the foundation for NC State acquiring a Phi Beta Kappa chapter.
Poulton's lasting legacy, however, will be his guidance in more than tripling the size of the campus with the addition of land acquired by the state under governors James B. Hunt and Jim Martin and working with the city of Raleigh to get blanket zoning approval for the campus. He then asked Claude McKinney, dean of the College of Design, to develop a master plan for what became Centennial Campus.
"The decisions that were made in 1984 and '85 by Chancellor Poulton and the people he surrounded himself with are the kind of forward-thinking decisions that we continue to build on today," said Michael Harwood, associate vice chancellor of the Centennial Campus Development Office. "Thirty years ago, under his leadership, we were forward-thinking in our approach to corporate-research partnerships and we continue that vision today."
Centennial Campus is now considered a national model for public-private partnerships in advanced research.
"It's been such a significant benefit to both the university and the state of North Carolina," said George Worsley, who served as vice chancellor for business and finance under Poulton. "It should be the thing he is most remembered for."
Known for his love of athletics, Poulton was one of the university's most vocal supporters.
A local newspaper columnist wrote of his first invitation to the chancellor's box at Carter-Finley Stadium, where he observed a loud fan vehemently disagreeing with an official's call. The writer mentioned to the guest next to him that the fan needed to calm down before he was asked to leave by the chancellor.
"What do you mean?" the other guest said. "That is the chancellor."
Poulton was always well-regarded by those who worked for him in Holladay Hall, though sometimes his manner could be gruff.
"I was very fond of him," said retired Vice Chancellor for Student Affairs Thomas Stafford. "He could be loud and boisterous, but he was always supportive of me and what we were doing in student affairs."
Poulton resigned in September 1989, becoming the head of the university's Literacy Systems Center, a position he held until 2010. Since then, he has worked on a 100-page manuscript about the history of Centennial Campus, which will be turned over to the university archives in the next few weeks.
Born in Yonkers, N.Y., Poulton received three degrees from Rutgers University, including his doctorate in endocrinology in 1956. He became an associate professor in dairy physiology at the University of Maine and served as vice president of the school from 1971-75, when he left for the New Hampshire public university system.
Poulton was preceded in death by his wife Betty in 2011 and is survived by four children and five grandchildren. The family has scheduled a visitation on 5–7 p.m. Wednesday at Brown-Wynne Funeral Home, 300 St. Mary's St., in Raleigh. A memorial service is planned for 1 p.m. Thursday at the same location.