Events
Physics of Football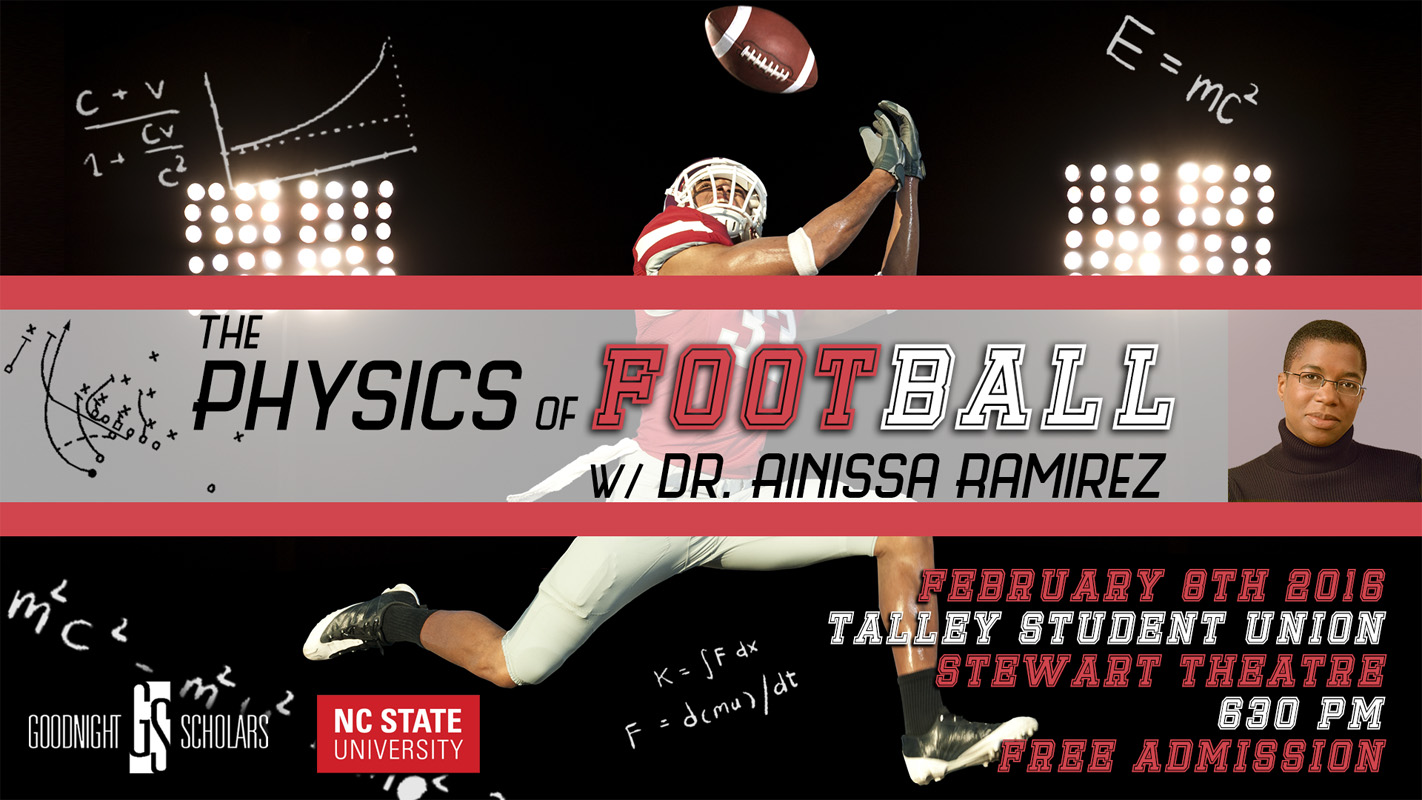 Did you know that a tightly spiraled football pass  rotates at the same speed as a compact disc?
Did you know that football might be safer, from a concussion standpoint, if the players didn't wear helmets?
Did you know America's most popular spectator sport is full of all kinds of cool science projects? Besides, of course, the weird bacteria growing in the players' lockers.
Ainissa Ramirez knows all of those things and more, and she will be on NC State's campus the day after the Super Bowl to talk about it as part of the Goodnight Scholars Program's speaker series.
The former Yale engineering associate professor and co-author of "Newton's Football: The Science Behind America's Game" will begin her talk at 6:30 p.m. on Feb. 8 at Talley Student Union's Stewart Theatre.
Admission to the event is free and open to the public.
"We are thrilled to bring Dr. Ainissa Ramirez to campus," said Allison Medlin, director of the Goodnight Scholars Program. "Her expertise as both an award-winning scientist and influential STEM advocate makes her a natural fit for our speaker series, and an outstanding role model for our students.
"And what better time than the day after the Super Bowl for a discussion on the science of football?"
Ramirez is a self-proclaimed science evangelist and former associate professor of mechanical engineering and materials science at Yale. She worked with New York Times bestselling author Allen St. John on "Newton's Football."
Ramirez's presentation is called "The Physics of Football," which combines her mastery of science with her love for the game. Fans of the gridiron or scientific research will find Dr. Ramirez's narrative compelling and entertaining, resulting in a new appreciation for the relationship between science and athletics.
Following her presentation, Ramirez will answer questions from the audience.