Events
NC State's MLK Day Commemoration Speech Rescheduled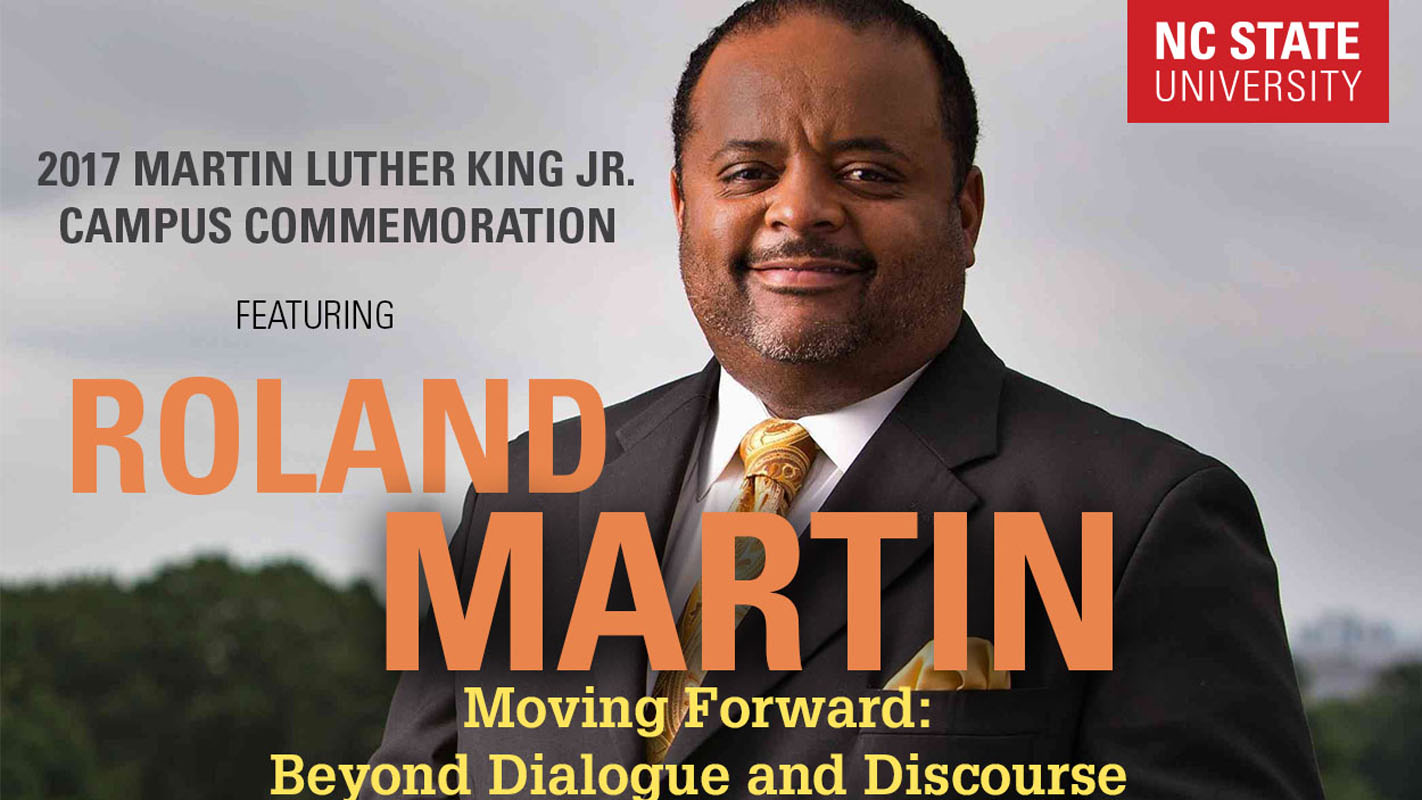 Television personality and author Roland Martin is the featured speaker at the university's 2017 Martin Luther King Day commemoration.
Martin's speech, which was postponed last week because of inclement weather, has been rescheduled for Monday, Jan. 23, from 3-4 p.m. at the Talley Student Union's Stewart Theatre. His campus appearance is sponsored by the African-American Cultural Center.
Martin is the host and managing editor of TV One's NewsOne Now. He is also a nationally syndicated columnist with Creators Syndicate and senior analyst for the Tom Joyner Morning Show, where his segment is heard on more than 100 stations by eight million people daily.
He is the author of three books: Listening to the Spirit Within: 50 Perspectives on Faith, Speak, Brother! A Black Man's View of America and The First: President Barack Obama's Road to the White House.
He has been named several times to The Root 100, an annual list of influential African-Americans.
He is a member of the National Association of Black Journalists and a life member of Alpha Phi Alpha Fraternity, Inc. He earned a journalism degree at Texas A&M in 1991 and a master's degree in Christian communications from Louisiana Baptist University in 2008. He is married to the Rev. Jacquie Hood Martin.
Other scheduled activities for MLK Day include tonight's screening of The Witness: From the Balcony Room of 306, a film that recounts the events of April 4, 1968, when Rev. Samuel "Billy" Kyles stood beside King on the balcony of the Lorraine Motel in Memphis, Tennessee, and bore witness to his assassination. Through Kyles' recollections of those fateful moments and the days leading up to them, the 26-minute film is a poignant retelling of a crucial turning point in the civil rights movement and a vibrant reminder of King's impact on the movement.
Following the screening, Jason Miller, associate professor of English, will discuss his groundbreaking discovery of a recording of King's Rocky Mount speech — a precursor to King's famous "I Have a Dream" speech delivered in Washington, D.C. The discovery made international news when Miller unveiled the recording in August 2015 at NC State's Hunt Library.