Uncategorized
Incubating Curiosity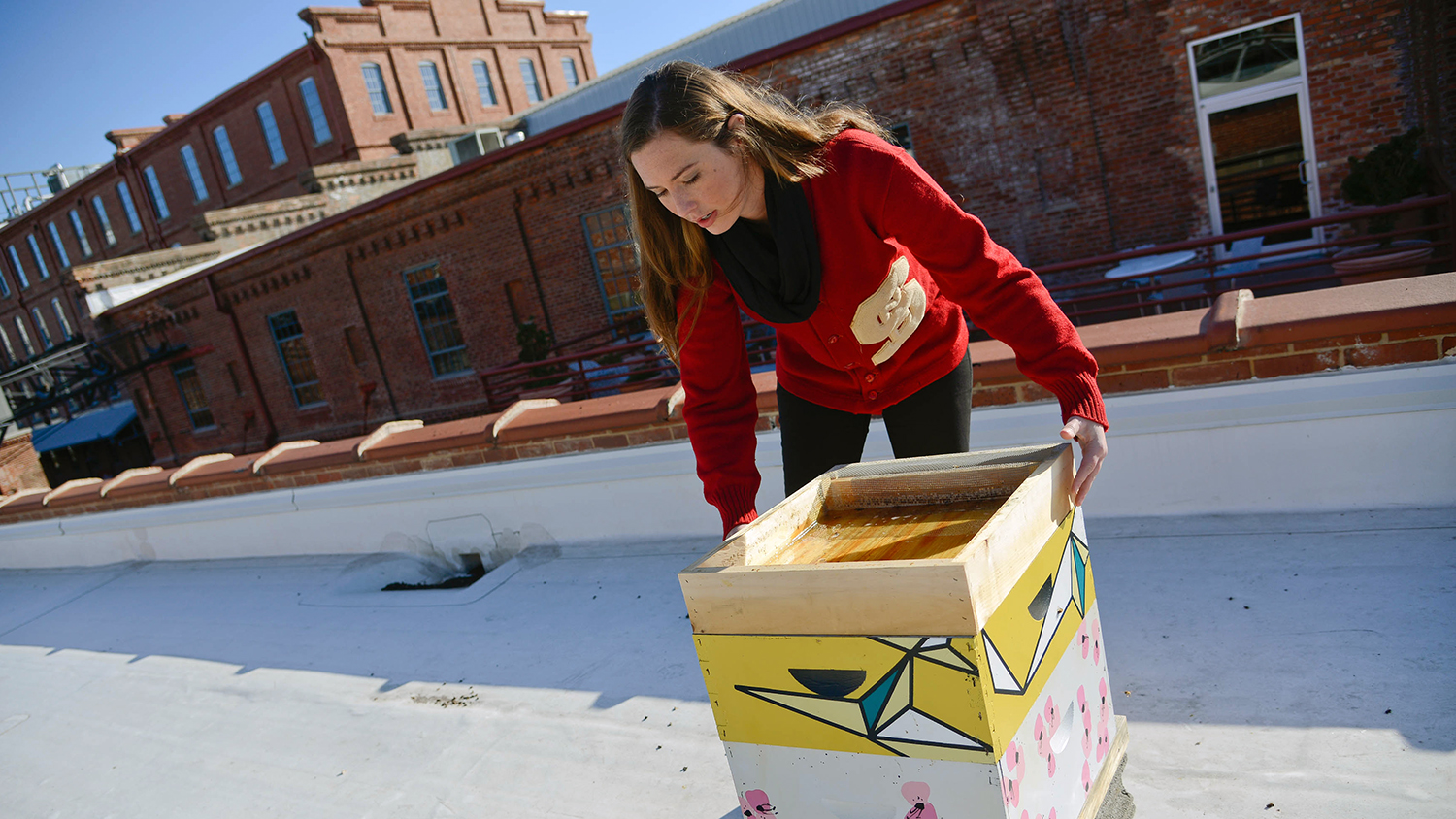 "The entrepreneurial spirit is rooted in curiosity," proclaims a mural in the entrance hallway of the Garage, the shared workspace for NC State's Entrepreneurship Initiative (EI). Since its founding in 2008, the EI has helped thousands of students from all over NC State find outlets for their curiosity and hone their business skills.
"Our mission is to help students turn their entrepreneurial ideas into action," said Megan Greer, director of communication and outreach for the program. The EI offers a variety of resources to help its nearly 800 member students focus their ideas and passions while connecting with like-minded individuals. Students are exposed to seminars with speakers from the business community, learning trips and tours to hotspots such as Silicon Valley, and annual events like the Lulu eGames startup competition and the Entrepalooza festival to showcase entrepreneurship and innovation.
One of the most valuable resources the EI offers students is 24-hour access to the Garage, its venture creation and prototyping workspace. Located on the first floor of Innovation Hall in the Wolf Ridge apartment complex, the Garage includes small workspaces with specialized equipment such as 3-D printers, sewing machines and a laser cutter, as well as larger rooms that students can use for team meetings and collaboration.
"Access to these types of tools can be invaluable to students who are trying to launch companies, and we're happy to provide it for free," Greer said. "This truly is a business space for students who are entrepreneurs or future entrepreneurs looking to brainstorm ideas and run their businesses."
The EI also provides networking opportunities — both among students and with outside professionals — that have led to a number of fruitful partnerships.
"Our resources are open to students across all academic disciplines, so the advantage of this space is that students get to meet one another and leverage each other's different talents and skills," Greer said.
Alumni of the program find a variety of different ways to apply these entrepreneurial skills in the professional world, including contributing to successful businesses or starting their own. The EI program has worked with around 50 student ventures in the last five years, many of which are still growing and thriving.
Learn more about just a few of the EI alumni thinking and doing to turn their big ideas into business successes.
A Sustainable Vision
Beekeeping is in Leigh-Kathryn Bonner's blood — four generations of it. But it wasn't until she encountered rooftop beehives in Barcelona while studying abroad there as an NC State undergraduate that she got the inspiration to make her hobby into something bigger.
Her bold vision became Bee Downtown, a company that installs and manages urban beehives around the Triangle. The startup partners with businesses that sponsor its hives to fulfill its mission of protecting the dwindling honeybee population and educating the public about the importance of bees.
Bonner, who graduated in 2015 with a degree in international studies, founded the company during her junior year and won the 2015 Lulu eGames startup competition. "The EI was very helpful in helping me make it a business and not just a passion project," Bonner said, crediting the initiative with providing her with the necessary tools to create her marketing materials, as well as training her to pitch her project.
"I had a good story, but the pitch really wasn't," she said. "Learning how to pitch Bee Downtown was crucial to our success."
The company, which was already profitable in its first year, continues to secure business partners in the Triangle to sponsor its hives, while keeping an eye on opportunities outside the local area. As part of the company's outreach efforts, Bonner recently formed a partnership to bring beekeeping instruction to a rural school in Ghana.
Bee Downtown will also be installing an apiary on NC State's Centennial Campus this spring to give back to the NC State community that Bonner credits with much of her success.
"NC State has stayed with Bee Downtown from the minute they found out about it," she said. "As a small business owner, to have a university that's so invested in what you're doing is huge."
Customization to Kick the Habit
Besides the well-documented health dangers, frequent smoke breaks during the workday cause companies to suffer millions of dollars each year in productivity losses. When they encountered this problem while working with a smoker on a group project, the founders of Nicotrax turned their frustration into the inspiration for their business.
"The situation led our team to explore the global problem of smoking and to find a more customized method to help users quit," said Kyle Linton, CEO and co-founder of the company along with fellow NC State alumnus Suraaj Doshi. These tailored methods include smart cigarette cases that track and analyze users' smoking habits, access to virtual smoking-cessation counselors and online support groups.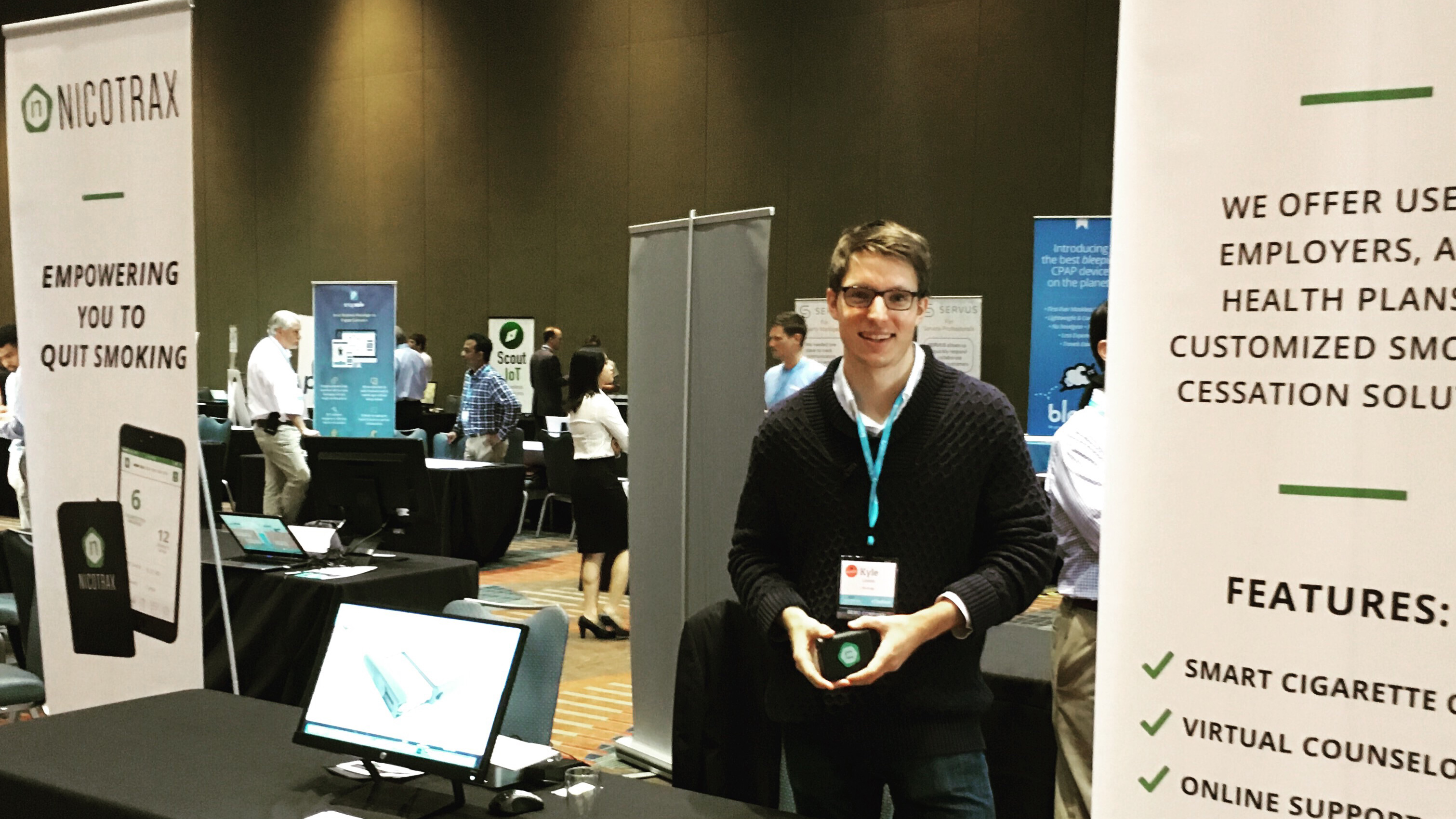 Both Doshi and Linton were active in the EI, where they met and decided to become business partners. After graduation, they became fellows of the program, which allowed them to stay connected to its resources and start mentoring current students.
"Our connection to the EI was critical in our success as entrepreneurs," said Linton.
The company has a bright future, with new investments and interest from potential customers, but the journey hasn't been easy. Nicotrax started out marketing directly to consumers, but the founders discovered less market interest than they had expected. "We didn't ask the right questions initially," Linton said.
After intensive market research to address these questions, the team revised its business model to target employers and health plans who want to provide smoking-cessation solutions for their employees and customers.
"The most important lessons we have learned as entrepreneurs are to never stop learning and to challenge assumptions," said Linton.
Curated Cities
David Shaner, CEO and founder of Offline, wants to create a bridge between screens and the world beyond them.
Offline offers an app and a website that point users to curated opportunities to experience their city, including unique events, classes, restaurants and date ideas. It also aims to create a community in which users can suggest events or experiences and check off ones they have tried.
Shaner, an NC State chemical engineering graduate, started the company as a way to connect young professionals. He was introduced to the EI through the Engineering Entrepreneurs Program in the College of Engineering and quickly began taking advantage of the services it offered. "The facilitated trip to Silicon Valley was a paradigm shift for me," Shaner said. "It was game-changing to see the world from a tech-innovation lens."
Shaner founded the company as a NC State senior and honed his business concept first through the entrepreneurship programs at NC State and then through participation in accelerator programs The Startup Factory in Durham and ThinkHouse in Raleigh. These experiences taught him a lot about the skills he would need to succeed as an entrepreneur.
"Entrepreneurship is a mindset that's about seeing opportunity," Shaner said.
This eye toward opportunity has Offline on an upward trajectory. In February, it announced a partnership with news publishing giant McClatchy to take advantage of cross-promotional opportunities that will grow the company's market reach.
Offline currently curates events for Raleigh, Durham, Charlotte and Nashville, and Shaner's goal is to expand to 50 cities by 2020. "Every year unlocks a new layer of learning and growth, and each layer is bigger and more exciting than the last," he said.
Creative Connections
Alumni Caroline Caldwell and Shep Bryan's involvement in entrepreneurship programs at NC State yielded more than they bargained for — both a successful professional partnership and a romantic one.
The two got involved in the EI in 2014 after meeting through NC State's Arts Entrepreneurship program. "We developed a mutual respect for each other's creativity and hustle-hard mentality," Bryan said. "And we recognized a shared passion for innovative marketing in the arts."
They started dating in the spring of 2015, and Caldwell joined Bryan's new design and marketing strategy company after she graduated later that year. The two soon rebranded the company as Beaumonde and also refocused its mission.
Beaumonde helps arts organizations — including galleries, museums, arts media and individual artists — connect with millennials through creative digital content and marketing strategies.
"Arts organizations of all sizes struggle to engage with millennials, who are the future of their funding," Caldwell said. "We stand in a really interesting space in between the arts and business worlds, and we can act as an intermediary in linking them."
Though their business ideas weren't fully formulated while they were in the EI, Caldwell and Bryan credit their time in the program with helping get them on their current path.
"The best resource we had access to via the EI was a community of like-minded hustlers and entrepreneurs," Caldwell said, noting that they are still in touch with many of their peers. The two also took advantage of tours of local startups and opportunities to get free legal advice.
The company has experienced exponential growth over the last few months and is expanding into different types of media, including 360° video.
"We're proud of how our work is pushing to redefine modern arts marketing," said Bryan.