Campus Life
Bee the Change: New Apiary on Centennial Campus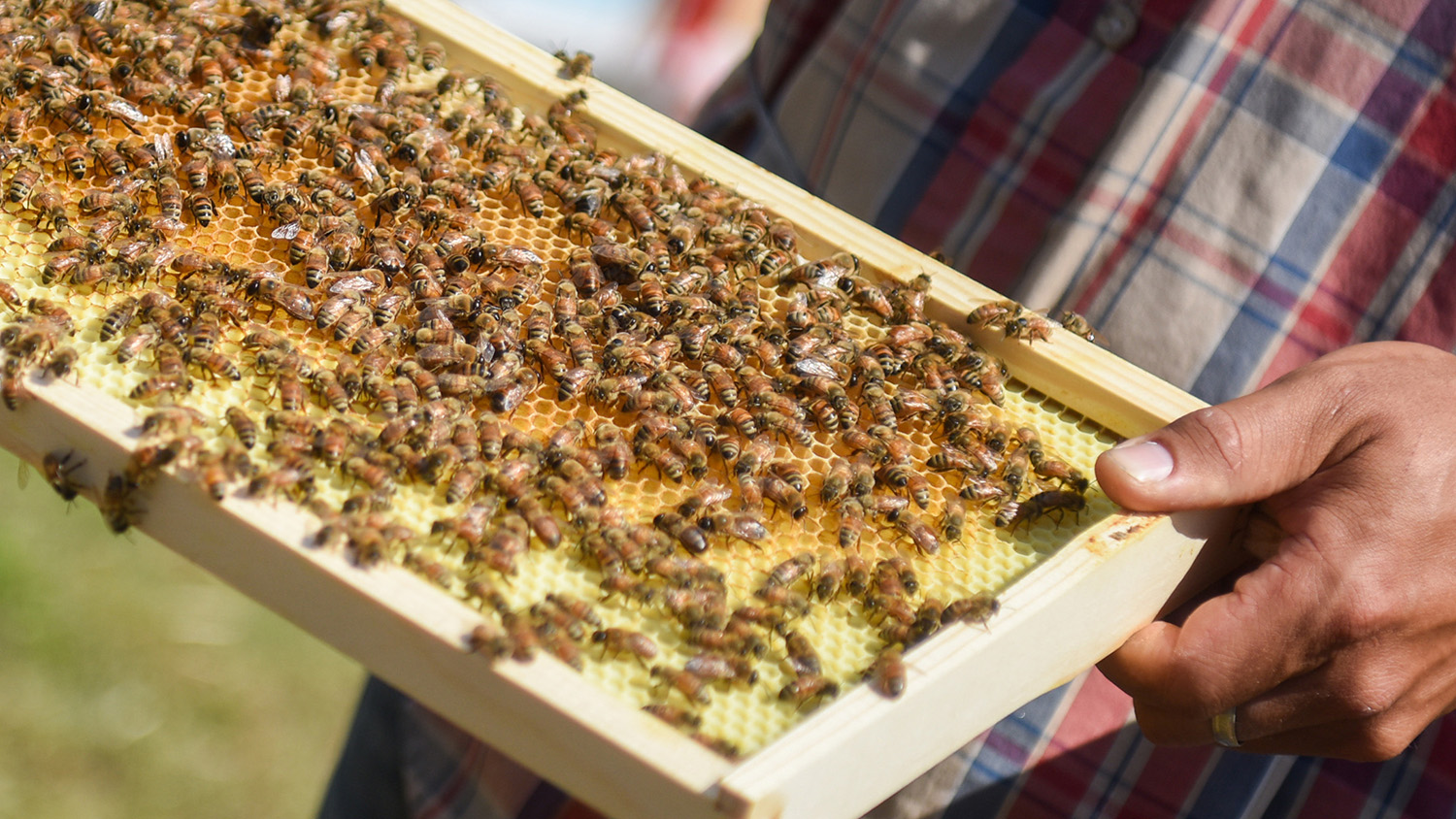 The newest buzz at NC State is emanating from nearly 150,000 honeybees that now call Centennial Campus home.
On the day before Earth Day, a new community apiary with seven honeybee hives was inaugurated on Main Campus Drive between the Hunt Library and Lake Raleigh. Under the high noon sun, leaders from university offices and local businesses donned beekeeping jackets, veils and gloves to release the bees on campus.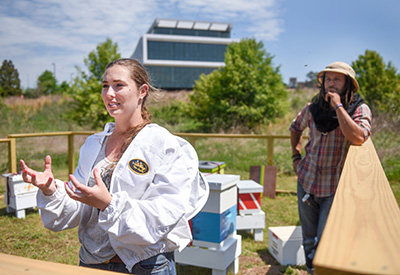 "This has been a long time in the works to make this dream a reality," said NC State alumna Leigh-Kathryn Bonner, founder and CEO of Bee Downtown. "It's a really good day."
Bee Downtown installed and will manage the NC State apiary, which is sponsored by Bandwidth, a communications technology company based on Centennial Campus.
Bee Downtown's mission is to help rebuild the diminishing U.S. honeybee population, which declined by 44 percent between April 2015 and April 2016, according to the Bee Informed Partnership. Because bees are vital to pollinating crops, the decline is of particular concern in a state such as North Carolina, where agriculture is the largest industry.
"We believe a lot in what Leigh-Kathryn is doing," said Kade Ross, executive vice president of Bandwidth.
With Bandwidth's lead sponsorship, the Centennial Campus Partnership Office worked to secure a campus location for the apiary and additional hive sponsors, including AndyAlbright.com, Freudenberg IT, the student-led SOUL Garden, NC State's Institute for Nonprofits and the NC State Entrepreneurship Initiative.
"Bees bring people together," Bonner said. "There are relationships involved with all of these hives. It's not just one company. It's companies together creating change we are proud to be part of."
As the hives prosper during spring and summer, each of the seven hive boxes could house up to 60,000 bees. The bees benefit from a campus that's growing increasingly more pollinator-friendly with the recent addition of pollinator gardens, habitats and managed hives. Many of these projects engage students, and Bee Downtown beekeeper Justin Maness — also an NC State alum — hopes the new apiary will create opportunities for tours and other forms of pollinator-related education.
"We're really excited to bring the bees here, to give back to the university and add to the student experience," he said.
Both Maness and Bonner took NC State's Introduction to Beekeeping course, which they credit with changing the course of their careers. A couple years after taking the class, Bonner had the vision for Bee Downtown, and NC State's Entrepreneurship Initiative and Social Entrepreneurship Initiative helped her mold that vision into a viable business.
"We're doing everything we can to help students pursue their dreams and get that [business] launch," said Tom Miller, NC State's senior vice provost for academic outreach and entrepreneurship.
The apiary at NC State is Bee Downtown's first community apiary, putting the company on track to manage 100 urban beehives this year.
"This project brings together the research, teaching and entrepreneurial strengths of NC State, using Centennial Campus as a proving-ground platform," said Leah Burton, the university's director of Centennial Campus Partnerships and Industry Alliances. "We look forward to the buzz the new apiary will create."