Students
Fashion Exposé
For two decades, the annual Fashion Exposé runway show has given College of Textiles students — and the wider Triangle design community — a spotlight for their talent and tenacity.
Organized by the African American Textile Society (AATS) at NC State, Fashion Exposé is the longest-running student design competition on campus. As part of Pan-Afrikan Week, the 20th anniversary show was held in the ballroom of Talley Student Union on Apr. 6, 2017.
Fashion Exposé has always been a student-run affair. Since the show's beginnings in 1997, everything from funding to staging has been taken on by passionate AATS members and their friends.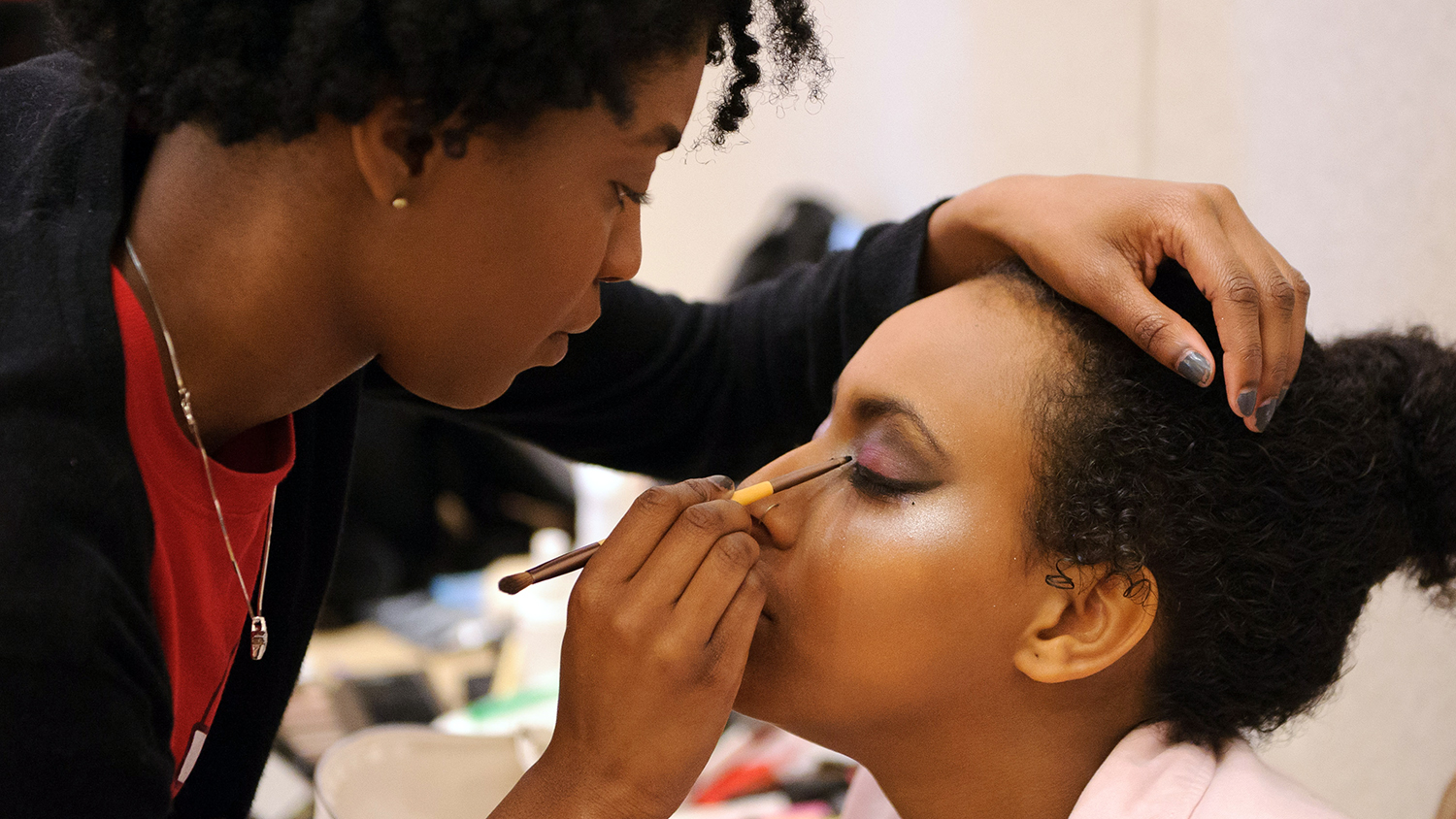 "It's an all-year thing," says Ashley Williams, a junior in textile technology and co-chair of this year's Fashion Exposé alongside Deja Richards and Kiah Pinkney. "As students, we come in for a retreat at the beginning of the year, we start to think of dates that we're going to do fundraisers, what days are we going to do model calls, which companies are we going to reach out to for sponsorship …"
The show typically features scores of student models and more than a dozen student designers competing across two categories: "Novice" and "Intermediate and Beyond." Both categories offer a scholarship reward for their respective winners, but the designers are quick to credit the many other resources available to them through the college.
"I'm going to miss our studio," says Sarah Nicholson, one-half of a senior design team with Anna Page. "The machines, the technology we have. We have every single type of sewing machine you could ever need. Every kind of software. It's going to be a sad day when we wake up after graduation and can't use that anymore."
While Nicholson and Page are seasoned designers, the inclusion of a "Novice" category in Fashion Exposé is testament to the show's welcoming vibe: First-time entrants are invited to develop their skills and confidence by taking part.
"You're going to see a wide variety of designs — and skill levels, too," says Delisha Hinton, a College of Textiles alumna who now serves as the college's associate director of student services for recruitment and diversity. "We've seen students who are in their beginning stages, just getting started, and students who have done it year after year and then have gone off and participated in Charleston Fashion Week."
Because the College of Textiles is a close-knit family within NC State, those alumni tend to come back to show — and give back to the community. Hinton highlights the ongoing involvement of alumni such as Joelle Bond, who is now completing a master's in fashion at the Savannah College of Art Design and has designs in the storefront of Neiman Marcus. Bond is set to appear at an upcoming "Dessert With a Designer" event within the college.
Another alumna, Jasmine Flood — a former Park and Centennial Scholar who has designed for Disney and seen her products featured in Birchbox — also returns often to speak to current students. Flood is an exemplar for the complete pipeline of textiles education at NC State, having taken part in the college's Summer Textile Exploration Program (STEP) camps while she was still in high school.
"It gives students the opportunity see an alum who's been able to make some of those initial stepping stones in the fashion world," says Hinton.
The African American Textile Society was created nearly three decades ago with the goal of weaving a network and support system for students of color within their college. It serves to connect those students with one another, with industry and business leaders, and with students of all backgrounds across campus.
"Finding that organization that's willing to support you, be a mentor and basically introduce you to textiles and the campus in general — it's very vital." says Danielle Marble, the current society president and a junior in fashion and textile management. "Once you connect with AATS, you feel like you have automatic family. Anybody can join if you're down for the cause and you're motivated."
While the AATS is responsible for the decades-long success of Fashion Exposé, their wish is for the show to be enjoyed by the widest possible community — one that extends beyond the College of Textiles or even the NC State campus.
"Our student designers are very diverse, but they all have a love and a passion for what they do, which is what you'll see at the show," says Williams. "I think people will be really surprised and happy to see that even with juggling all their schoolwork and course load, students are taking the time to find their passion and work towards it."