Faculty and Staff
Arboretum Director: Helping Your Garden Grow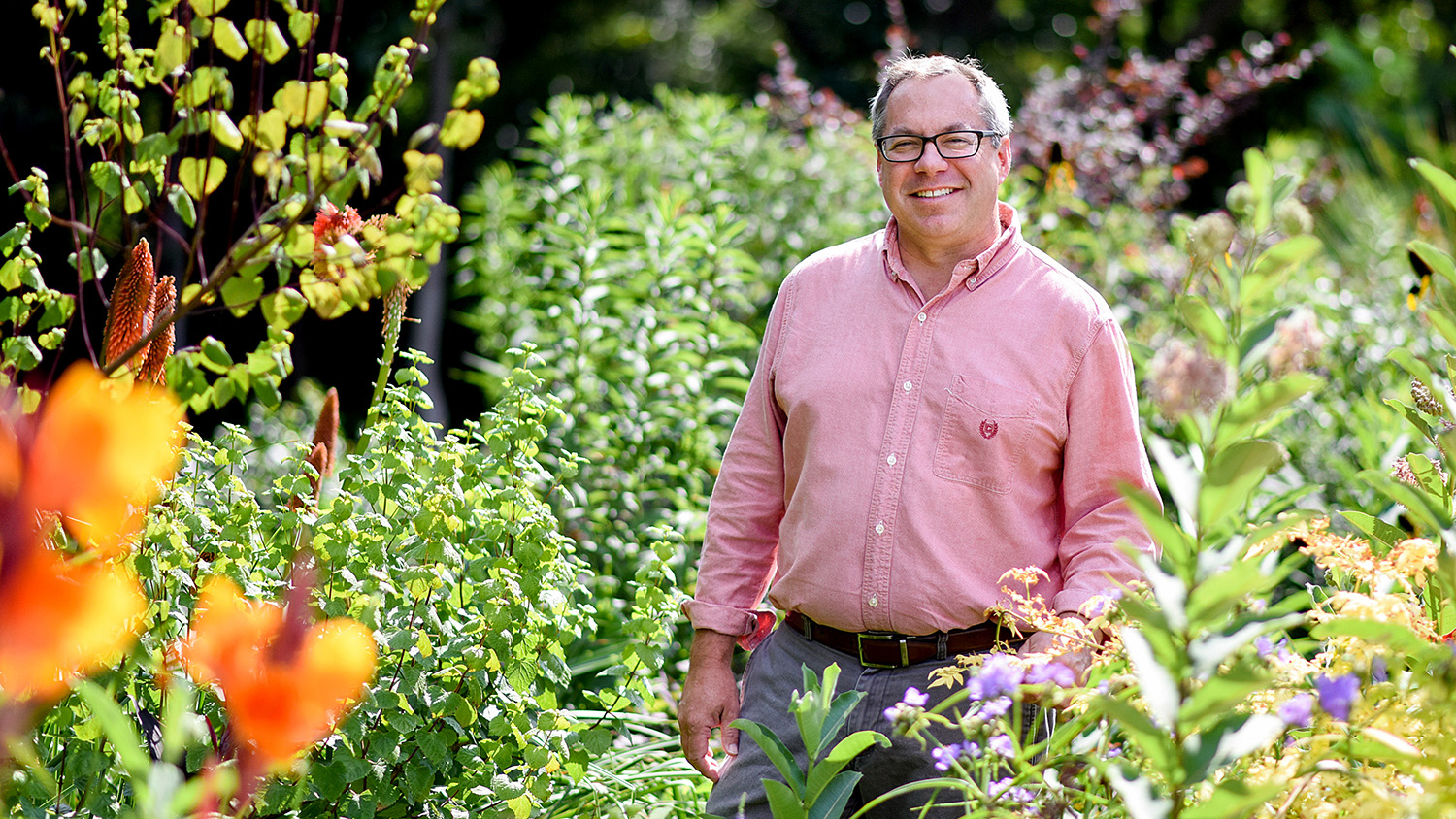 Lush, green lawns are staples of gardens. Perhaps it's time to get rid of them.
Mark Weathington, director of the JC Raulston Arboretum, introduced the idea during a talk last week about gardening in the South. People who spend more time maintaining their lawns than using them should reconfigure their gardens, he said, by expanding plant beds, for example, and using turf as paths around them. Smaller lawns require less water, something to keep in mind during hot summers.
Weathington used his talk in the Witherspoon Student Center to address heat and other challenges Southern gardeners face, and offer explanations and solutions.
"There are all these people coming here from all different places, and gardening here is different from other places," he said.
Gardeners balk at the red clay prevalent in the soil of the Piedmont region, but Weathington said the clay is full of nutrients that support plants. Gardeners should mix in compost to help with drainage; otherwise, most plants will do well with the clay.
"It can be difficult to grow stuff in clay by itself, but as a component to soil, it's really very good," Weathington said.
'Plants Are Amazing'
Summer heat bakes the ground, and runoff after a hard rain contains heat, oils and metals that enter storm drains and pollute waterways. Rain gardens slow down runoff to alleviate pressure on drains, cooling the liquid and giving plants a chance to filter out the harmful substances. These gardens are especially helpful to businesses with large swaths of impervious surfaces.
"Plants are amazing in what they do," Weathington said. "They really can do a remarkable job dealing with some of our problems."
The growing season in the South stretches from mid-March to early November, Weathington said, and gardens aren't as full of color as their Northern counterparts. The extra time means pollinators can access flowers for most of the year. That's another reason to expand plant beds, he said – to create more food sources for bees, butterflies and other beneficial insects.
"The more we plant out, the more habitat we're providing," he explained. "You wind up with a healthy ecosystem."
Help From the Arboretum
Weathington, who recently published the book Gardening in the South: The Complete Homeowner's Guide, said the arboretum is a helpful resource for Southern gardeners. The facility offers classes and workshops on soil, plants and other facets of gardening. Summer camps educate children about plant-based science and the natural world. Visitors can learn about ways to grow plants in urban settings, such as roof gardens, and learn about plants that thrive in the Southern climate. Future plans at the arboretum include a garden for ornamental edibles, combining food and aesthetics.
"The gardens are always changing here," Weathington said.
The arboretum strives for community outreach, especially to children, with programs geared toward visitors as young as preschool age.
"Other than athletics, we're probably the most public face of the university," Weathington said.
Whether tidy or wild or with lawn or without, Weathington said gardens should reflect the people who maintain them. And gardeners shouldn't expect immediate results.
"Gardening's all about patience," he advised. "It's not complex."