Campus Life
Makerspace Makes Mr. Wuf Ring-Worthy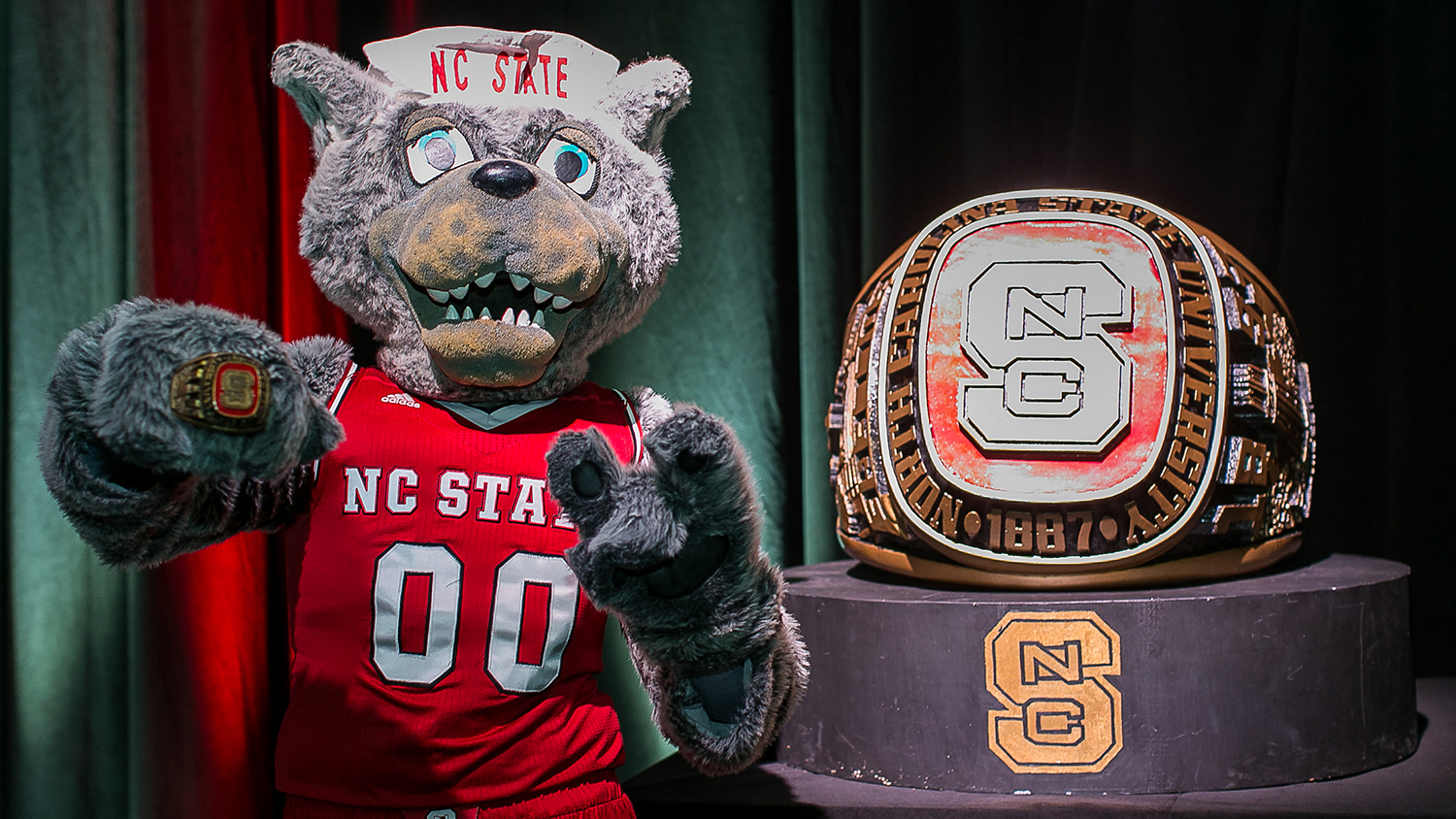 A trip to the library no longer means a day spent hitting the books.
Instead, NC State students and faculty visit library Makerspaces–environments that combine creative thinking and modern technology – to create innovative solutions to today's problems. Some challenges are fun, like figuring out how to build a class ring for NC State's mascot, Mr. Wuf.
Others focus on more serious topics, such as research teams thinking about how to share plant data housed inside NC State's plant herbarium across international borders.
Joshua Privette, coordinator of Student and Young Alumni Programs, commissioned Makerspace staff to build a class ring for NC State's mascot. Mr. Wuf wears a ring with a four-inch band, so traditional materials were not an option. Justin Haynes, a university library technician, leapt at the opportunity to build Mr. Wuf's ring using 3D-printing at the D.H. Hill Library Makerspace.
"How many chances do you to get to be like, 'Yes, I'll print a ring for Mr. Wuf.' That doesn't happen every day," says Haynes. "Mr. Wuf has been around for 36 years and doesn't have a class ring. That's a problem we have to fix."
3D-printing builds physical objects from digital files. First, Mr. Wuf's virtual ring is 'sliced' (like slicing a loaf of bread) into layers. Next, a 3D-printer reconstructs the object by additively printing each layer using a super-heated plastic printing material.
Adhering to tradition, Mr. Wuf's ring spent the night in NC State's belltower last December with the rest of the fall semester graduates. Haynes estimates that after purchasing printing material (polylactic acid, PLA, costs about $15) and paint, Mr. Wuf's ring cost less than $30 to build.
While 3D-printing has enriched a school tradition, Makerspace staff are also assisting research teams with more serious problems, such as sharing NC State's seed library globally with 3D-scanning.
Graduate student Colin Keenan thinks 3D-scanning is the perfect tool to transform NC State's seed herbarium into a digital library. Herbaria are plant libraries that preserve samples by flattening and drying them – a technique that would be destructive to seeds. Traditionally, the data housed within herbaria are limited by travel regulations (plants cannot cross international borders), but the digital seeds Keenan is scanning can be shared across the world.
"Physical objects have value and hold information, but they are limited," says Keenan, a master's student in plant and microbial biology. "Making a physical object digital circumvents a lot of those limitations."
NC State Makerspace staff assist a diverse group of students and faculty in developing innovative solutions and completing classroom projects. The Makerspace provides free software, equipment (like 3D-printers and scanners), and library expertise to support faculty and students.
"Our goal is to facilitate instructors who want to teach in new ways and help their students have new and engaging learning experiences," says Adam Rogers, director of the Libraries' Makerspace program at NC State.
To stay up-to-date with the latest Makerspace assisted projects follow #NCSUMakes on social media. If you are interested in becoming certified to use NC State's Makerspace or partnering with Makerspace staff visit https://www.lib.ncsu.edu/services/makerspace.