Students
Textiles Grad Weaves Diverse Interests Into Bright Future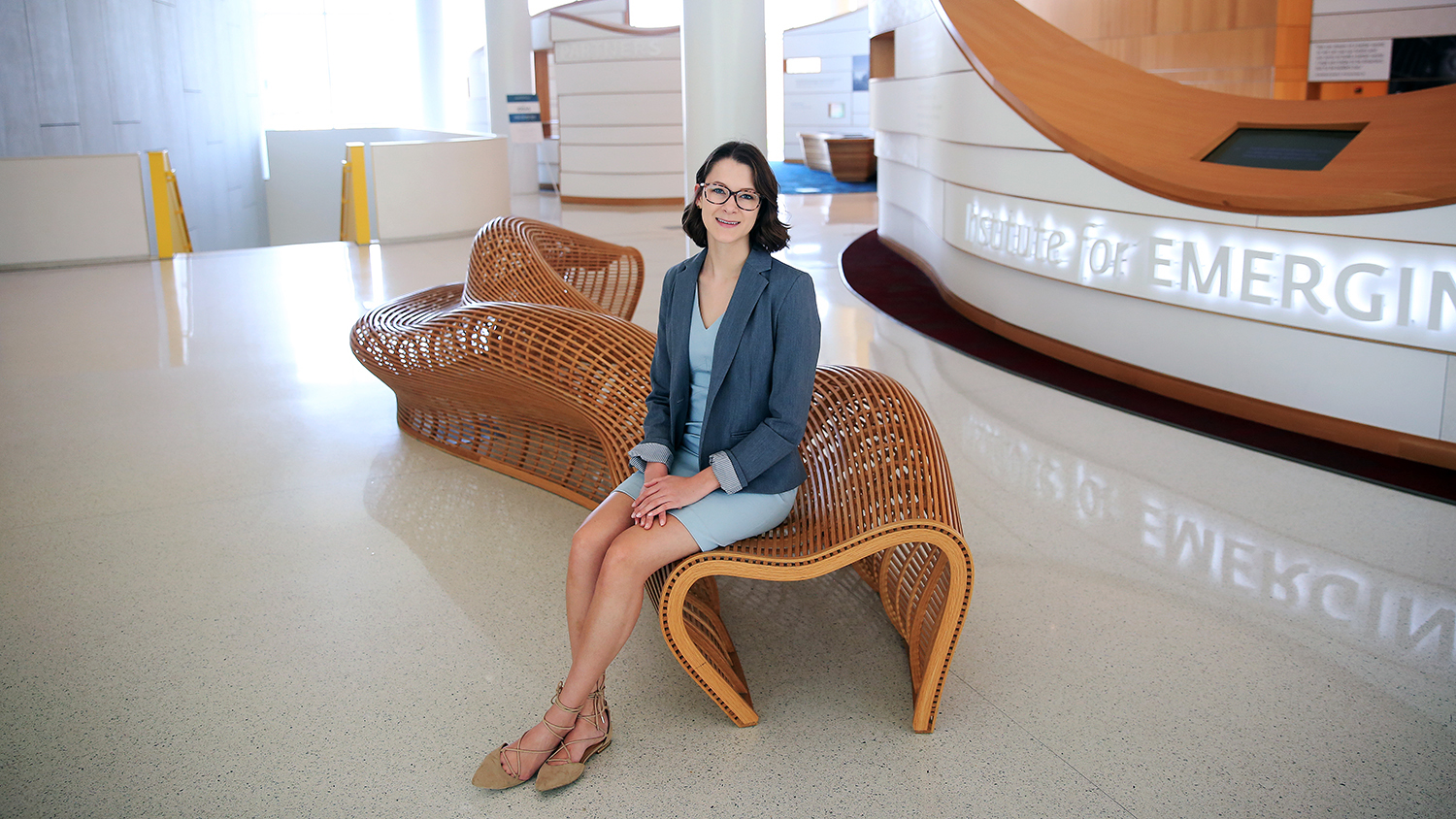 Elizabeth Galanti was along for the ride during her brother's campus tour at NC State when she discovered it was where she wanted to go. As one of triplets from Herndon, Virginia, she'd done more than a few college visits during high school. Galanti cites the energy of the campus and the city of Raleigh as part of what pulled her to NC State.
"I was amazed by the technology here, the possibility of blending an interest in fashion with a bachelor of science — all of it." She decided to attend the Summer Textiles Exploration Program (STEP) at the College of Textiles. "Once I did STEP — and had my first taste of Cookout — I knew NC State was the place where I could make my career dreams come true."
NC State's College of Textiles program in Fashion and Textile Management provided the interdisciplinary approach she was looking for.
"On an academic level, I think our college is unmatched. Whether in groundbreaking technology, accessible design, or new marketing techniques, our ideas have the potential to change the lives of consumers for the better. Plus, its small size has been great for facilitating relationships with professors."
Galanti made use of many resources during her time at NC State, including the Makerspace at D.H. Hill Library, during a recent case-study competition for the YMA Fashion Scholarship Fund. "Where else do you have access to 3-D printers like this? I went to the Makerspace for inspiration, and to find the best machines." she said.
In a nod to her minor in journalism, she served as deputy editor-in-chief for the print evolution of PackFashion, which was spearheaded by fellow College of Textiles student and friend Jasmine Mason.
Galanti describes her years at NC State as "a whirlwind," that included a turn as an RA in Sullivan Hall her sophomore year, work as a writing tutor at the University Tutorial Center and presidency of the a cappella group Ladies In Red her junior and senior year.
"Everything I have committed to represents a piece of me, which is advice I would give other students: Do what you love, because it will drive you toward success."
Galanti also volunteered weekly at the YMCA, helping students hone their writing and reading skills. "It's a tiny way for me to give back. A college campus can feel like a bubble, so connecting with communities in Raleigh has really made this city feel like home."
Do what you love, because it will drive you toward success.
Like many NC State students, Galanti solidified her career plans with an internship, serving as a public affairs intern with the American Apparel and Footwear Association. "From sitting in on NAFTA panels at United State Trade Representative's Office, to hearing from retail leaders on what the store of the future looks like, I had access to a wealth of information."
What's next for Galanti?
"In August, I'm starting with Kohl's product development office at their corporate headquarters just outside of Milwaukee," she said. "Everyone has told me I'm going to freeze after living in North Carolina for four years."