Being There: A Look at Women's History Through the Lens of Historic Artifacts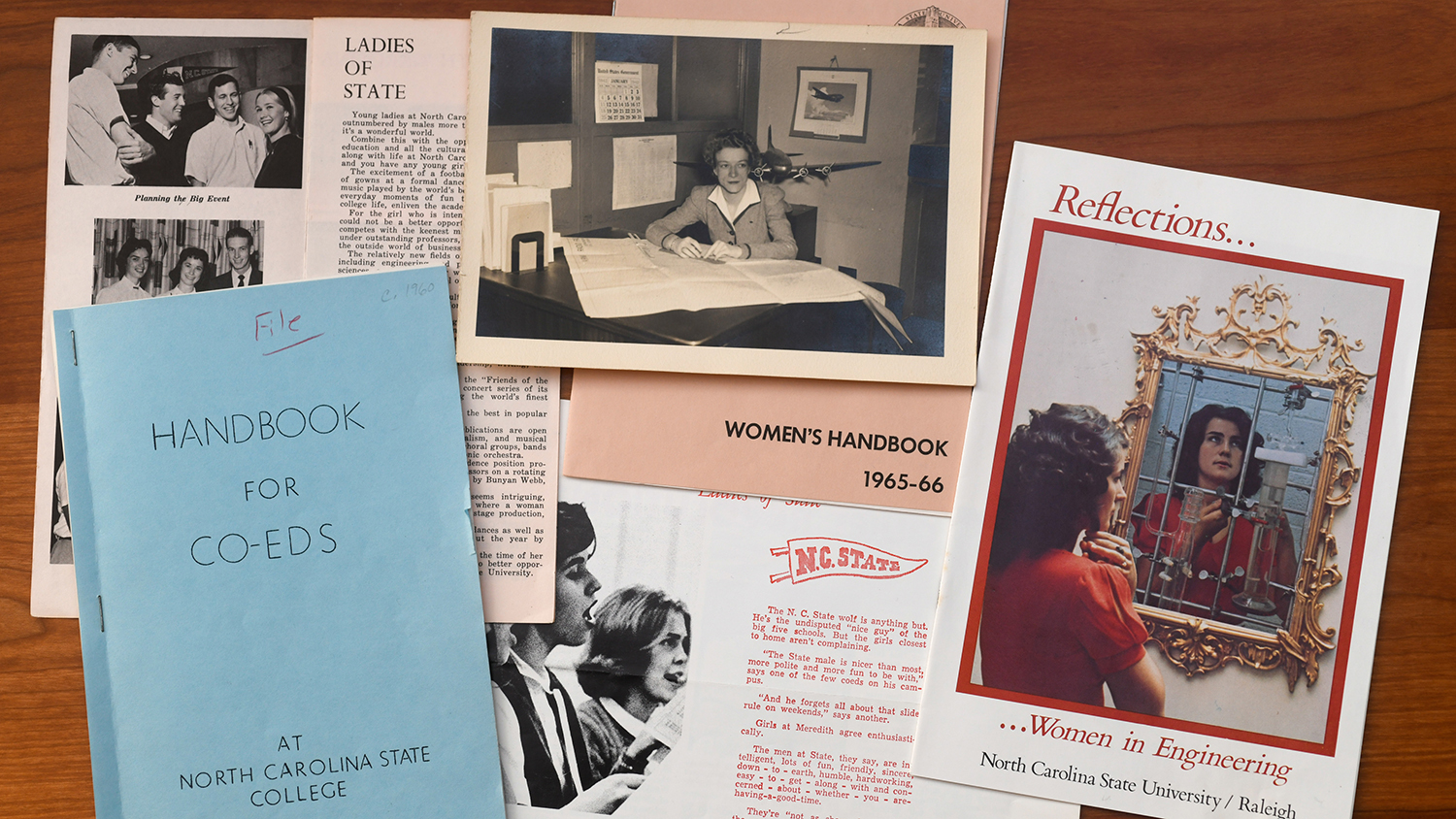 They were called girls, "special students," co-eds. They weren't allowed in certain classes, or even on campus after a certain hour. And when the first dorm for women finally opened in 1964, it came with a handbook about how to dress and behave.
Now, they are deans and department heads, faculty and scholars, culture changers and student leaders, astronauts and groundbreaking researchers.
To fully understand the astonishing history of women's struggles and achievements at NC State, it helps to look through the lens of historical materials.
That's where the Special Collections Research Center comes in, part of NC State University Libraries. Personal diaries, historical photographs, meeting minutes, Agromecks from every decade, ancient issues of Technician and even those dormitory handbooks are all part of Special Collections and the University Archives.

Original sources impart a richer awareness of what women really went through, and what the university was like for them when they encountered barriers. They convey both growing pains and groundbreaking milestones.

This unique and often irreplaceable collection allows the NC State community to see the university's growth and progress through primary materials, which have an immediacy lacking in retrospective accounts.

That advantage is particularly strong for a topic such as women's history. "We can see evidence of the work that women and marginalized communities have done to establish their place in our campus community, and to make amazing contributions despite some great challenges," says Virginia Ferris, outreach and engagement programs librarian for Special Collections.
Forging a Path
Women's history at NC State is full of trailblazers who created a place for themselves where none was provided. They survived both casual and blatant discrimination in the classroom, board room and dormitories.
In spite of societal and institutional obstacles, women at NC State enrolled in classes, earned degrees, conducted research, became student body presidents and valedictorians, were awarded for athletics and academics. They broke barriers as department heads and even chancellors. They transformed libraries and became members of national honor societies. And they paved the way for generations of women in the future.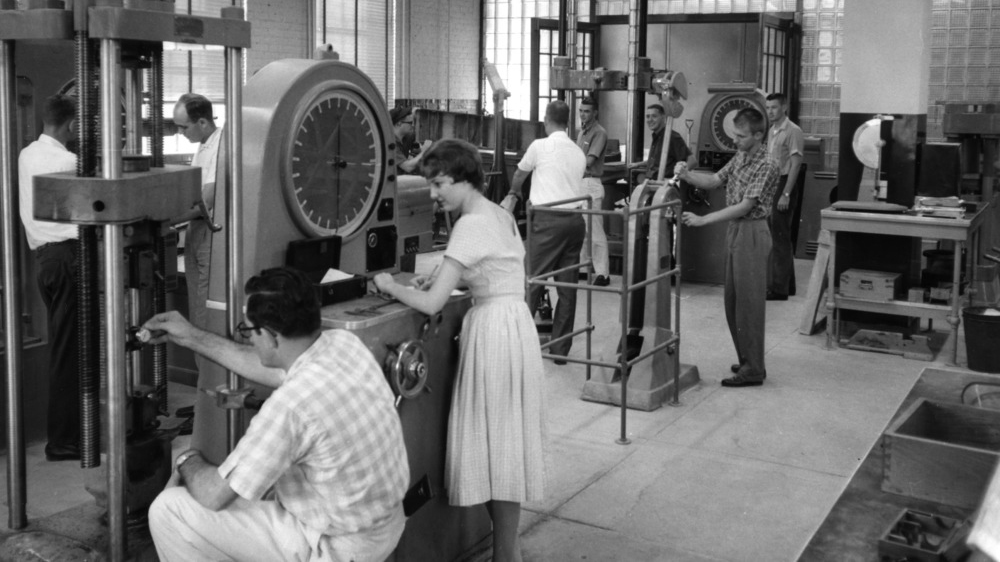 Starting with a single student taking select classes in 1901, NC State did not see its first full-time female student until 1921. Women's enrollment at the university remained extremely low until the 1940s, with a concerted effort to recruit female engineers during World War II.
The university is lucky to have the personal papers and recorded oral history of one of NC State's most notable female alumni, Katharine Stinson, '41. When Stinson sought admission as an engineering student, she encountered resistance from the College of Engineering, which would not accept her without junior standing. Rather than let this dissuade her, Stinson completed 48 semester hours in one year at Meredith College, including two summer sessions, then returned to State College (as it was known at the time) and entered the engineering program in 1937.
Despite these extraordinary measures, the college apparently reneged on its earlier promise, and Stinson was admitted as a freshman. She was the first woman to graduate from NC State's College of Engineering, earning a bachelor of engineering, aeronautical option. She later became the first woman to be hired by what is now the Federal Aviation Administration. One of the longest streets on campus, Stinson Drive, is named for her.
Female enrollment was below one percent when Stinson graduated in 1941. It wasn't until a concerted enrollment push by the university in the 1960s that the gender demographic began to change at NC State, and it would take another four decades to climb to 35 percent in 1983.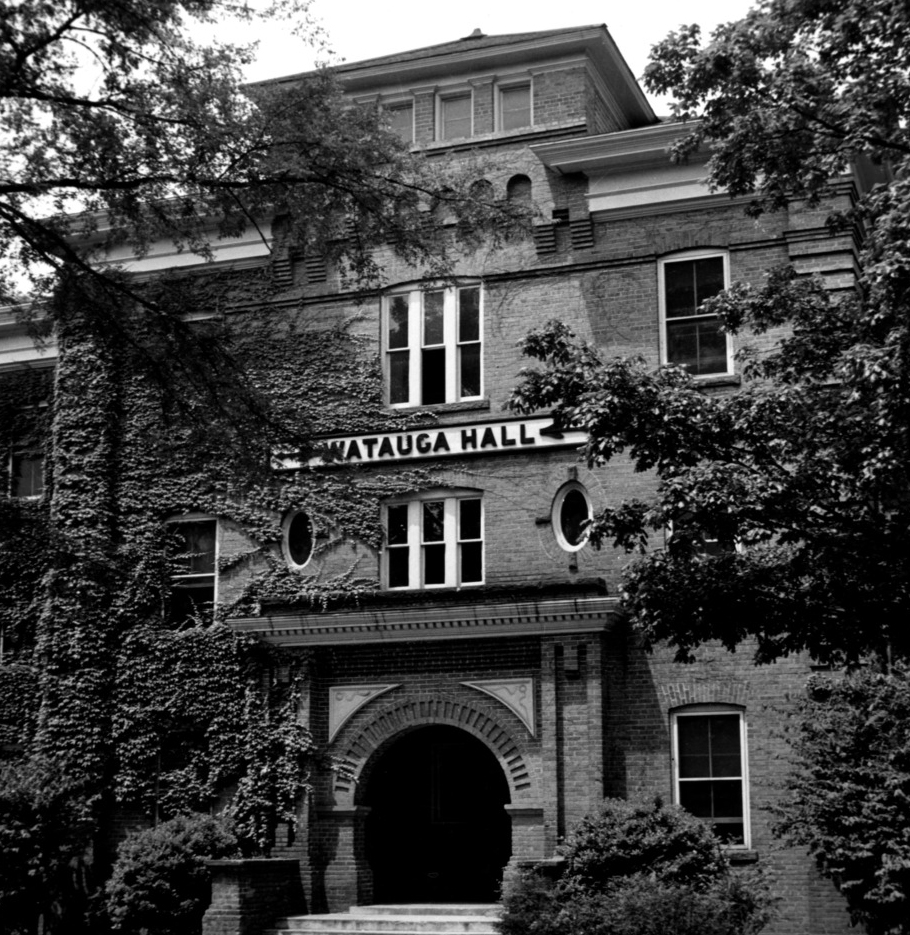 Historic materials such as dormitory handbooks and issues of Technician are essential for helping current students imagine what NC State looked and felt like when women first joined campus — though archival issues of the student-run paper offer few firsthand accounts from female students. Despite women's growing numbers on campus, a preponderance of male opinions, male-focused advertising and male voices make up most issues until the 1980s.
Primary sources are vital in ensuring marginalized voices are not lost in the university's recorded history. As the first female student body president, in 1970, Cathy Sterling led campus in a protest of the U.S. invasion of Cambodia, as well as the publication of a report, "Due to Circumstances Beyond Our Control," which resulted in a greater student role in the spending of fees.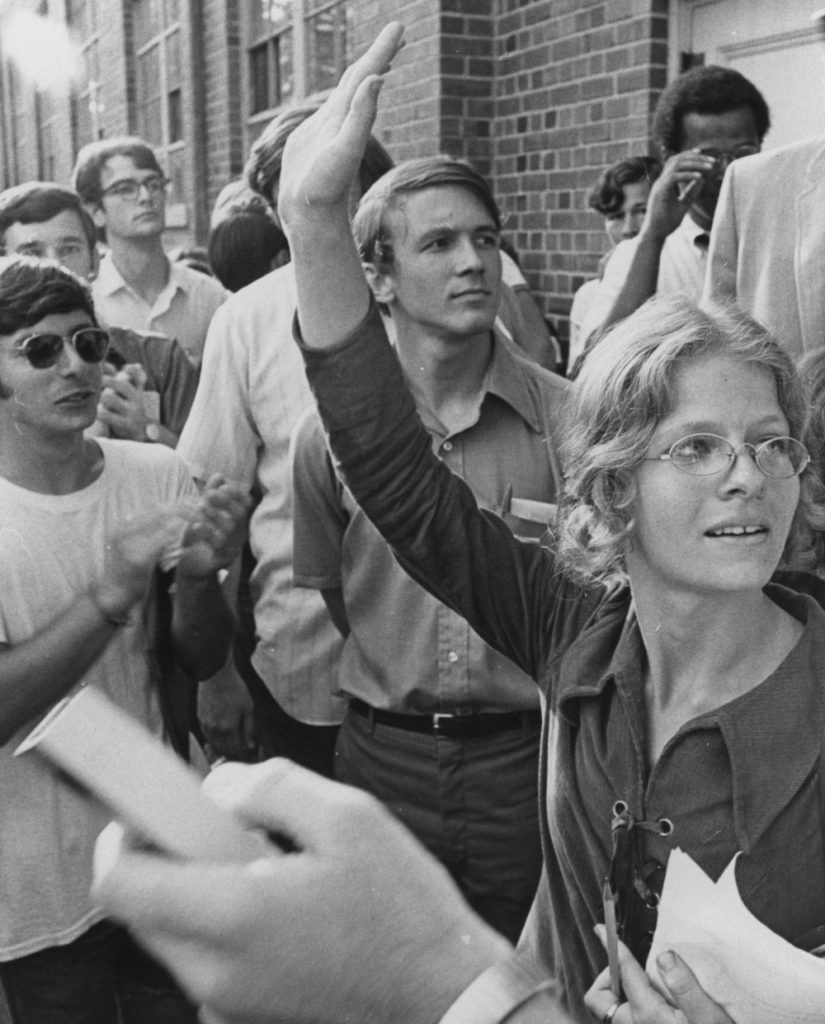 At a time when women's voices were routinely diminished, Sterling played a crucial role as a highly visible female leader of the student body. University Archives has Cathy Sterling's papers — including her original typed speech notes. Without them, she could be seen as just another face in a photograph.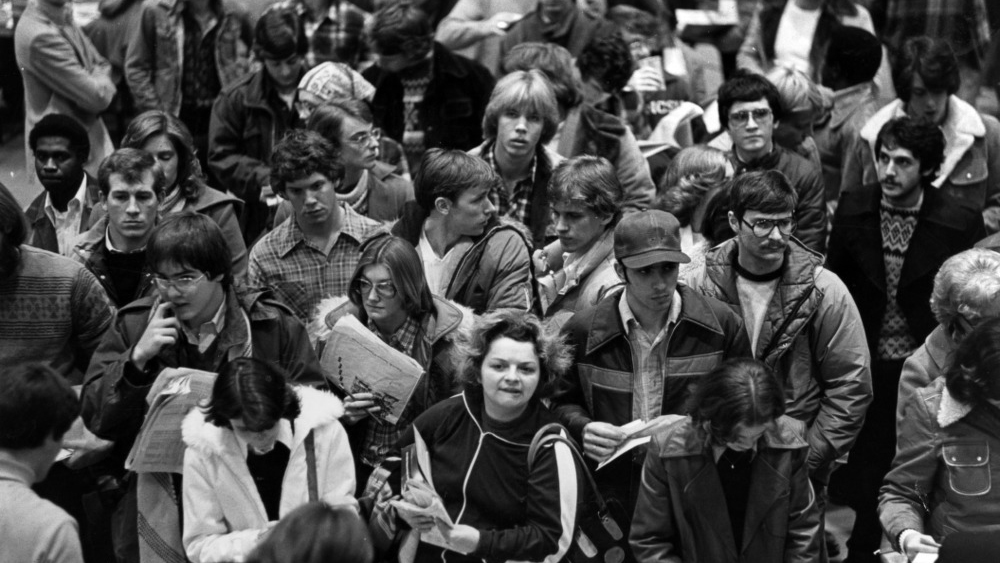 Amid social and cultural changes on campus and in the country at large, athletics provided a place for women to shine as a team. NC State women's basketball was a visible and uniting force for women on campus, thanks primarily to legendary coach Kay Yow. She broke numerous records and led the women's basketball team to over 700 victories in her career. The Kay Yow Memorial and gardens near Reynolds Coliseum honor her tremendous contributions to NC State — on and off the court.
When it comes to academic leadership, female students need to see women in faculty positions and high-profile administrative roles.
In 1940, Gertrude Cox was hired as a professor and head of the Department of Experimental Statistics, becoming the first woman at State College to achieve both full professor and department head status, and she played an important role in founding the Research Triangle Institute in 1959. A statistics pioneer, she was also the first woman elected into the International Statistics Institute. In 1975, Cox was elected to the National Academy of Sciences. Special Collections has her collected papers, including her personal diary. Cox Hall is named for her.

I announced at my first meeting that I would not serve coffee or take minutes.
In 1975, Barbara Parramore became the second female department head, leading the Department of Curriculum and Instruction at its founding. "As the only female member of the Dean's Administrative Council, I announced at my first meeting that I would not serve coffee or take minutes. Finally, the dean brought his secretary to do so," says Parramore.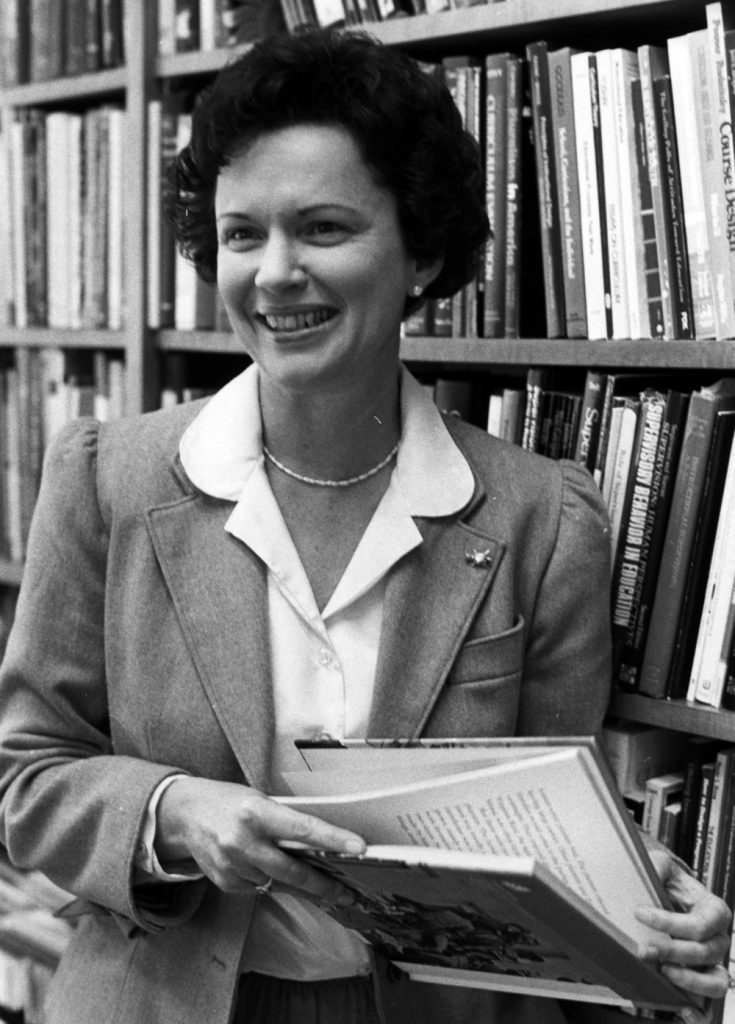 As women gained a more visible and active role on campus, the need for increased safety measures and self-defense education increased — as well as support for survivors of assault. In 1980, Evelyn Reiman, then assistant director of student development, sponsored the first NC State Women's Week, a series of afternoon and evening programs for women on campus. Five years later, the Division of Student Affairs established the first professional staff position to support women students.
By 1987, the office of Women Student Concerns moved from Student Health to the Department of Student Development and hired a full-time rape prevention education coordinator. That year also marks the first Take Back the Night march on campus, which continues to this day. Finally, the NC State Women's Center, which opened in 1991, provides an important gathering place for campus and leads the charge for advocacy on a number of issues relating to gender and representation.
Hands-On History
Taken all together, the breadth of NC State's Special Collections is staggering. Ferris works with Todd Kosmerick, university archivist and acting associate head of Special Collections; the two are experts in curating materials for given topics, and work frequently with faculty and students to enrich classroom instruction using the university's collection.

"We try to get students to think about the perspective of the people who created or originally read these documents, and then compare that with their own view," says Kosmerick.
"It's eye-opening to put yourself in the shoes of someone from 50 or 100 years ago and consider how much has — or hasn't— changed," says Ferris. "Inviting students to connect their personal experience with NC State's past can bring history to life in a powerful way."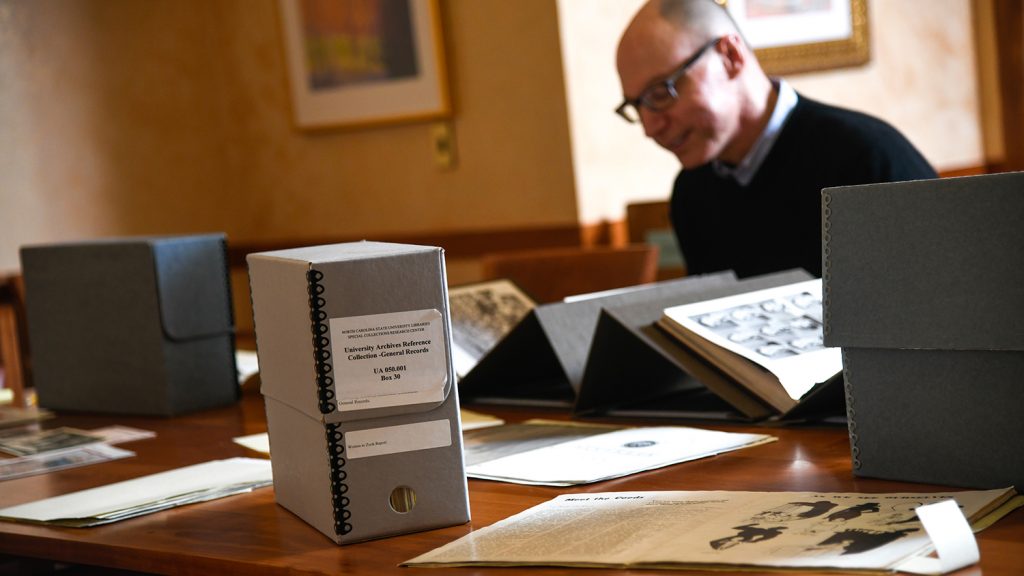 "Inviting students to connect their personal experience with NC State's past can bring history to life in a powerful way."
Kosmerick and Ferris also organize special presentations for groups like the Staff Women's Network and alumni reunions. Interested parties are encouraged to explore the Special Collections request process, as well as browse the university's rare and unique digitized collection, which is extensive.
"We're all part of ongoing campus history," says Ferris. "An element of our work in Special Collections is to make sure that what's happening today will be remembered for many generations in the future."