Alumni
Moon Landing: How NC State Helped Make That Giant Leap
Fifty years ago, the Apollo 11 space mission put men on the moon — with the aid of more than two dozen Wolfpack scientists, researchers and engineers.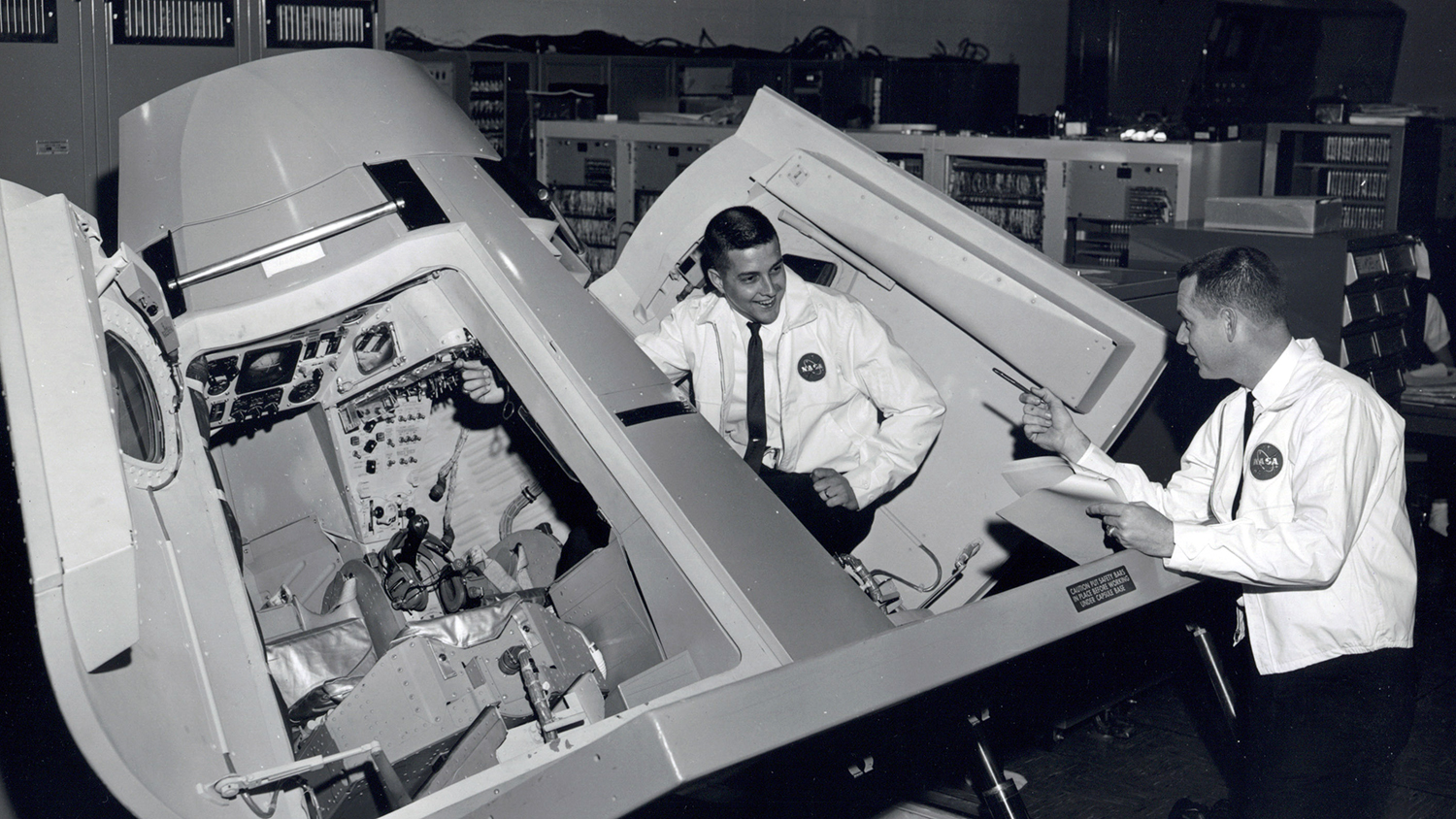 The giant leap for mankind made by astronaut Neil Armstrong 50 years ago this week sprung from a global collaboration of the world's most innovative minds that has never been replicated on such a grand scale.
"It's my view that landing someone on the moon and bringing them back to Earth safely is the most important thing that human beings have ever done," says Paul Byrne, a planetary geologist in NC State's Department of Marine, Earth and Atmospheric Sciences. "It was a scale of human imagination that has never been done before, even if you look at the pyramids, the ancient city of Babylon, modern feats of engineering, anything you can think of."
Byrne recently established the College of Science's Planetary Research Group, which uses volcanic, tectonic and other information gleaned from global research to study other planetary bodies — and vice versa. Much of that work is inspired by the early days of the space program.
"It was the focused work of thousands of people to accomplish a singular goal, to chase a dream of safely transporting human kind off of this planet and on to another one and then safely returning them in just under 10 years of research, experimentation and implementation," Byrne says. "There is no doubt it was the most important event of the 20th century, and the fact that one third of the people living on the planet were able to watch it on live television in incredible.
"We have nothing that compares to that today."
Byrne and others continuing that research can thank a bevy of NC State scientists, researchers and engineers for literally getting the Saturn V rocket and all Mercury and Apollo missions off the ground. More than two dozen NC State graduates were NASA employees at the time of the moon landing: 14 at the Manned Flight Center in Houston; seven at the Marshall Space Flight Center in Huntsville, Alabama; three at the Kennedy Space Center in Cape Canaveral, Florida; and two at the Goddard Space Flight Center in Greenbelt, Maryland.
NC State has a great track record dating back more than a century of producing great engineers.
Some were vitally important to the mission. George Colton was one of three authors of the original Apollo 11 flight plan. Harold Draughon of Zebulon was an assistant flight director, sitting in the mission control room in Houston while Armstrong and Buzz Aldrin landed on the moon. Tom McPherson helped develop the parachute system on the command capsule that was used to safely return astronauts home for all manned flights.
NC State mechanical engineering graduate Jim Prim, who now lives in Southern Pines, and his family watched the moon landing with Armstrong's wife at the astronaut's home in the Houston neighborhood for NASA families called "Togethersville." The crew integration engineer and his family lived two doors down from the Armstrongs. The Prims then kept Armstrong's youngest son Marky while the world's most famous pilot was on an around-the-globe tour following his famous moon walk.
Through the years, many other engineers and scientists contributed to the growth of the space program.
College of Veterinary Medicine visiting professor Richard Linnehan was first selected and trained as a NASA astronaut before he came to Raleigh. He served as a mission specialist and lead spacewalker for the second of his four shuttle missions in 1998, a year after arriving at NC State. On four shuttle trips, he spent a total of 59 days in space, including a NASA-record 42 hours and 11 minutes on spacewalks.
It continues today, with NASA astronaut Christina Koch currently on a one-year mission to the International Space Station and at least two recent students waiting in their wings for a chance to go to space.
"I was not aware of NC State's role in the race to reach the moon, but it really should come as no surprise given the breadth of the project, the sheer scale of it," says Byrne, a native of Dublin. "There were thousands and thousands of engineers needed to get there, and NC State has a great track record dating back more than a century of producing great engineers. NASA needed dozens of capable scientists for every piece of equipment, every component of the spacecraft."
For Byrne, the past, current and future work done through the space program is a legacy that certainly aids the work of his research group, but the enormity of the moon landing, which was seen by an estimated 600 million people on Earth thanks to a live international television broadcast, still supersedes everything else.
"Neil Armstrong knew his steps on the moon were more than just about him," Byrne says. "It was the final step of an enormous enterprise and, really, a testament to a shared human spirit. We gained so much knowledge from that one endeavor. It was not just about the military uses or the technological advances that we made. What it taught us was that we can do big, massive things if we put our collective minds together.
We can do big, massive things if we put our collective minds together.
"Mainly, we learned that we can design, dispatch and control a spacecraft from our planet and return it safely home. To get humans to yet farther places in the solar system will take even more cooperation, more research, more science and technology, but we have done it before. And the moon landing tells us that we can do it again."