NC State Wins APLU National Economic Engagement Award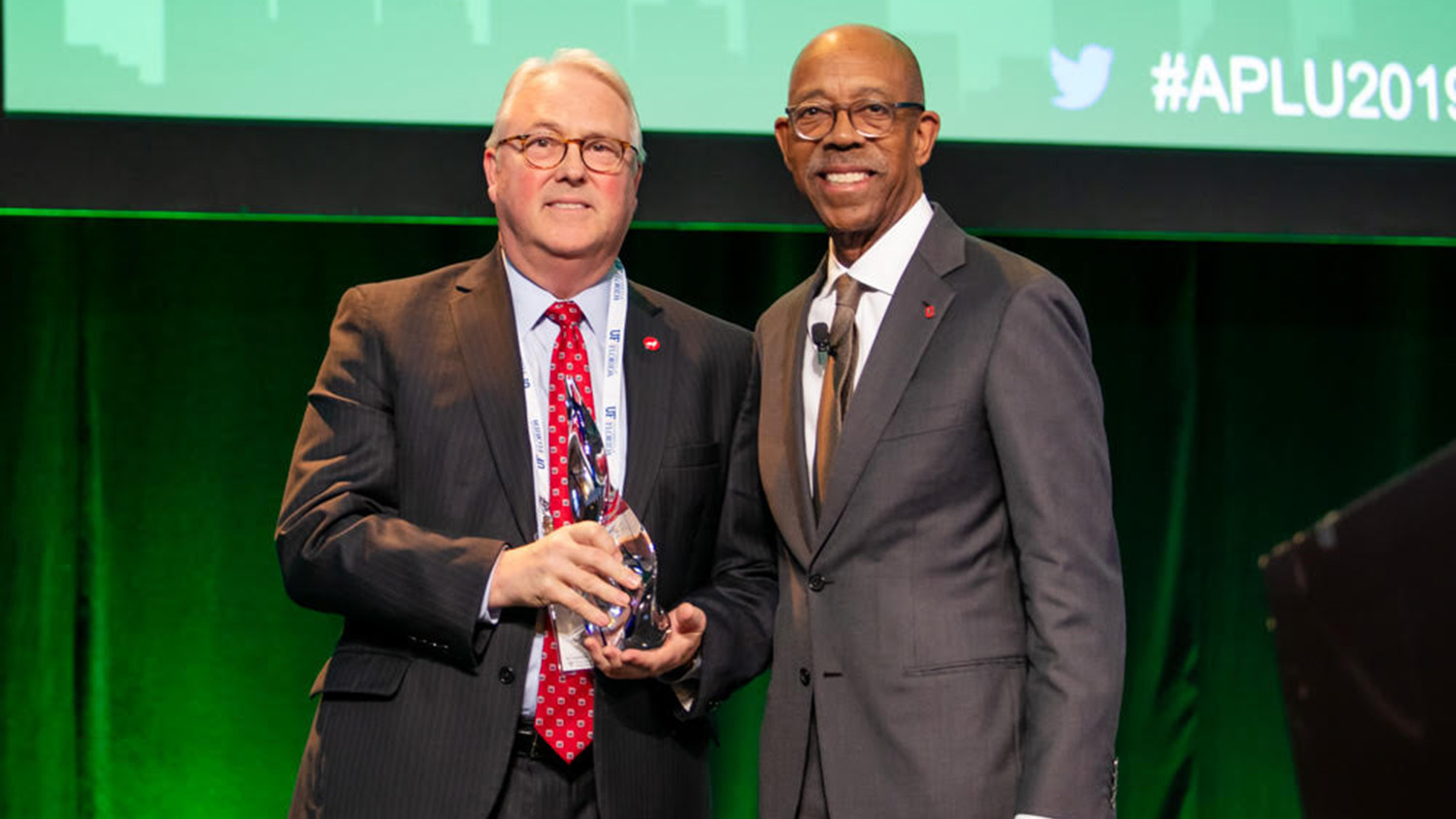 The Association of Public and Land-grant Universities (APLU) on Sunday named North Carolina State University a 2019 Innovation & Economic Prosperity (IEP) awardee.
The IEP awards recognize innovative projects or programs in economic engagement. The winners of the awards were announced at the 2019 APLU Annual Meeting in San Diego.
NC State won the IEP Economic Engagement Connections award, the top prize in the awards competition, recognizing overall excellence.
"Economic engagement and development cuts to the heart of public universities' mission to advance the public good," said APLU President Peter McPherson. "We applaud the winners of this year's APLU Innovation & Economic Prosperity University Awards. They stand out as excellent examples of how public universities are addressing their communities' needs and advancing regional economic development."
NC State has taken a multipronged approach to developing talent that fuels economic development. In its award application, NC State highlighted three programs playing a part in this approach: the Entrepreneurship Clinic, the Northeast Leadership Academy (NELA), and the Biomanufacturing Training and Education Center (BTEC).
The Entrepreneurship Clinic works to integrate research, teaching, and work-and-learning opportunities to help students build the next generation of businesses in Raleigh. Students observe startup founders leading firms at various stages of development. Since the program launched in 2015 with just nine students, the clinic has increased service to include nearly 800 students representing 22 majors. Since 2015, 17 student startups have launched, raising over $5.6 million in outside funding to assist with student startups. The clinic received the 2018 Excellence in Co-Curricular Innovation Award from the United States Association for Small Business and Entrepreneurship.
NELA takes a radically different approach to school leadership development in 14 counties in northeastern North Carolina, a geographically isolated rural region with persistent poverty, high rates of teen pregnancy and infant mortality, and other deficit metrics. NELA seeks to increase student achievement in this region by preparing and retaining principals in high-poverty, hard-to-staff, historically low-performing schools. Each component of the academy is anchored in research-based best practices in leadership preparation and is designed to meet the specific needs of schools in North Carolina.
BTEC provides both traditional students seeking industry skills and professional workers looking to learn new techniques an opportunity to get hands-on training in the fast-changing field of biomanufacturing. Through its academic and professional development programs, the unique, cross-disciplinary center is helping to transform the North Carolina workforce, grow the state's economy, and benefit those who train there and, ultimately, the millions of patients worldwide who require biopharmaceuticals.
APLU is a research, policy and advocacy organization dedicated to strengthening and advancing the work of public universities in the U.S., Canada and Mexico. With a membership of 242 public research universities, land-grant institutions, state university systems, and affiliated organizations, APLU's agenda is built on the three pillars of increasing degree completion and academic success, advancing scientific research, and expanding engagement. Annually, member campuses enroll 4.9 million undergraduates and 1.3 million graduate students, award 1.3 million degrees, employ 1.3 million faculty and staff, and conduct $44.9 billion in university-based research.
-30-