Landmark Exhibit Unearths History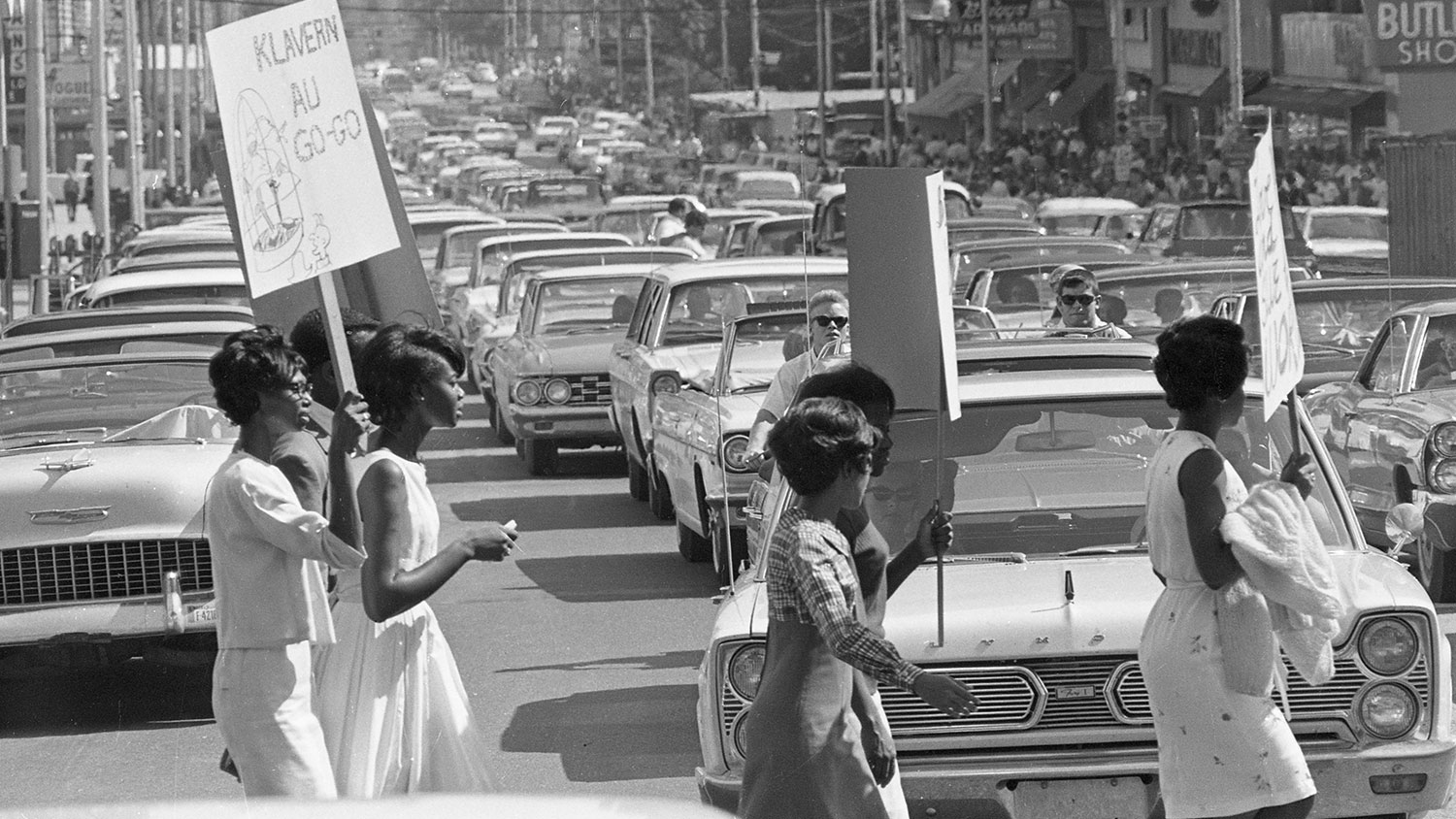 When Martin Luther King Jr. visited Reynolds Coliseum on July 31, 1966, it was a historic day in the life of Raleigh, a small step in the forward march of the civil rights movement.
At the time, however, it could have been a setback, as King came to North Carolina's state capital to speak on the same stage that had once hosted presidential candidate John F. Kennedy and President Lyndon B. Johnson, along with all those basketball games and classical music concerts.
That's because as King traveled to speak to an integrated audience of 5,000 spectators, he drove right down what is now Raleigh's Martin Luther King Jr. Boulevard and saw two North Carolina chapters of the Ku Klux Klan marching through downtown Raleigh, with hundreds of cars lined up on the street to watch the spectacle.
On Jan. 15 at 7 p.m. at the Witherspoon Student Center cinema, NC State English professor Jason Miller will display the jarring never-before-developed- or displayed photos from that little-publicized but historic day in the state capital, as part of his "When MLK and the KKK Met in Raleigh" presentation.
Miller, the 2019-20 scholar-in-residence at the African American Cultural Center, researched and retrieved more than 150 photos from the State Archives of North Carolina from that day, many of which will be included at the second-floor African American Art Gallery through February. The Jan. 15 event is free and open to the public, and no registration is required.
It's an additional project in Miller's research on the civil rights leader. In his King's First Dream project, Miller published the first known recording of King's 1962 speech in Rocky Mount, North Carolina, in which he previewed some of the themes of the iconic and seminal 1963 "I Have a Dream" speech in Washington, D.C. The speech is now online at kingsfirstdream.com.
King was certainly a familiar figure in North Carolina, from his first appearance in Raleigh in 1960 at Shaw University to multiple trips he made to Durham, Rocky Mount, Wilson and other smaller towns around the state. (In fact, many don't know that King was scheduled to be in Durham on April 4, 1968, but extended his stay in Memphis, Tennessee, because of a violent sanitation strike, and was assassinated while leaving his motel.)
Shaw University invited King back in 1966, a year after the Civil Rights Act was passed, during a particularly charged summer of activity.
Miller's speech and exhibit will highlight the social, cultural and racial impact of King's 1966 visit to a place that was a bit different but not fully enlightened considering he spoke at the tail end of a KKK rally less than two miles away.
"The archive was interesting because most of the coverage was about the klan rally and there was very little about King's speech," Miller says. "We have tried to rebalance the historical record to show more of what King said that day and less of what the klan did."
NC State offered Reynolds as a place to host King, as it was the state of North Carolina's largest gathering place and a location that was important in the state's desegregation timeline.
Reynolds hosted the Harlem Globetrotters as early as Dec. 23, 1950, one year after its opening, and integrated basketball teams as early as the 1952 NCAA Tournament. Louis Armstrong was the headliner in the first profitable concert ever held in Reynolds on Feb. 13, 1957. Cincinnati and Michigan State brought integrated teams to the 1958 Dixie Classic, which proved to be the most famous and most exciting of that weeklong basketball extravaganza.
When officials from Shaw officially invited King to speak again in Raleigh in the summer of 1966, Reynolds was fully integrated, no longer with separate bathrooms and drinking fountains for white and black visitors, as was the case when it opened in 1949.
King's originally planned July 10 event in downtown was canceled because he was invited to speak in front of 60,000 at a rally in Chicago's Soldier Field. When it was rescheduled for July 31, it gave several North Carolina KKK organizations — and a contingent of ministers of white churches in Raleigh — time to announce their opposition to a King appearance during that turbulent summer.
How turbulent? King left Chicago that Sunday morning to fly to Raleigh. Later that day, in a march through Chicago, white supremacists burned more than 30 cars in violent clashes that left more than 60 people injured.
King was greeted by an integrated crowd of about 5,000 — which is the current capacity in renovated Reynolds Coliseum. He received a five-minute standing ovation when he stepped on the stage, then gave an exceptionally long 55-minute speech that was carried live on UNC-TV. It was interrupted 33 times by ovations and applause.
Miller's speech will detail the day and the exhibit will add visual details of what was one of the most historic days in Raleigh's and NC State's history.