Faculty and Staff
Hasan Jameel Receives UNC Board of Governors Award for Excellence in Teaching
The NC State distinguished professor has been honored with the UNC System's most prestigious teaching award.
Hasan Jameel of the NC State College of Natural Resources has been honored with the 2021 UNC Board of Governors Award for Excellence in Teaching. Created by the board in 1993, the award recognizes and encourages the extraordinary teaching contributions of faculty across the UNC System.
Jameel, the Jordan Family Distinguished Professor for Natural Resource Innovation in the Department of Forest Biomaterials, is one of 17 recipients representing all 16 of North Carolina's public universities and the North Carolina School of Science and Mathematics.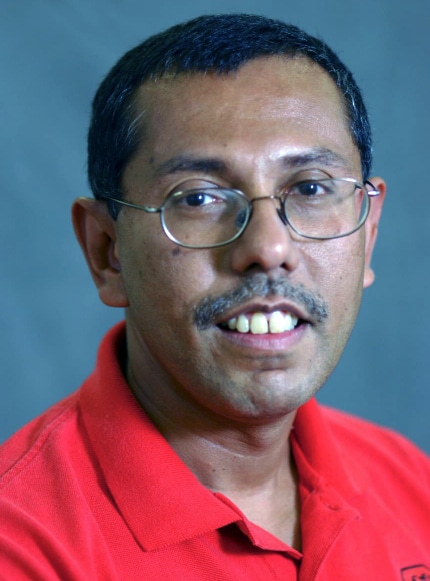 A member of the faculty since 1987, Jameel has received numerous honors recognizing his teaching, mentoring and scholarship. He is a two-time recipient of the Outstanding Teaching Award and has also received the Outstanding Advisor Award and the Alumni Distinguished Professor Award at both the undergraduate and graduate levels.
In 2000, Jameel was elected a fellow of the International Academy of Wood Science. He was a 2005 recipient of the Johan C.F.C. Richter Prize from the Pulp Manufacture Division of the Technical Association of the Pulp and Paper Industry (TAPPI) and was a TAPPI fellow in 2007, in recognition of meritorious service to the industry.
"Hasan Jameel is an exemplary professor," said Myron Floyd, dean of the College of Natural Resources. "Over a 30-year career, he has been a dedicated and highly effective teacher inside and outside the classroom. He contributes leadership within his department and the college. And he has a well-earned reputation as a caring professor who selflessly invests time and resources for students' long-term success and well being."
He has a well-earned reputation as a caring professor who selflessly invests time and resources for students' long-term success and wellbeing.
In his letter in support for Jameel's nomination, Chancellor Randy Woodson continued to sing Jameel's praises, writing of his "extraordinary passion and enthusiasm for student learning and success, his continued excellence in the field of bioenergy, and the substantial impact of his research."
Throughout his career, Jameel has successfully obtained large grants to fuel his critical research — including $4 million from the U.S. Departments of Agriculture (USDA) and Energy. With a $2.7 million grant from the USDA's National Institute of Food and Agriculture and the Agriculture and Food Research Initiative, Jameel and his team are currently developing a project to prepare diverse and rural students and teachers to meet the evolving challenges in the bioproducts and bioenergy industries.
In their letter of support for Jameel's nomination, recent graduates Reagan Barnhill, Kat Santoro and Mary Kathryn Wallace wrote, "There are few individuals who have the ability to effectively impart to students the knowledge necessary to successfully accomplish their future academic or professional undertakings. There are even fewer individuals who do so with tireless dedication and passion. Dr. Jameel's everyday actions demonstrate just how committed he is to helping his students achieve their every goal."
That commitment to holistic student success was echoed in Jameel's own thoughts on teaching.
"During both my undergraduate and graduate career, I had outstanding mentors who influenced me as an 18-year-old student who came to the United States for higher education. They were not only interested in my scholarly output, but they also cared about me as a person. Some of the impressions we leave with our students outside of the classroom will have an equal and maybe a higher impact on the students as the course material we teach. This is the aspect of my job that I enjoy most."
Jameel will be recognized at NC State's spring commencement on May 15, and the Memorial Belltower will be lit red in his honor at a time of his choosing.