Academics
Fox Championed NC State — and Change
A renowned scientist and visionary leader, Marye Anne Fox pushed the university into the 21st century, despite headwinds. She died Sunday at 73.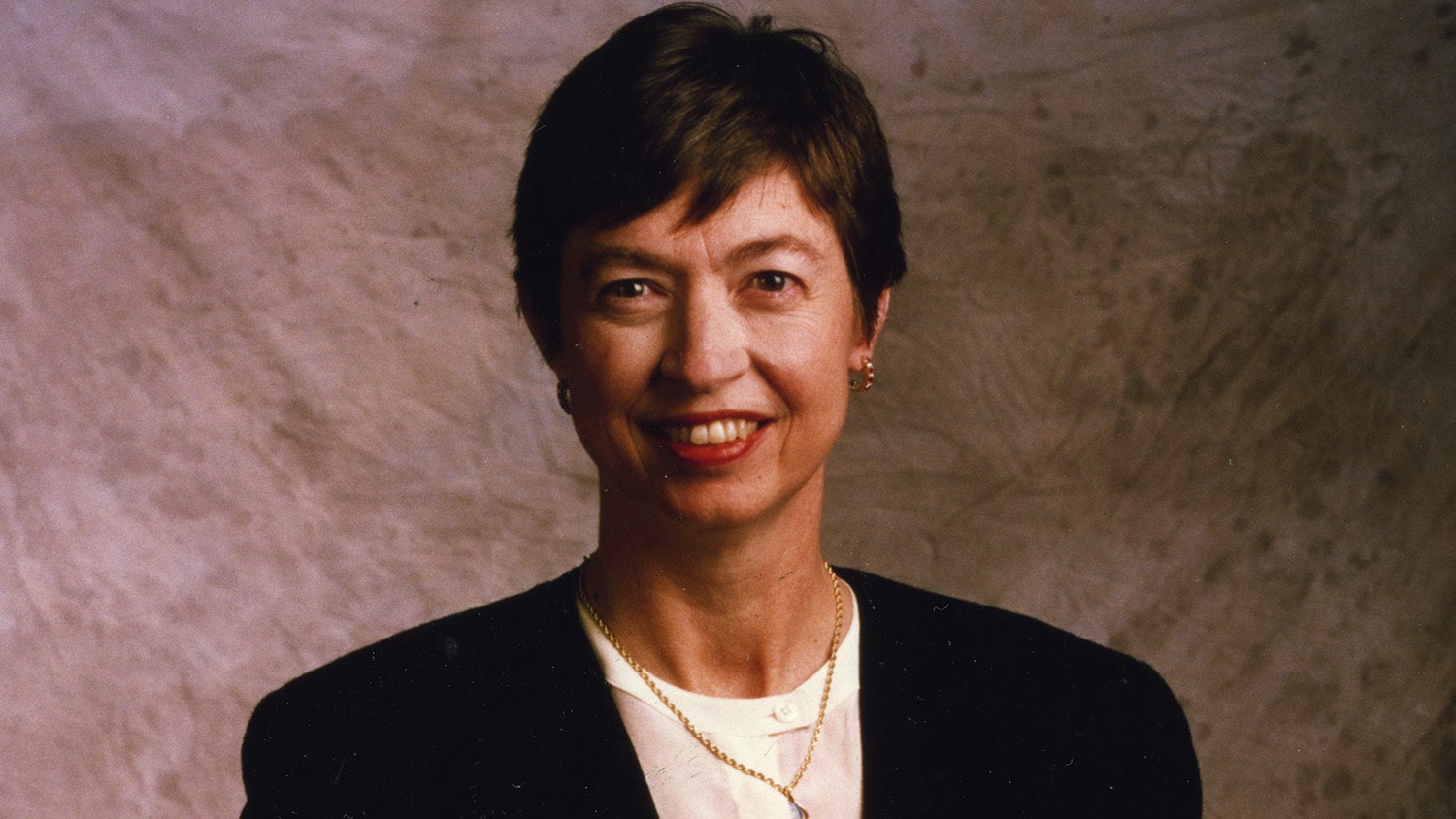 While Marye Anne Fox was NC State's first female chief executive, it was hardly the only indelible mark she left on the university in her six-year tenure.
Fox, who died Sunday at 73, ushered in an era of change, particularly in developing Centennial Campus, increasing research funding and improving athletic facilities.
An accomplished physical organic chemist who was elected to the National Academy of Sciences in 1994 and earned the National Medal of Science in 2010, Fox grabbed hold of her leadership responsibilities at NC State and pulled the university into the 21st century, bolstering the institution's identity as a leading land-grant university.
Elevating Expectations
"What sticks in my mind about what Marye Anne did for NC State is that she perpetuated the notion that we needed to stop looking over our shoulders and elevate our expectations about making NC State a premier academic institution," said Chancellor Randy Woodson of his predecessor. "Yes, she was the first woman to lead the university, but she remained an active and prominent scientist who elevated the university's view of itself."
A native of Canton, Ohio, Fox earned her undergraduate degree from Notre Dame, her master's from Cleveland State and her Ph.D. from Dartmouth. She came to NC State after a stint as vice president of research at the University of Texas. At NC State, she was part of the first wave of female leadership within the UNC System, which was then led by President Molly Broad.
"The first woman to lead the university, and NC State's first chancellor of the 21st century, Marye Anne wove energy, innovation and the drive to excel into the fabric of this institution," said Peaches Gunter Blank, who was the chair of the NC State Board of Trustees during Fox's tenure.
Belltower Tradition
Shortly after the widely respected plant biologist arrived from Texas on Aug. 1, 1998, Fox looked out her Holladay Hall office window to see NC State's iconic Memorial Tower and wondered why it wasn't used as the focal point of university celebrations, as the tower on Texas's campus has long been used. She asked then-Vice Chancellor for Finance Charlie Leffler to find out what it would cost to light the Belltower red to celebrate specific accomplishments. It first started with home football and men's basketball games, but the criteria has expanded significantly through the years.
Perhaps it's small in the grand scheme of things, but turning the Belltower red was symbolic of Fox's laser-like focus on advancing the university and its accomplishments.
"I view Marye Anne as a turning point in NC State's history because she never, ever accepted the premise that we had to be second to anyone else in the state, or the country for that matter," Leffler said. "She changed the mindset. She came in saying, 'Dammit, that's not the way we are going to look at ourselves.'
"She was a game-changer in the way we approached things."
Facilities Focus
Fox had a clear vision for her goals as chancellor and high expectations for their implementation, particularly in the areas of teaching, scholarship, research and extension. She and other leaders of the 17-school UNC System played a prominent role in lobbying the North Carolina legislature for the historic $3.1 billion University and Community College Bond Referendum in 2000.
After that bond passed by an overwhelming majority, she invested much of NC State's portion in expanding and developing the master plan for Centennial Campus, the home of the school's research partnerships, the College of Textiles and the College of Engineering. The number of buildings on Centennial Campus doubled during Fox's time at NC State.
"That bond issue came at a critical time in the development of Centennial," says former Vice Chancellor of Finance George Worsley, who worked closely with Fox throughout her tenure. "Had she and the other leaders around the state not worked so hard on that, it might not have been passed.
"At that time, we would have struggled to fulfill, on any kind of timeline, the development plan of that part of campus and what it has become today."
In athletics, Fox backed the expansion of NC State's facilities which had long languished without renovation or replacement. In 1999, the Entertainment and Sports Arena (now PNC Arena) opened adjacent to Carter-Finley Stadium. In 2001, the athletics department broke ground on what eventually became $150 million in new facilities, improvements and renovations at the football complex and on campus.
Fox also participated in the Atlantic Coast Conference's decision to expand its membership from nine teams to 11 teams in 2003.
Laying the Groundwork
Her time at NC State was not without difficulty, from guiding students, staff and faculty through the tragedy of the 9/11 terrorist attacks and the war that followed to the controversy caused by her demanding leadership style that often upset the academic apple cart. In 2003, she was censured by the NC State Faculty Senate for firing two prominent vice provosts and the causing subsequent resignation of Provost Stuart Cooper.
She left NC State in April 2004 to become the first permanent female chancellor of the University of California San Diego, leaving behind the groundwork for NC State to expand its academic and research outreach in North Carolina, while also gaining national and global prominence.
In 2004, the first building constructed with funding from the state bond Fox championed was a science research center on Central Campus that included industrial laboratories, classrooms and greenhouses for the horticultural sciences. It was named the Marye Anne Fox Science Teaching Laboratory in honor of her service to the university.
Fox retired from UC San Diego in 2012, returning to the University of Texas to resume her academic research and teaching.
She is survived by husband and fellow chemistry professor James Whitesell and the five sons they had from previous marriages.
"NC State owes a tremendous amount of gratitude and respect to Marye Anne Fox," Woodson said.