Wilson Returns a Winner
At NC State, Russell Wilson honed the athletic skills and commitment to service that would define his extraordinary life. The NFL superstar returns to Carter-Finley this week to speak at commencement.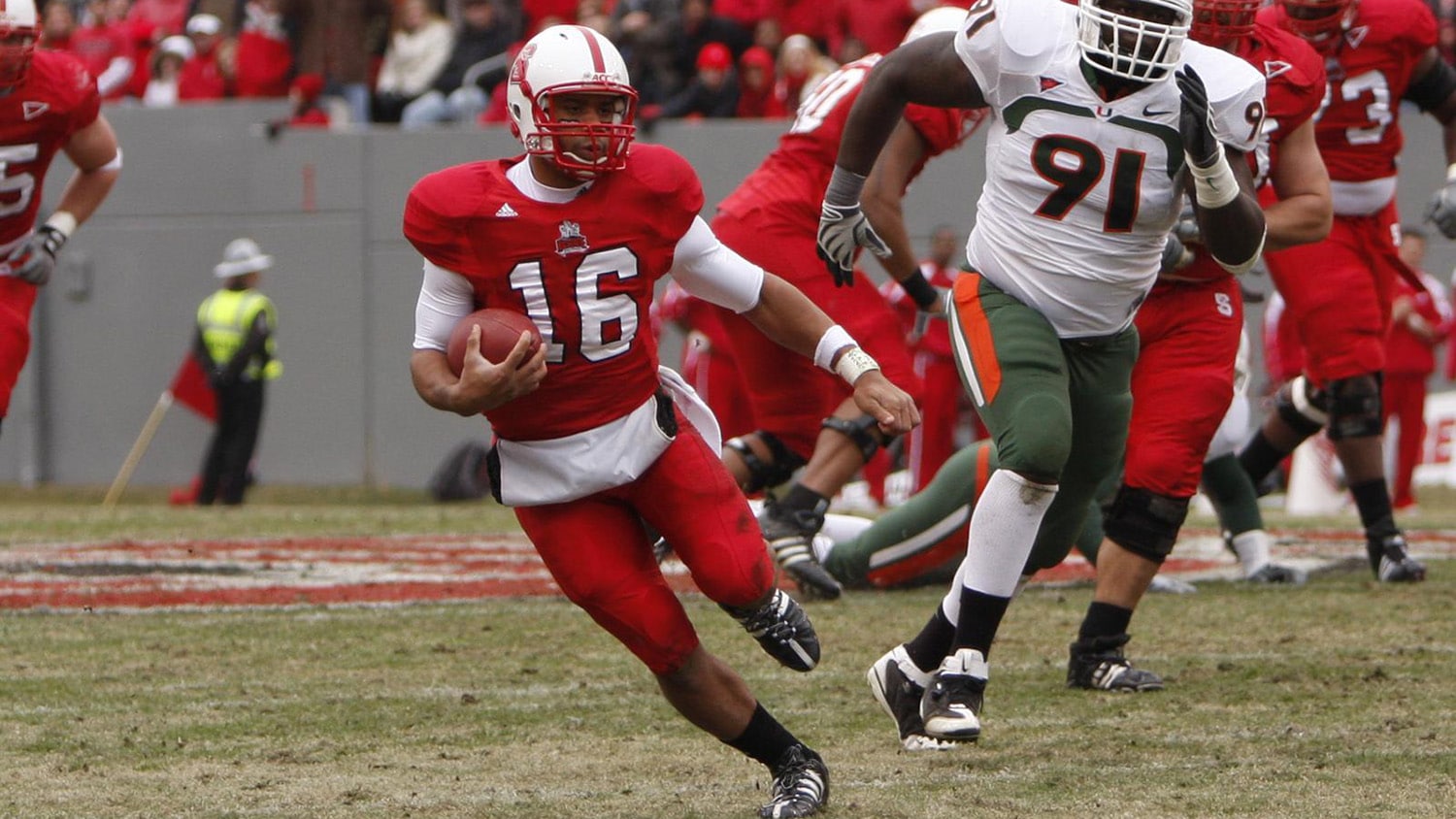 The reigning NFL Man of the Year came to NC State to grow into adulthood.
For Russell Wilson, the four years he spent in Raleigh were a time of exploring the possibilities of a professional athletics career and experiencing the moments of maturation that most college students have while pursuing a degree.
He just did it in the spotlight of being a two-sport superstar, earning such distinctions as a being the first freshman to ever win first-team All-Atlantic Coast Conference honors, setting an NCAA record for the most completed passes without an interception, winning two bowl games and contributing to baseball's postseason success.
He expanded his servant's heart, participating in just about every community service opportunity offered to him by football coach Tom O'Brien, baseball coach Elliott Avent and the athletics department, while pursuing his degree in communication in NC State's College of Humanities and Social Sciences.
On the gridiron, he began breaking passing records held by NFL predecessors Erik Kramer and Philip Rivers. On the diamond, he helped Avent's Wolfpack perform well in the postseason.
Tested
There were some difficult and uncomfortable moments along the way that forced Wilson into adulthood before he was quite done being a kid. His father, Harrison Wilson III, suffered a stroke just days after Wilson was named the Wolfpack's starting quarterback as a freshman. His health declined steadily throughout Russell's career and he was eventually hospitalized in Richmond, Virginia, and unable to see his youngest son play as much as he wanted. Russell often made the three-hour drive home to be with his dad when he could, sometimes leaving after practice, staying up all night and driving back for class the next day.
And then there was baseball, Wilson's second sport at NC State, but his first paying job while still in college. He was taken in the fourth round of the 2010 MLB draft by the Colorado Rockies. The next day his father died.
It set off an emotional whirlwind that eventually led to Wilson completing his junior season, getting his degree after three-and-a-half years at State and opting to leave for Wisconsin for his final year of football eligibility. Wilson then led the Badgers to the 2012 Rose Bowl.
He was taken in the third round of the NFL draft by the Seattle Seahawks, on the suggestion of head coach Pete Carroll, a former NC State assistant, who ignored the oft-repeated and always-wrong consensus that Wilson was too small to succeed in professional football. The two developed a close relationship that helped the Seahawks win Super Bowl XLVIII in 2014, making Wilson only the second Black quarterback to lead his team to victory in the NFL's biggest game.
A Heart for Service
One of the first things Wilson did when he arrived in the Northwest was to partner with the Seattle Children's Center, where he made weekly visits to pediatric cancer patients and shared joyful videos of those meetings. He continued even during the COVID-19 pandemic that forced those meetings to become virtual. He and his wife, pop singer Ciara, have used their fame, their popularity and their wealth in a variety of causes in health, education and community empowerment to make him one of the league's most popular players.
Earlier this year at the Super Bowl, Wilson was named the Walter Payton NFL Man of the Year for all of his community contributions, becoming the first former NC State student to win the league's most prestigious off-the-field award since it was established in 1970. It also earned Wilson's nonprofit Why Not You Foundation a $250,000 contribution.
Wilson's college experience, and the long road he traveled to become an NFL superstar, one-half of a music industry power couple and the father of two young children, are all part of the story he will share this weekend during NC State's two-day commencement exercises, which will be held at Carter-Finley Stadium for the first time since 1999.
From his earliest days with the Wolfpack, Wilson always said he wanted to be the best. The question and answer that followed were both pretty easy.
"At what?"
"At everything."
In the 10 years since leaving NC State, the Super Bowl-winning quarterback has come pretty close.