Faculty and Staff
Friday Institute Puts Equity at the Forefront
An annual conference for teachers, held last month, is just one tool the institute is using to help students thrive in the classroom.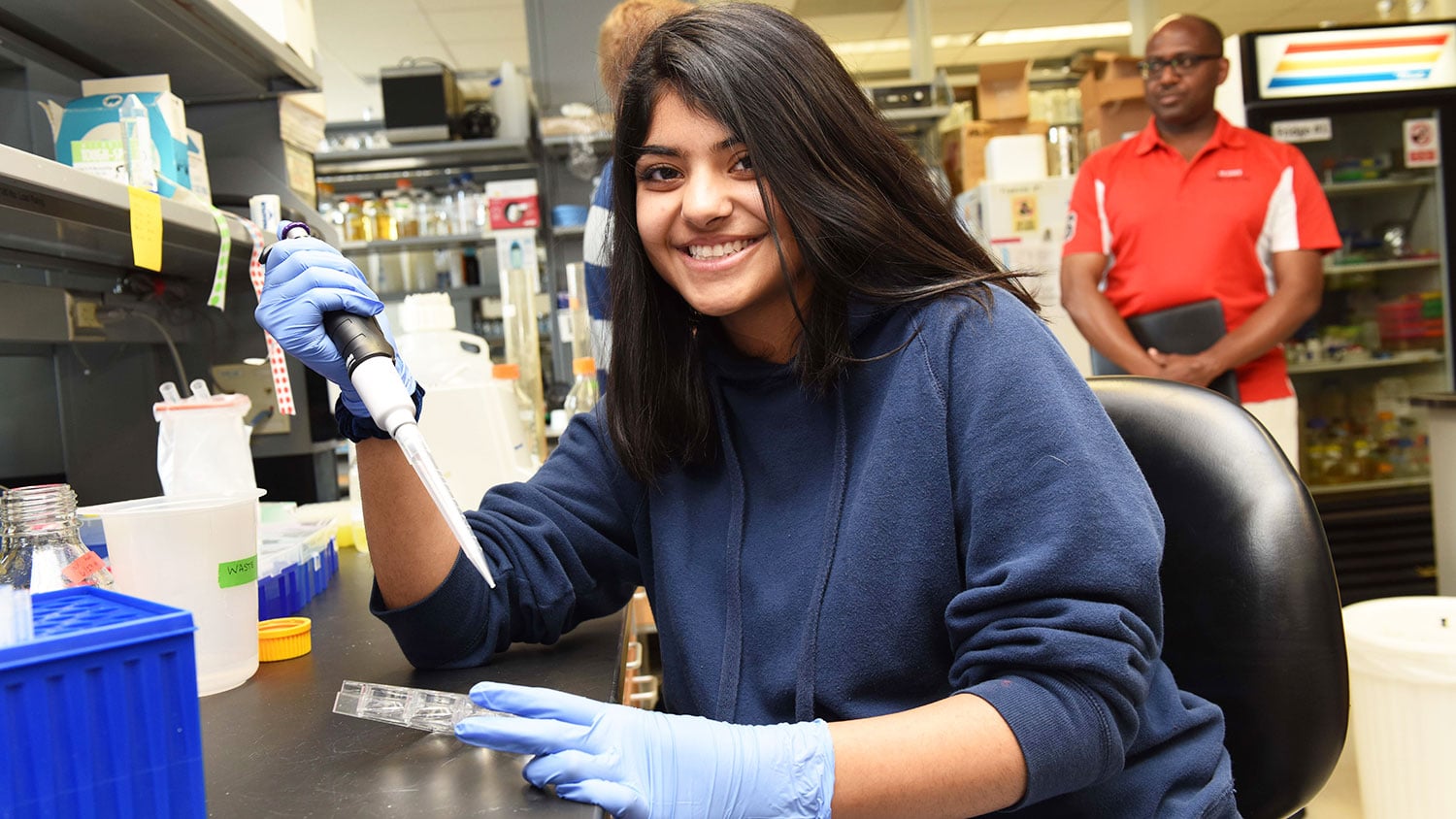 Last month, 673 teachers from school districts across the state gathered online to discuss pressing issues in the field of education. How do they talk to children about race and racism? What's the best use of federal funds to ensure equity? What has the pandemic taught them about supporting students with disabilities?
The discussions were part of an annual conference hosted by the Friday Institute for Educational Innovation, which collaborates with teachers, government entities and private industries to develop ways to help students thrive in the classroom. In the 21st century, equity and inclusion play key roles, says Hiller Spires, executive director of the institute and associate dean in the College of Education. The conference, now in its second year, is just one way the institute is trying to advance equity.
"Equity means that we meet students — and educators as well — where they are and provide what they need in order to be successful in learning and life," Spires says. The aim, she explains, is to design Friday Institute programs that put equity front and center for students and educators.
An Equitable State of Mind
The Friday Institute builds its work on a foundation of equity-mindedness. Jose Picart, the institute's deputy director, says that's when educational stakeholders understand the origins and causes of the systemic barriers students face, assess their own biases and then take responsibility for the success of every student.
"The educational system has a lot of components to it," he says, such as educational structures, practices, resources, policies and, perhaps the most transformational of all, the mental models that people have for how education should work. "If we can get people to be more equity-minded, then the other components of the system can also begin to change."
Spires cites an example from last month's conference. The Guilford County school district, she says, identified race as a barrier to student success and is working to add more principals of color who in turn can effect change at individual schools.
"I think that district is a model for other districts across the state because they're very clear about using data that they have to uncover what the issues are and then direct the resources where they need to put them," Spires says. "I think that one role of the conference was to make that process visible for everyone to see."
Encouraging people to confront their own biases isn't easy. The key is to challenge people's ideas, not them as individuals, Picart says. He's found success in explaining that humans evolved to think and behave in certain ways as a means of survival — instinctive processes that contribute to the formation of our biases and prejudices. However, humans also evolved with a need to connect to others and with a drive to learn and grow, meaning we can mitigate these instincts and, in turn, reduce our biases.
Leveraging our scientific understanding of human nature and explaining that everyone, no matter their demographic, has prejudices provides people with "a little bit better understanding of what drives their own biases and how they can be more equity-minded," he says.
Harnessing Innovation
When the COVID-19 pandemic hit, the Friday Institute kicked into gear. It partnered with the state Department of Public Instruction (DPI) to support teachers' rapid shift to online learning. Since March 2020, the institute has helped support more than 75,000 educators, including some from out of state, with remote instruction.
As the need for stable internet connections grew, so did the awareness that not all students had them. For some it was a matter of cost; for others, location, since many rural areas of North Carolina lack access to broadband. Either way, Spires says, it's an equity issue.
She reached out to the institute's network of teachers. Twenty-four of them gathered at the Friday Institute on Centennial Campus where an empty room had been turned into a studio for PBS North Carolina. There they filmed almost 200 literacy and math lessons, 144 of which broadcast on PBS NC in a series called Learning Connections. Funding came through the Coronavirus Aid, Relief, and Economic Security (CARES) Act, led by the DPI.
This new At-Home Learning Initiative is one example of how the Friday Institute combines equity with innovation, Spires says, and demonstrates the commitment of educational stakeholders to adapt and learn.
"PBS North Carolina, they do things a certain way. The Friday Institute does things a certain way. DPI does things a certain way. Teachers do things a certain way," Spires says. "We said, 'Let's figure this out. And we can't do it the way we've always done it. We all have to let go of the old ways and create something new.' That's how innovation happens."
Learning Connections will continue regardless of what happens with the pandemic, Spires says, as will the institute's preexisting efforts to address technological inequity. The Technology Infrastructure Lab works with the DPI and the state Department of Information Technology to bring broadband to all corners of North Carolina, and the Computer Science for All program seeks to provide computer science education to all students, giving them skills that could change their futures.
"One of the things the pandemic really highlighted is that there are certain parts of our economy that are driven by technology and computers and so forth, and that many of the historically underrepresented and marginalized groups aren't in that field," Picart says. "While they were struggling with the pandemic having exacerbated everything, many people who had the capacity and ability to work from home because of their computer awareness or skills were able to thrive."
'You've Got to Have Hope'
As a new school year begins, the Friday Institute is looking ahead. An outside group will conduct an equity inventory to help keep equity-mindedness at the forefront of the institute's hirings, promotions, services and products. Spires would like to convene a summit to examine how to keep school students reading and writing on grade level.
She also plans to travel around North Carolina to discuss a problem highlighted in last month's equity conference.
"There's been an increase in Latinx students in our population in North Carolina, but we aren't growing our Latinx educator population," Spires says. Research scholar Patricia Hilliard will lead the institute's efforts to travel the state to learn what those blocks are. The goal is to create a policy brief to present to the state so it can implement ways to increase the number of teachers of color.
Although it's a time when the country is divided over race and equity and teachers face unprecedented obstacles, the Friday Institute remains hopeful that things will improve.
"If you don't have hope, what do you have?" Picart says. "You've got to have hope and you've got to have faith that things will get better."