News Releases
NC State Distinguished Education Professor Hollylynne Lee Receives Cherry Award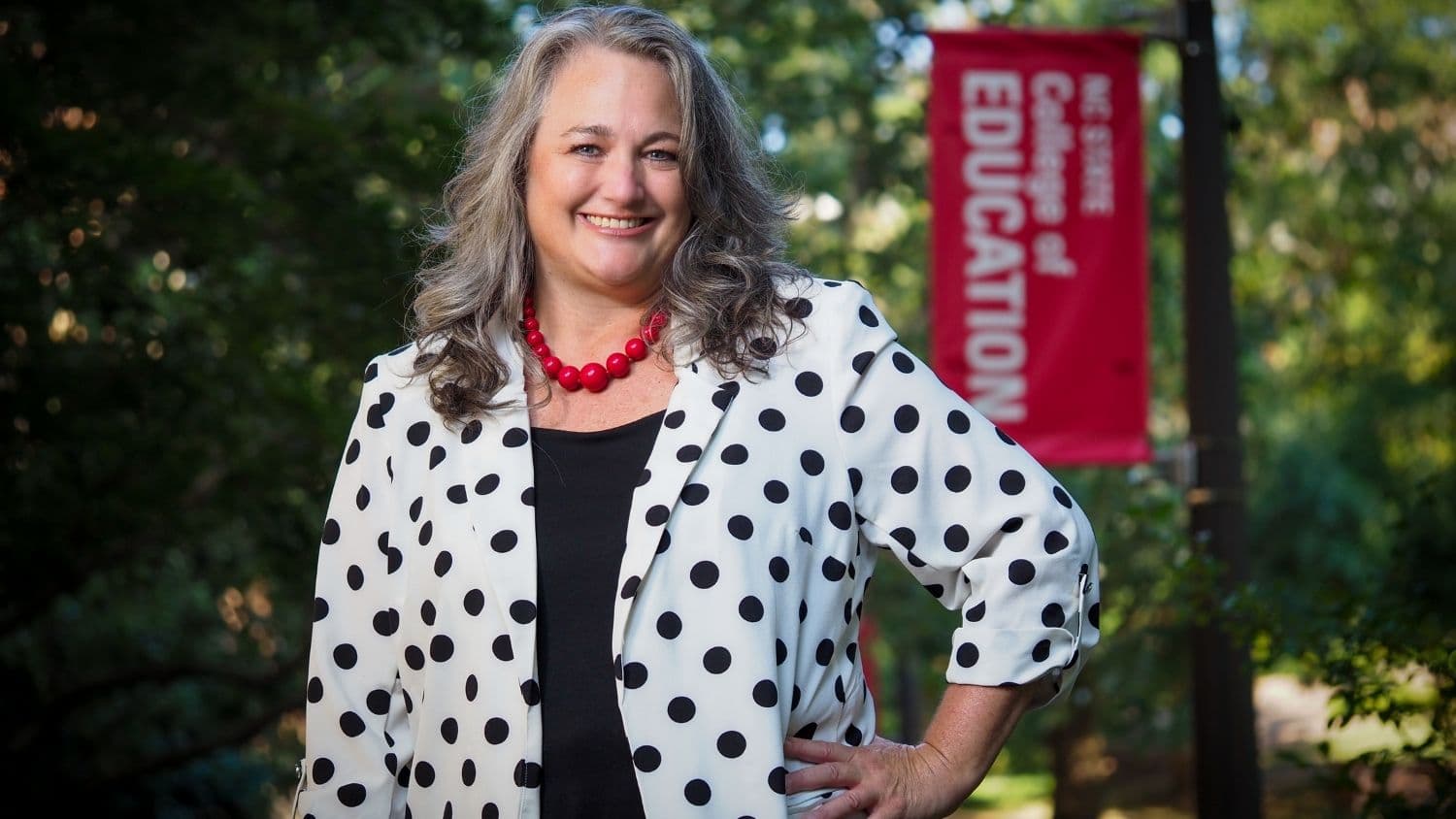 Hollylynne S. Lee, Distinguished Professor of Mathematics and Statistics Education at North Carolina State University, has been named the 2022 recipient of Baylor University's Robert Foster Cherry Award for Great Teaching.
The biennial award, which comes with a $250,000 prize, honors professors with exceptional teaching skills who have a record of having a positive, inspiring and long-lasting impact on students.
"I want to make math and statistics relevant to every person's life and change the experiences they have in schools," said Lee, who is an expert in the design and use of technology to help students learn math and statistics. "I want to get meaningful curriculum materials in the hands of teachers so they can change the types of experiences students have with relevant data in their classrooms."
As the Cherry Award recipient, Lee will receive the $250,000 prize and her home department, the Department of Science, Technology, Engineering, and Mathematics Education in the NC State College of Education, will receive $25,000. She will also teach in residence at Baylor for a semester.
"Professor Hollylynne Lee expertly embodies NC State's mission, and she is a true change-maker when it comes to higher education," said NC State Executive Vice Chancellor and Provost Warwick Arden. "Her excellence in teaching and research have changed the way mathematics and statistics are taught and understood, and she has made an immeasurable impact on tens of thousands of students and educators, from K-12 and up, through her work. We are fortunate to have her at NC State, and the entire state benefits from her transformative efforts."
Lee is also a senior faculty fellow at the Friday Institute for Educational Innovation and the director for the Hub for Innovation and Research in Statistics Education, which creates data science and data literacy materials for students and teachers in K-12 math and science classrooms. Lee has secured millions of dollars in grant funding for research, created open educational resources and offered free online courses for educators. Her scholarship and writings include more than 100 journal articles, book chapters and conference papers, four co-authored books and a co-edited book.
"Dr. Lee is a colleague who has followed her passion for teaching statistics with technology and has demonstrated how far one can go when committed to work that is at the same time rigorous and meaningful," said Paola Sztajn, interim dean of the NC State College of Education. "Her careful integration of research and teaching has allowed her to use her knowledge to support and enhance her instruction to new levels of effectiveness. This award is a recognition of the great scholar and instructor that Dr. Lee is."
Lee joined the NC State faculty in 2000. She earned her B.S. in secondary mathematics education from The Pennsylvania State University in 1991, her M.A.Ed. in secondary education-mathematics in 1995 from William and Mary and her Ph.D. in mathematics education from University of Virginia in 2000. Prior to her work at the university level, she served as a K-12 teacher.
"Dr. Lee's scholarship and teaching expertise focuses on the teaching and learning of probability, statistics and data science in grades 4-12 and early college-level courses. We were very impressed by her design and use of engaging technology tools that facilitate student learning of mathematics and statistics, as well as her ability to inspire future teachers in these important fields," said Michael W. Thompson, associate dean for undergraduate programs in Baylor's School of Engineering and Computer Science and chair of the award selection committee.
The award is the latest in a string of accolades for Lee. In April of 2020, she received the UNC Board of Governors Award for Excellence in Teaching. She was also selected as one of the 2020 American Statistical Association (ASA) Fellows based on her contributions to teacher preparation and professional development of statistics teachers at the K-12 level. She was also named a Fellow of the International Society for Design and Development in Education in 2019.
To read a Q&A with Lee on her secrets to success and her message to other teachers, click here. To read more about Lee, click here.