Evans Wins Back-to-Back Awards for Community Service, Diversity and Inclusion Efforts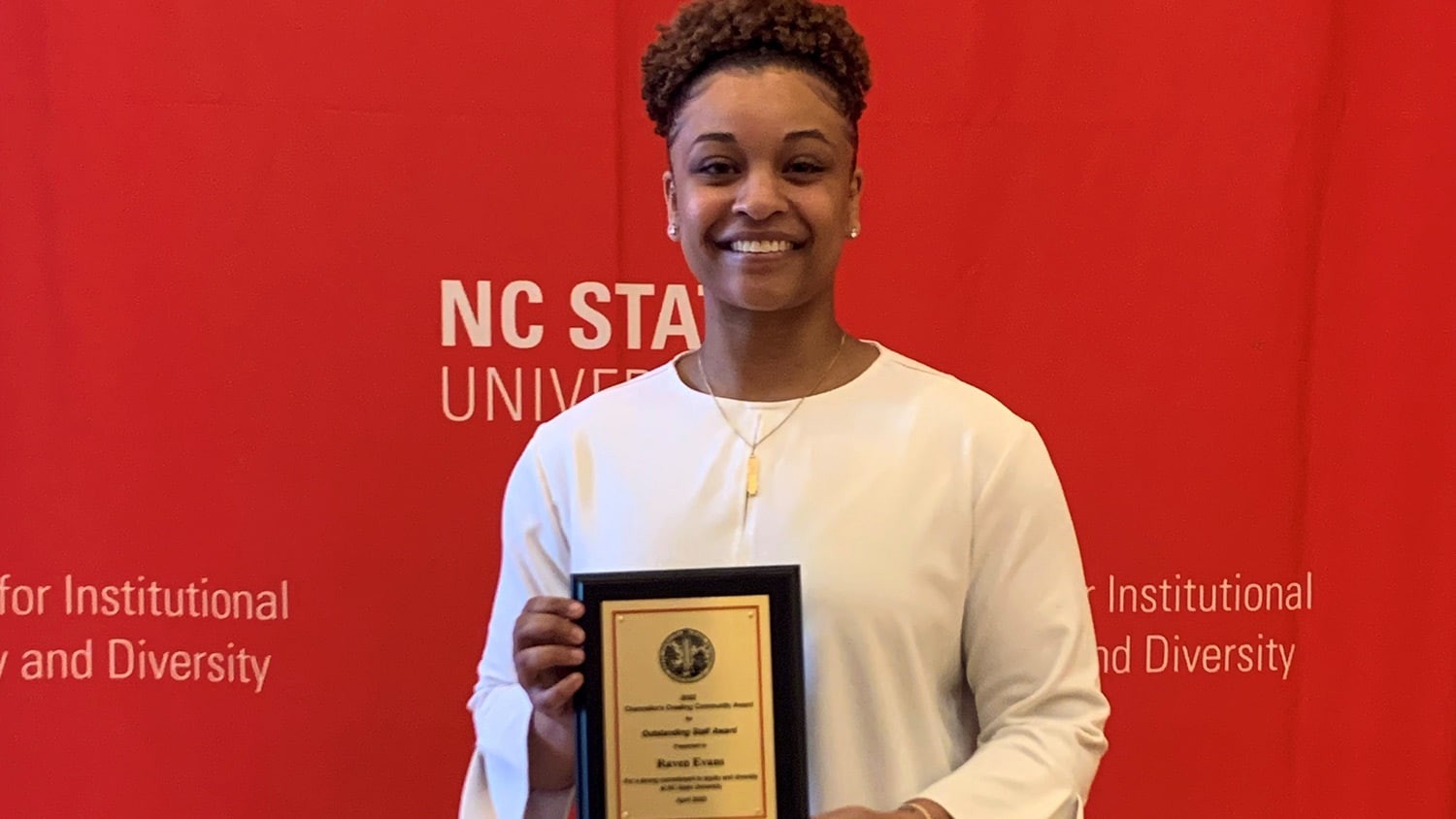 NC State staff member Raven Evans is passionate about two things: recruiting diverse candidates to work at NC State and the University of North Carolina at Chapel Hill, and volunteering in her community.
Her enthusiasm for these endeavors and the tremendous effort she puts toward them are among the reasons why Evans, a lead staffing specialist for University Temporary Services (the in-house temporary staffing service for NC State and UNC-Chapel Hill) recently won back-to-back awards.
In April, Evans won the Chancellor's Creating Community Award for Outstanding Staff during the Recognizing Excellence in Diversity Event. The award recognizes staff who demonstrate excellence in the incorporation of diversity, equity and inclusion beyond their administrative roles.
"This is probably the most rewarding thing I've ever gotten for diversity and inclusion in my role at UTS," Evans said. "That is why I'm here, that's what I do, so it was super surreal to experience receiving that award."
Earlier this month, Evans received the Office of Finance and Administration's Award for Excellence in Human Relations. The award recognizes employees for their outstanding contribution toward enhancing the quality or morale of the workplace or the public image of a department or division, NC State or state government. As a result of her win, Evans is a finalist for the university-level Award for Excellence in Human Relations.
"Because so much of the work we do with UTS is team-oriented, I can't acknowledge receiving that award without acknowledging the team, too," Evans said. "It's an awesome award for our team to have."
UTS Assistant Manager Kristen Schmitt, Evans' supervisor, nominated Evans for both awards.
"This is all so inspiring," Schmitt said of Evans' back-to-back wins. "I told her I'm going to work for her one day because she's going to take the world by storm. I think she's Superwoman, and it's rare to find people like her who are always willing to go the extra mile to help someone."
Creating Opportunities for Others
Evans, a UNC-Chapel Hill graduate, has worked at UTS since May 2017. She started her career at UTS as a temporary employee working as a staffing assistant. Later that year, Evans became a permanent UTS employee and started working as a staffing specialist. She has been in her current position of lead staffing specialist since November 2019.
In her role, Evans plays a critical part in NC State's efforts to recruit a skilled and diverse workforce. She helps UTS create and maintain partnerships with organizations that work to create job opportunities for people from marginalized groups. These organizations include Treatment and Education of Autistic and Related Communication Handicapped Children, Dress for Success, the National Association of Black Accountants and Vocational Rehabilitation Services.
"A lot of what we do in UTS is trying to find talent in spaces where people don't necessarily look all the time," Evans said. "I think those efforts have been really beneficial for us because it has created not only a diverse university but also a university that is more capable of achieving its mission: trying to help students. What makes UTS really, really awesome is the fact that it gives us the space to do that and create opportunities for others."
Schmitt said one of the things that makes Evans a gifted lead staffing specialist is her ability to advocate for job candidates. Evans does a superb job of talking to hiring managers about why they should consider hiring a candidate who has had past struggles or is reentering the workforce, Schmitt said.
"So many of those people have gotten temporary roles and eventually permanent ones," Schmitt said. "She really just gave them a foot in the door, and then all of a sudden they have a career. I know that's what drives her, and it's so rewarding for her and incredible for me to see."
Evans said her passion for helping marginalized groups developed when she became involved with the Black Student Union and Delta Sigma Theta sorority as a college student. Her involvement with those groups helped her see how difficult it can be for women, people of color and other marginalized groups to find professional opportunities.
"I think getting involved in campus life made me realize that, 'Hey, there are opportunities that people before me didn't have that I want to create for people that come after me,'" she said.
Serving the Community
Evans' efforts to help others find career opportunities go beyond her work as a UTS employee. She also volunteers at Dress for Success, a global nonprofit organization that empowers women to achieve economic success, helping women write resumes and cover letters and improve their interviewing skills.
"Sometimes people do things that are incredible, but those things need to be written the right way or spelled out the right way for the right person to see it and give them the opportunity to get the position they want," Evans said. "I'm super passionate about that."
That's not all Evans does for her community. As chair of the Collegiate Connection Committee for Delta Sigma Theta's alumnae chapter in Durham, she coordinates outreach initiatives. Evans has organized a toy drive, a book drive and an effort to educate people about their right to vote.
"There's a need in our community, and we want to make sure we're fulfilling that need if we have the ability to do so," Evans said. "That's why I get so involved with community services — because if I do see there's a need, I want to be able to help."
No one was more excited to see Evans win the two awards than Laura Cooper, manager of UTS.
Cooper watched the award ceremony where Evans won the Chancellor's Creating Community Award via a livestream. When Evans won, Cooper said, she ran from her home office to her husband's home office and screamed, "Raven won!"
When Evans won the Award for Excellence, Cooper and a few of Evans' colleagues attended the award ceremony in person.
"To see her face light up when she won and for her to be so excited gave me chills," Cooper said. "I was crying happy tears."
This post was originally published in University Human Resources News.