Campus Life
Academic and Student Affairs Marks a Decade of Dedication to Student Success
NC State was a national pioneer when it merged academic and student affairs into one office. Ten years later, the benefits to our Wolfpack are evident.
The Division of Academic and Student Affairs (DASA) is an essential part of the NC State experience, offering dozens of services, courses and enrichment opportunities that help students thrive. Home to University College and more than 50 departments — including the Office of Undergraduate Courses and Curricula, University Housing, Arts NC State, Jeffrey Wright Military and Veteran Services, New Student Programs, and Department of Health and Exercise Studies — DASA is committed to nurturing the whole student.
DASA's biggest priority is student success. That goes beyond your GPA and academic accomplishments, encompassing co-curricular opportunities, career preparation and the foundation of a meaningful life.
"DASA takes a holistic approach to student success," said Doneka Scott, the vice chancellor and dean of the division. "It is critical that we support our students' academic and social integration, as well as ensure their basic needs are met to persist at NC State. We believe all of our students can be successful and should graduate having a positive experience and be well-educated, socially and civically responsible, and career ready."
We believe all of our students can be successful and should graduate having a positive experience.
When NC State combined its separate academic affairs and student services 10 years ago, it pioneered a new model: Unified academic and student affairs units were rare among large research universities. The new division was designed to holistically support students, and the university's innovation paid off. During the past decade, retention and graduation rates have soared, and more students have gone on to become proud Wolfpack alumni.
In honor of DASA reaching double digits, we're diving into what makes the division — and its past decade — special.
Putting Student Success First
"Think and Do" underpins everything at NC State, and the establishment of DASA was no different. The 2011-2020 strategic plan, "Pathway to the Future," declared student success was the university's No. 1 goal. In researching how to support students from enrollment to graduation, Provost Warwick Arden and Chancellor Randy Woodson decided to unify NC State's academic and nonacademic resources.
"We knew we had to do something better to really develop this concept of caring for our students 24/7 — integrating curricular and co-curricular support and giving students opportunities outside of the classroom through high-impact practices like Living and Learning Villages, study abroad and undergraduate research," Arden said.
April 22, 2011

NC State's 2011-2020 strategic plan is approved. The plan's focus on promoting student success inside and outside the classroom laid the groundwork for DASA.

July 1, 2012

The Division of Academic and Student Affairs is created. NC State was one of the first universities in the nation to unite undergraduate academic programs and student services in one office.

July 1, 2015

University College is formed. Housed fully within DASA, the college has academic departments and programs that engage every undergraduate student at NC State.

February 2017

The Pack Essentials program begins, offering students financial assistance and other resources to help with emergencies and unexpected life events.

December 31, 2021

DASA exceeds its fundraising goal by $13 million as the Think and Do the Extraordinary campaign concludes, readying the division for an even stronger decade ahead.
By consolidating the university's resources into one division, NC State staff were better able to connect all the touchpoints in a student's college journey. This required concentrating and maximizing resources and encouraging a culture shift throughout the university. Every unit, from housing and health services to academic advising and career counseling, rethought how their services meshed to support the overall student experience.
The results were clear. The six-year graduation rate in 2011 was 79.5%; by 2015, that number had jumped over 5 percentage points, to 84.6%. The one-year retention rate in 2011 was 91.1%. By 2020, it had reached 93.4%.
84.6% Six-Year Graduation Rate
The percentage of undergraduates who earn their diploma within six years rose from 79.5% in 2011 to 84.6% in 2015.
93.4% One-Year Retention Rate
The amount of undergraduates who return for their second fall semester rose from 91.1% in 2011 to 93.4% in 2020.
6,386 Degrees Awarded in 2021
We're sending off more undergraduate students in droves — over 1,100 more, compared to 2011.
Of course, graduating from college is about more than receiving a diploma. It's a culmination of significant academic and personal experiences, which prepare students to make contributions to their fields and communities.
"We've made huge gains in retention and graduation rates, but what we're really focused on now is not just graduating more students, but making sure they have the skills to be successful," Arden said. "We've always helped students to get that first job, but we want to make sure they have high-impact skills that employers are looking for — which are also the same skills that are going to be required to have successful careers."
These high-impact skills cover communication, teamwork, entrepreneurship, innovation as well as an appreciation for diversity, culture and global issues. They're skills Joshua Privette, NC State's director of Leadership Annual Giving, learned as he worked toward his undergraduate and master's degrees from the university.
While studying political science and parks, recreation and tourism management, Privette participated in many co-curricular activities, including student government, Alternative Service Break and Pack the Polls, a DASA initiative dedicated to voter engagement and education. Those activities taught Privette skills in collaboration and leadership.
"Those things helped me set the tone for my career working in higher education," Privette said. "I got a great, substantive education in my home degree programs, but DASA was just as much a part of my success after graduation."
Bolstering Student Resources
In the 10 years since its creation, DASA has continued to assess students' current needs and prepare for the future by investing in programs, resources and people. During that time, NC State's physical campus has transformed to reflect a renewed focus on student support.
"Our job is to make life on campus as good as it can be so our students can be as successful as they can be in their educational pursuits," said Mike Mullen, who joined NC State in 2012 and led the division for seven years as vice chancellor and dean. During his tenure at DASA, Mullen collaborated with groups across campus to realize the university's vision — which included all-new facilities to support the work behind the scenes.
---
Over the last decade, the Division of Academic and Student Affairs had a hand in building hubs for student success all across our campus. See some of the places its departments helped cultivate.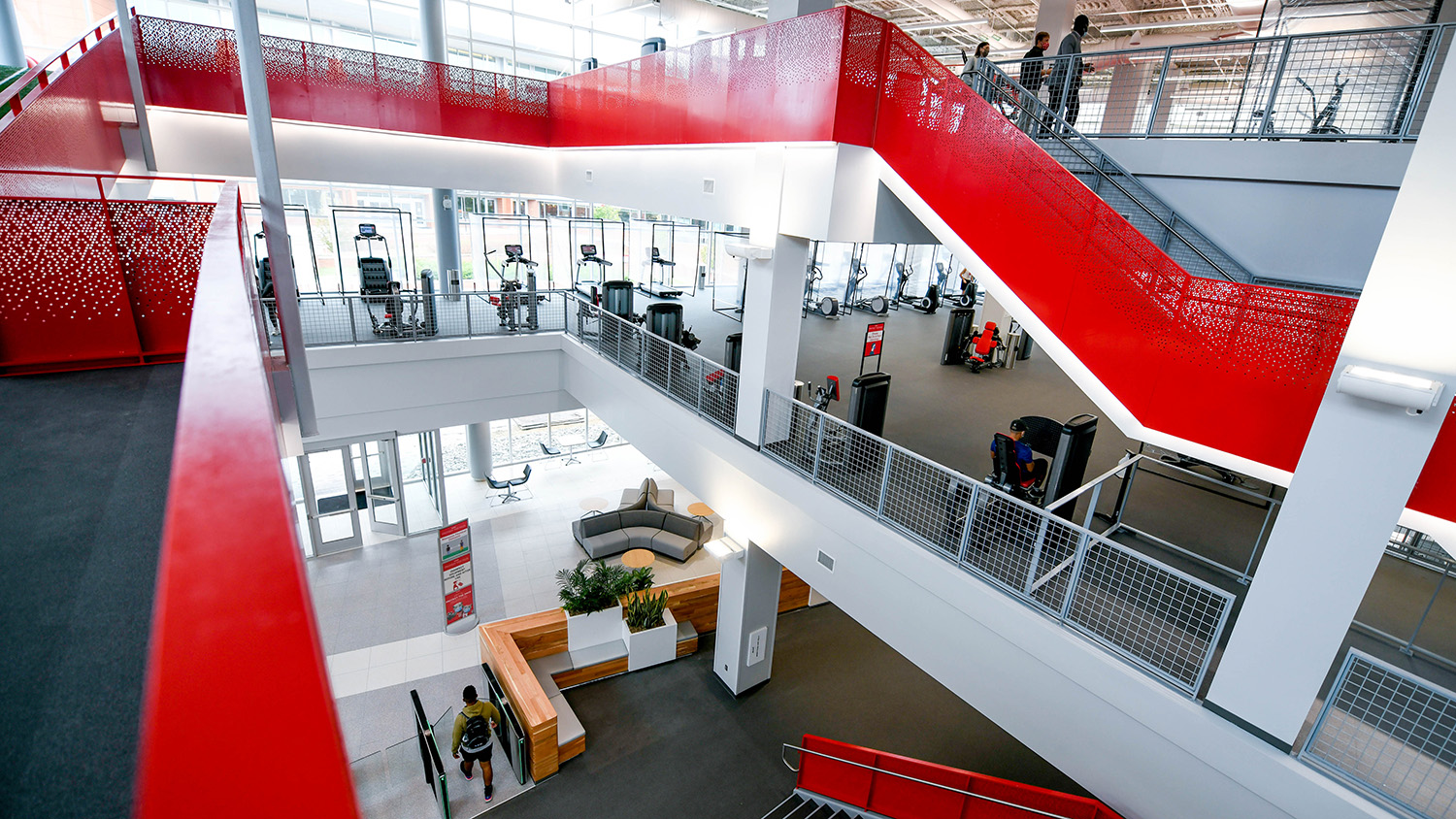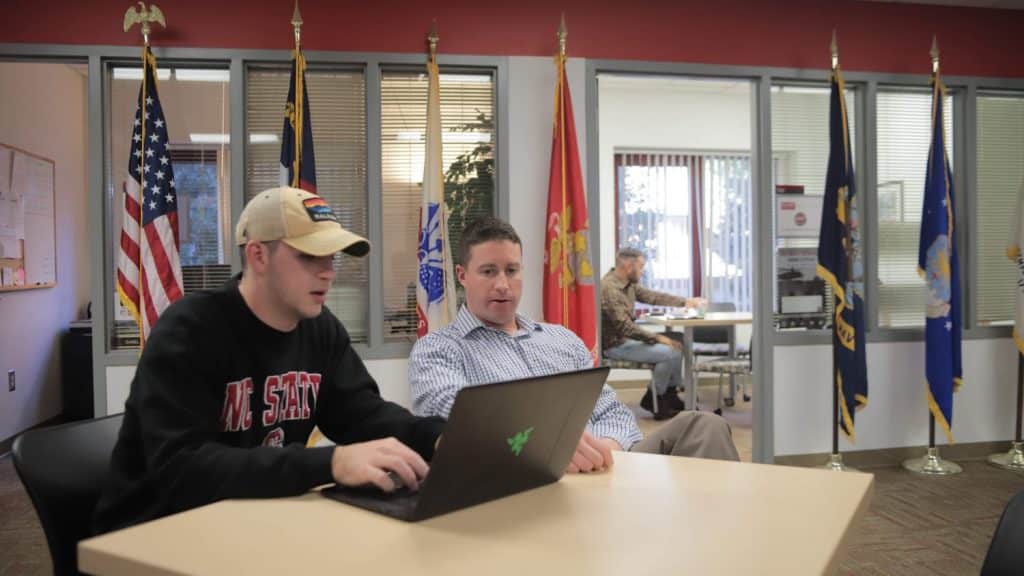 ---
No building on campus better demonstrates that vision than Talley Student Union. Since its renovation was completed in 2015, it's been home to a wealth of student-facing units and services, including Arts NC State, Leadership and Civic Engagement, Student Government and three of NC State's campus community centers: the GLBT Center, Multicultural Student Affairs and the Women's Center.
Across the street, you'll find the newly expanded Wellness and Recreation Center and Carmichael Gym, which emphasizes six elements of wellness: purpose, financial, physical, emotional, social and community. An expansion finished in 2020 brought together indoor and outdoor training areas, a fully-functional teaching kitchen and a multipurpose space for yoga and other group fitness classes.
Nearby are Campus Health and the Counseling Center, housed in the same building for ease of access. These centers offer physical and mental health services, including primary care appointments, physical therapy, nutrition services, individual or group counseling and referrals for on-campus and community resources. Students can also pick up prescriptions at the in-house pharmacy.
On bustling Hillsborough Street, the D.H. Hill Jr. Library houses the Academic Success Center, which has brought tutoring, academic advising and career counseling under the same roof. The center is a collaboration between DASA and NC State University Libraries, and it's designed to be an easily navigable hub for academic aid.
DASA is the greatest resource our students have on campus.
"DASA is the greatest resource our students have on campus," Privette said. "It's the central stop for students when they need assistance, whether it be with their classes, their living experience or their health. That brain trust is in DASA."
Lifting Up Students in Need
Many of DASA's tools are designed to help students handle times of adversity. The Pack Essentials initiative is a collection of services across campus and in the community that provides students with basic necessities so they can focus on their studies and co-curriculars.
Several campus resources work to combat food insecurity. PACK Meal Scholarships help students pay for semester meal plans, and PACK Meal Share allows students to donate meals from their plans to other students in need. Feed the Pack is a student-led food pantry open to anyone in the campus community.
The Career Development Center operates the Wolfpack Styled Professional Clothing Closet, which gives students attire for interviews, career fairs, conferences or the start of a new job.
The Student Emergency Fund aims to prevent or mitigate disruptions to students' academic careers by helping them through financial crises. Grants can be used for expenses like housing, food, health care and other urgent needs.
Resources like these were vital when the COVID-19 pandemic began. Almost immediately, students faced uncertainty about their classes, housing and jobs. Having that infrastructure in place before the pandemic began helped the campus community keep students on track to graduation and be more responsive to their needs during a chaotic time.
"All of that made such a huge difference in our ability to retain students during the pandemic and, also, just to be good humans on campus," Privette said. "It was more than transactional. We care about students and want them to stay in school."
The Pack Essentials initiative has been a significant part of ensuring NC State proactively meets students' evolving needs.
"One student experiencing food or housing insecurity is too many," said Mike Giancola, assistant vice provost and student ombudsperson. "Thousands is unacceptable, and so we are working across campus and in collaboration with local and state resources to remove the barriers to our students completing their degrees. We are fortunate to have so many of our alumni, faculty, staff and friends of the university who provide generous support for our students and help us put action behind our words when we tell students the Wolfpack community cares about them and wants them to thrive."
A Bright Future Ahead
As DASA celebrates its first 10 years, its leadership is already looking to the future. The top goal of the university's new strategic plan, "Wolfpack 2030: Powering the Extraordinary," is to empower students for a lifetime of success and impact. To that end, Doneka Scott, the division's vice chancellor and dean, has identified three near-term strategic priorities: launching a new DASA strategic plan aligned with the university's plan that includes voices from students, staff, and faculty; anticipating and meeting students' needs and expectations for an NC State experience post-pandemic; and systematically addressing institutional barriers to student success and wellbeing.
As one of the initiatives to address institutional barriers, DASA also plans to detail points of intersection among the division's units to further simplify the student experience.
"This journey mapping process will help tell a visual story of students' interactions with DASA," Scott said. "It'll allow us to see our processes from the student perspective, identify barriers to needed support, and promote cross-unit collaborations."
The holistic, university-wide focus on students' wellbeing will remain constant. More than data sets and degrees, DASA cares about helping every student accomplish their academic and personal goals.
"As we look toward the next decade, DASA and other campus partners will be critically important in making sure that our rapidly expanding student body remains successful in terms of measurable outcomes and learning the skills they need for long-term successful careers," Arden said.
---