Academics
Nurturing Research Know-How, One Student at a Time
The Office of Undergraduate Research gives students a one-stop shop to ask questions, acquire mentorship and access hands-on research experiences — in whichever directions their interests lead.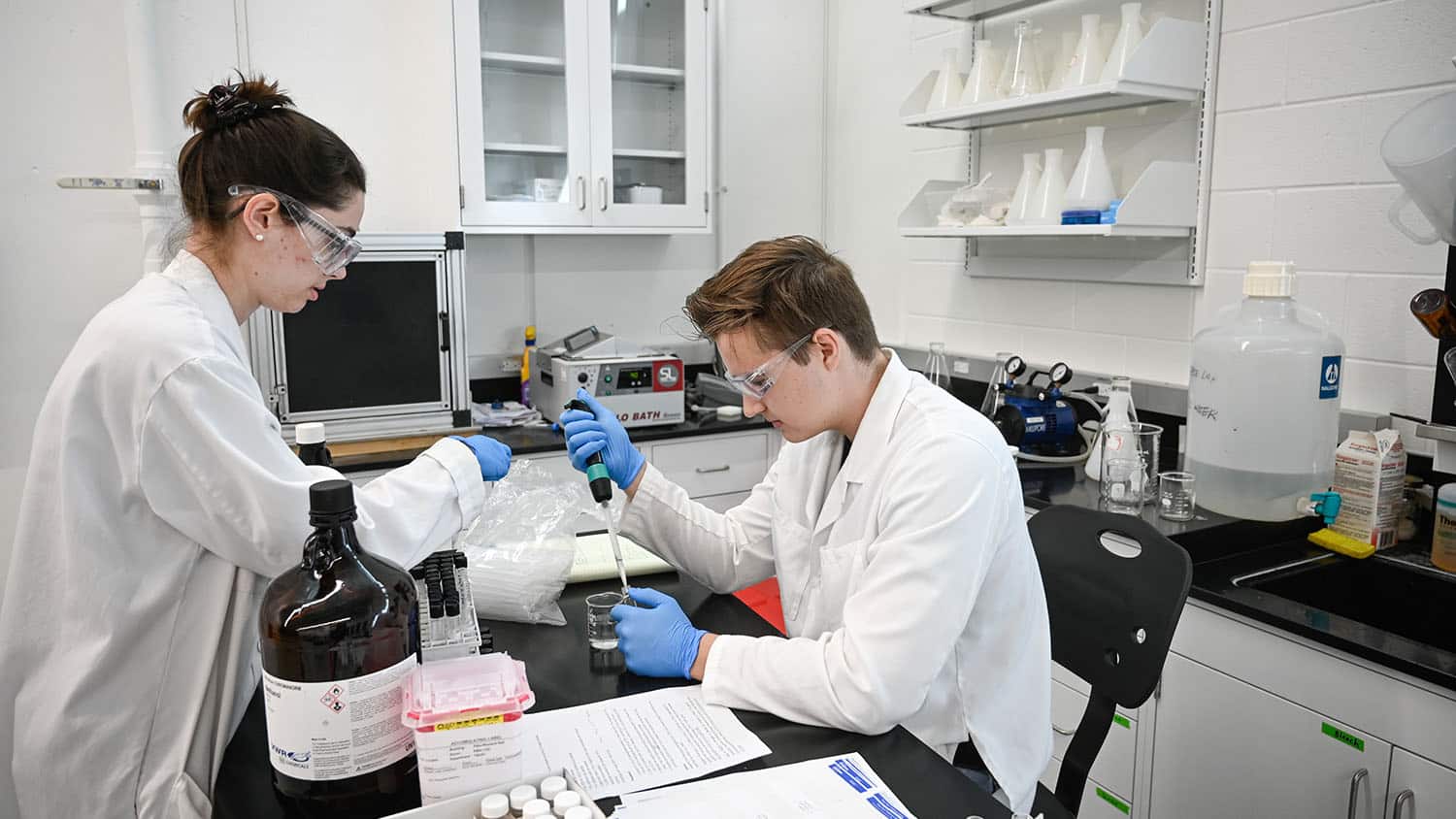 Are you an undergraduate dreaming of making your mark in the world of research, but don't know where to start? NC State's Office of Undergraduate Research (OUR) in the Division of Academic and Student Affairs offers a welcoming gateway for any student to launch a journey of growth and discovery through scholarly investigation.
"We connect undergraduates with mentors and opportunities and give them the scaffolding to support their entire research experience," said OUR Associate Director Catherine Showalter. "Our mission is to make sure that any student who wants to take part in mentored research can take part, regardless of their discipline or lived experiences."
Located on the second floor of D.H. Hill Jr. Library in suite 2425 — just up the stairwell from the library's Ask Us desk and left past the Innovation Studio — OUR headquarters are housed a convenient walk or ride away from most spots around campus. Who should connect with the OUR? Any student or faculty member wishing to engage in — or support — the experience of undergraduate research at NC State.
Opportunity Through Connection
Showalter currently leads a full-time staff of two at the OUR, supplemented by a squad of part-time undergraduate employees, the OUR Ambassadors. These students come equipped with their own experiences as researchers — several current ambassadors have published or are in the process of publishing their work — and they each keep regular office hours at OUR headquarters to help counsel their peers who aspire toward research.
"Sometimes it's hard to know where to start as an undergraduate," said Brianna Diaz (Animal Science '23), an experienced student researcher of animal health who serves as an OUR Ambassador. "I was talking to one student who thought they needed an elaborate proposal just to come into the office. But at the OUR, we can help students at any point in the research process, even if they don't yet know what direction they want to take."
For students seeking funding to bolster their research, OUR staff stand ready to help connect them with promising opportunities and navigate the application process. These opportunities range from paid research assistant positions sponsored by the Federal Work-Study Program to individual OUR Research Awards allotted to help cover the costs of specific projects.
"A conversation goes such a long way," said Jaz Bryant (Political Science and Science, Technology and Society '23), who linked up with the OUR to facilitate her research into voters' perceptions of electoral integrity. "I wanted to expand upon a project I'd started in one of my classes, and I was planning to do the research anyway. But my professor let me know about a grant opportunity, and by connecting with the OUR, I was able to apply for and receive that grant."
The OUR's membership in the Council on Undergraduate Research (CUR) supplies students and faculty with additional benefits, including access to CUR funding resources, webinars and annotated bibliographies. And thanks to the OUR's deep — and growing — network of collaborators across NC State's faculty, the office provides the perfect incubator for fostering mentor-student connections that complement each partners' skill sets and focus areas.
Growth Through Experience
Once a student connects with the OUR, their field of study and personal interests fuel a conversation with OUR staff that opens up potential paths to mentorship and research. Those paths can lead students in many directions.
"Students often come in and have a specific sense of what research means: in a lab, with goggles and a pipette," said Showalter. "And that's certainly one way it might look. But the OUR is also here to support humanities students who are digging through historical artifacts or social work students who are interacting with people in their communities. Anything and everything that moves a field forward — we're here to support it."
Galen Wilcox (Aerospace Engineering and Mathematics '23) reached out to the OUR for help facilitating his research into fluid mechanics, which led to an opportunity to verify through experimentation a set of results he predicted through mathematical analysis.
Supported by faculty mentors Ryan Murray, assistant professor in the College of Sciences, and Mark Pankow, associate professor in the College of Engineering, Wilcox's project called for him to inject fluorescent dye into a liquid-filled cylinder composed of two concentric layers: an inner and outer ring. He then spun these rings at differing speeds to disperse the dye and simulate the natural instabilities between fluid layers in rotating systems — like hurricane eyewalls — illustrating his math in real-time. This experimentation, nurtured through the OUR, not only gave Wilcox valuable hands-on experience in the lab; it empowered his growth in unexpected ways.
"The creativity of the research process really speaks to me, and I'm grateful for the opportunity to explore it through this project," said Wilcox. "This particular experiment, for example, has made me a surprisingly good candidate to study planetary science, even though I'm coming from an aerospace engineering and math background."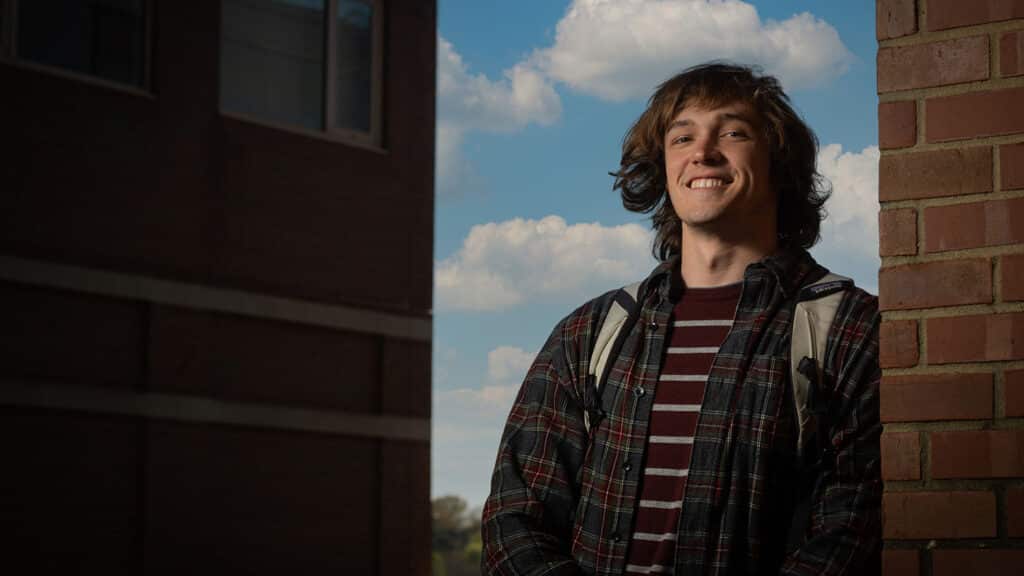 Ishita Pai Raikar (Computer Engineering '25) — who was originally drawn to NC State by the university's focus on what she called "the power of interdisciplines" — harnessed the OUR's support to develop a research project that united her major in computer engineering with her double minors in philosophy and cognitive science.
After reaching out to the OUR early in her freshman year, Pai Raikar was connected with Veljko Dubljevic, associate professor in the College of Humanities and Social Sciences. Under Dubljevic's guidance, she became the lead researcher on a project analyzing ethical and social influences rooted in media portrayals of autonomous vehicle technology. By cataloging a large body of news stories from the last several decades, Pai Raikar produced research — now under peer review — that suggests media narratives surrounding autonomous vehicles have morphed over the years, shifting from largely optimistic to decidedly pessimistic. She credits her experience developing these results with transforming her approach to problem-solving, even beyond the world of research.
"When you do research, you start thinking like a researcher in every aspect of your life," said Pai Raikar. "Because my research was interdisciplinary, I'm now always looking for opportunities to connect the dots. I'm always asking questions like, 'How can I leverage an existing technology for a new application?' Research helps you think more analytically about everything."
Confidence Through Communication
For many students, the chance to communicate their research serves to crystallize the knowledge they've gained while illustrating the enduring value of their experiences. The OUR hosts several events throughout the year to give students opportunities to showcase and fine-tune their growing expertise, including its flagship event, the NC State Undergraduate Research and Creativity Symposium, held twice a year in the spring and summer.
"The symposium is really a great way for students to practice sharing their research with others and have more of a low-stakes presentation or conference experience before they move on to a disciplinary conference, where they might have eyes on them for a graduate school or a different type of program," said Showalter.
Diaz — the animal science major who also works as an OUR ambassador — conducted her OUR-assisted research with the College of Veterinary Medicine. For her project, she helped to immunize chicken embryos against infectious bursal disease, a deadly immunosuppressive virus that spreads easily among young chickens. Diaz then analyzed these birds' development compared to chickens who had not been immunized, with her research suggesting clear health benefits for those birds vaccinated while still in the egg.
"At the symposium I participated in last spring, I learned how to communicate my research in a way where, hopefully, even people who are not in my field are able to take something from it," said Diaz. "Through those kinds of experiences, I feel like I've seen a possible career path open up in informal education — combining my expertise with animals and the communication skills I'm developing, possibly in a museum setting."
$134,000+
awarded to students in 2021-2022 for research and creative activities through OUR Research Awards and the Federal Work-Study Program.
40+ Student Researchers
presented at the 2022 State of North Carolina Undergraduate Research and Creativity Symposium.
3 Student Researchers
selected to present at the 2022 National Conference on Undergraduate Research.
The OUR can also help students apply for and prepare to present their work at larger conferences, like the State of North Carolina Undergraduate Research and Creativity Symposium (SNCURCS) and the National Conference on Undergraduate Research.
Bryant — the senior who connected with the OUR to facilitate her research into voter sentiments around election integrity — was among more than 40 NC State students who presented at the SNCURCS in the fall of 2022. Her project, "Sore Losers: The Winner's Effect in the 21st Century," looked at polling data from major national elections and showed that voters whose favored candidates lost their contests were more likely to believe that voting irregularities had occurred.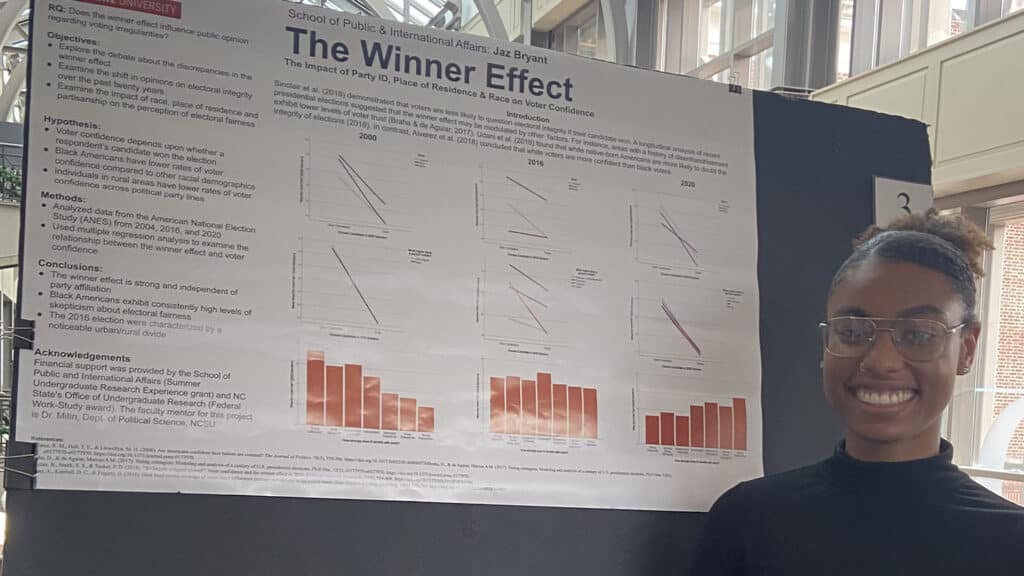 More than simply offering electoral insights, Bryant's research — and that of the other students supported by the OUR — reflects what NC State's drive to Think and Do is all about: sparking innovation and creativity in growing minds, and empowering them to contribute those gifts to their communities.
"The highlight for me was that someone from the election board actually came and asked me questions about my project," said Bryant. "It was nerve-wracking because I'd been studying the topic for six months, and it was her whole career. But it was also great because it showed me that my research was not just interesting to me — it had value to people out there in the world."