Faculty and Staff
Into the (Prescribed) Fire
The 2023 Women-In-Fire Prescribed Fire Training Exchange, a 12-day training course designed for women in fire management, offered the opportunity to participate in planned live-fire training at public lands in Eastern North Carolina. It was organized and facilitated by a committee that included NC State Extension associate Jennifer Fawcett.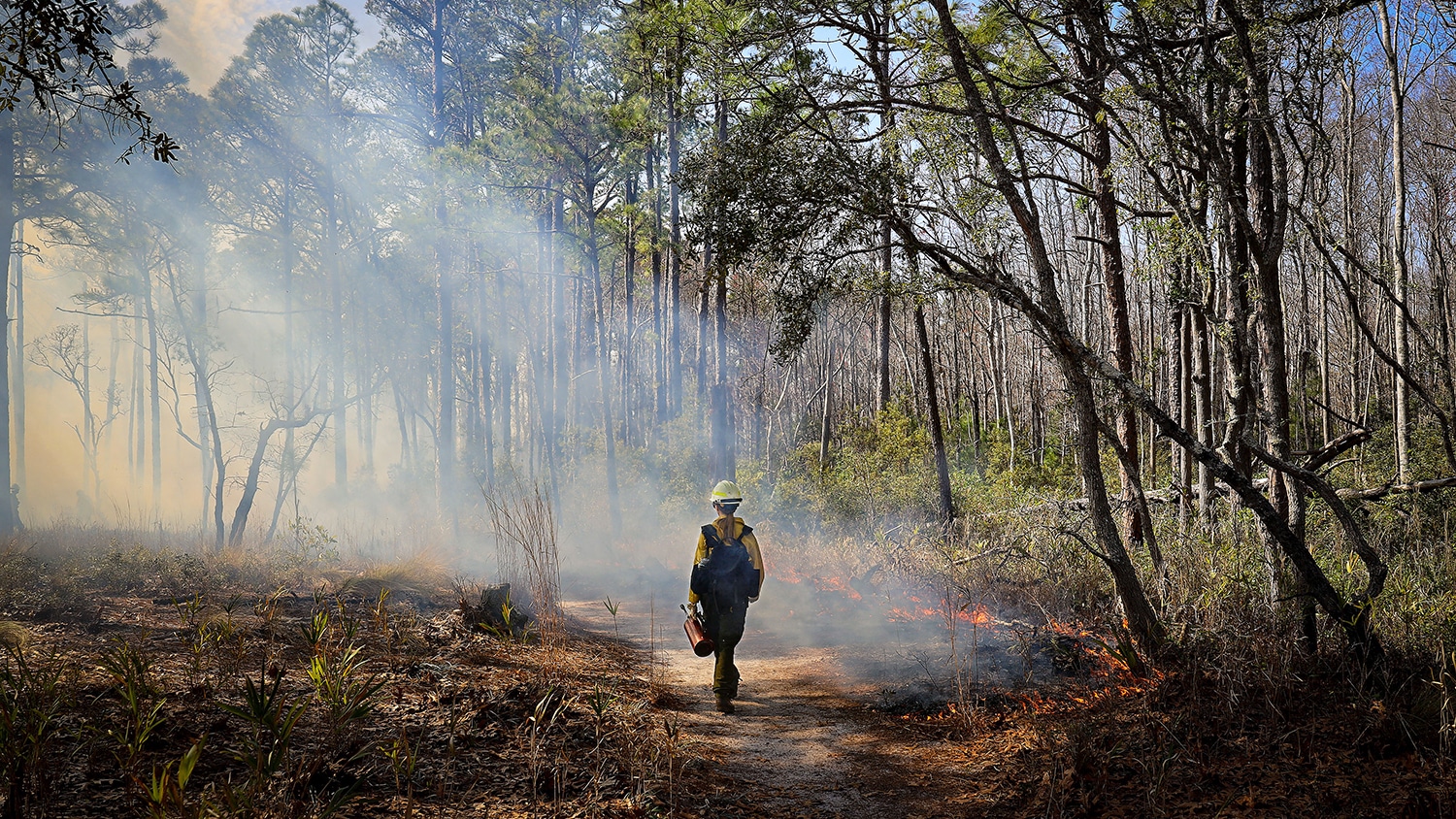 Emilie Rossignol clearly remembers the day eight years ago when a customer pushed his iPad across the counter in her office in Nova Scotia, Canada, to show her a video of a group of women in fire management learning how to conduct a prescribed wildland fire.
In the video there were dozens of women from many points around the globe and from all across the United States, sharing experiences and ideas at a learn-and-burn training with a group consisting mostly of other women.
Sometimes they talked about the obstacles they faced working in a field with a 90% male workforce and 93% male leadership.
Sometimes they discussed the unexpected support they had received from more accepting male colleagues.
Sometimes they shared about the different national and state policies in place for prescribed fires. Some places in Canada don't allow them at all, and Australia has different policies in different states. The 50 U.S. states have vastly different rules for how to handle prescribed and natural fires.
And sometimes they just puzzled over the language differences they might face in an emergency situation. What the heck is a "mozzie" or a "phrag"?
"He just wanted to show me that there was a space for women in fire and a place where a group of women met in a place I could go to learn in a more open environment," says Rossignol, who works professionally in a provincial management office and volunteers in structural fire management. "He wanted me to see there were more women like me interested in this field."
So Rossignol filled out her application for the 2023 Women-in-Fire Prescribed Fire Training Exchange (WTREX), a 12-day wildland fire operations training course that combines practical live-fire training with indoor learning and discussions.
This year's WTREX, held in eastern North Carolina from Feb. 20 to March 3, was planned and coordinated by NC State forestry extension associate Jennifer Fawcett. Fawcett, part of a 20-member incident management team, is a doctoral candidate in agriculture and extension education, an associate in forest and environmental resources, and a veteran participant and leader in prescribed fire events.
WTREX welcomed 40 female, male and gender nonbinary participants and the incident management team to the course's base of operations at Singletary Lake State Park in Kelly, North Carolina, to assist with burns already scheduled by various agencies and organizations. The training included six burns during the 12-day event, with a total of 1,419 acres burned at eight different locations in the eastern part of the state. The burns used carefully developed prescribed fire plans, monitored by certified burn bosses and closely observed by fire effects monitor Jessica Ilse of Puerto Rico.
One of the registered male participants was Fawcett's College of Natural Resources colleague Elliot Nauert, a Ph.D. candidate in human factors and applied cognition who is studying firefighter decision-making, training and expertise. Nauert is also an extension associate in prescribed fire and fire science.
The burns were conducted in collaboration with state agencies including North Carolina State Parks, the North Carolina Department of Agriculture and the North Carolina Forest Service, as well as the private nonprofit Nature Conservancy, following plans those organizations submitted in advance. In addition to Bladen County's Singletary Lake and New Hanover County's Carolina Beach state parks, other places that hosted the prescribed burns for the WTREX event were Sampson County's Pondberry Bay Nature Preserve, Onslow County's Hammocks Beach State Park, Bladen County's Turnbull Creek Educational State Forest, Cumberland County's Carver's Creek State Park and Nature Conservancy preserves at Hoke County's Calloway Forest and Onslow's Shaken Creek.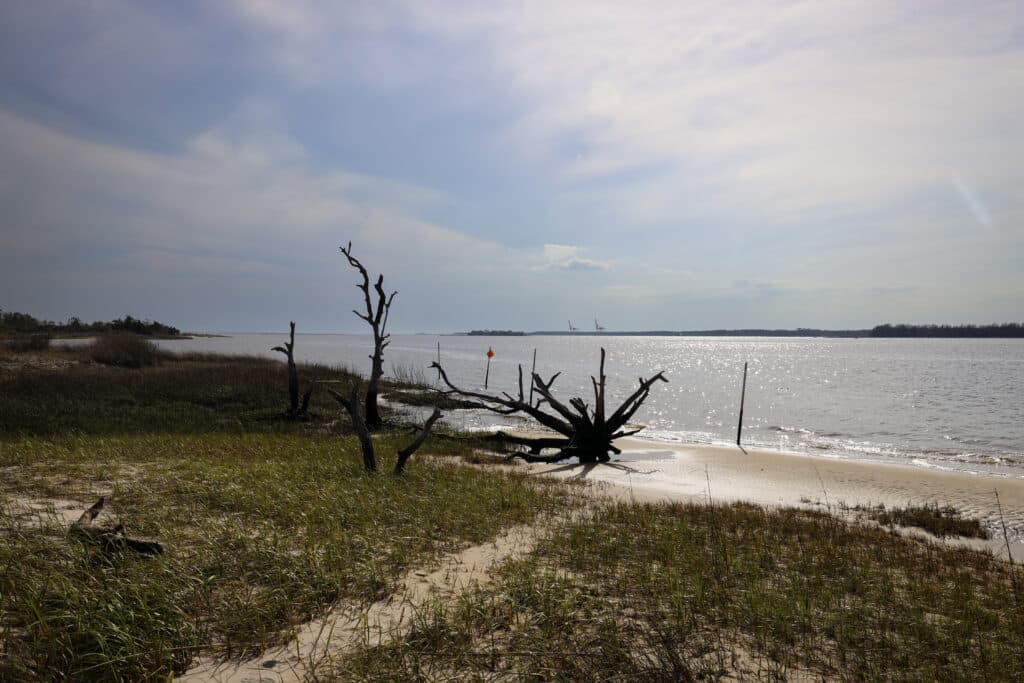 Preserving wildlands in the eastern part of the state is particularly important for native plant species, such as the once-plentiful longleaf pine and the unique Venus flytrap, North Carolina's state tree and state carnivorous plant, respectively. Wildland preservation is also important to saving the habitat of federally endangered species like the red-cockaded woodpecker, which lives in pine forests throughout the Southeast.
Fawcett, a graduate of the University of Delaware who found her calling in fire management as a graduate student at Clemson, remembers when the idea for a women-in-fire training was first discussed: at a training exchange session in the North Carolina Sandhills near Aberdeen in 2015.
"There were several women there, including myself, for fire training," Fawcett says. "We were kind of sitting around chatting about how awesome it was to have some other females at the event and how cool it would be if we had a similar event just for women."
So they turned an event scheduled in California in 2016 into a pilot project designed primarily for women, and they've held a WTREX training at various locations around the country every year since, except for COVID-canceled 2020. Two international WTREX training events are scheduled for later this year, one in Canada and another in South Africa.
Through her work with the College of Natural Resources, Fawcett has been recognized multiple times by forestry extension and the university for her leadership in fire-based extension programs.
"Originally, it was a pilot project, but we realized how important and how necessary it was," Fawcett says. "We decided to try it again the following year, and we've made it an annual event.
"It's all about learning together."
For Rossignol and the other 30 participants in the training, it was an opportunity to commiserate, to learn and to collaborate.
"Everybody told me that I couldn't or shouldn't pursue this field because I didn't fit the height requirement and I didn't really fit what they were looking for," she says. "Then I learned about WTREX."
Rossignol particularly wanted to see how a prescribed burn is done on U.S. soil.
"I thought it would be interesting to learn in a space that does this sort of thing all the time, so that if one day we decide to change our policies, I will have done it before," says Rossignol, who spends time during the summer as a leader at Camp Courage in Halifax, Nova Scotia, teaching girls aged 13 to 18 best practices for breaking into male-dominated first-responder fields. "This is a great learning experience.
"Nobody is going to criticize you for not knowing what to do."
Self-doubt or uncertainty is often one of the biggest barriers for women looking to get into fire management.
"A lot of times where I work in my volunteer and my day job I am the only woman on the fire," says Rossignol. "I kind of feel like I can't fail, because when you are the only woman at an event you end up representing all women.
"I don't want to drag down the reputation of other women who have come before me."
The WTREX participants did much of their classwork together, but three different modules of a dozen or so participants, leaders and burn bosses peeled off separately to set fire to invasive plant species and overgrown areas on more than 1,000 acres. The fires are set against the wind using metal torches with a mixture of fast-burning gasoline and slow-burning diesel oil. All participants wear personal protective equipment, including helmets, fire-resistant pants and shirts, and sturdy boots.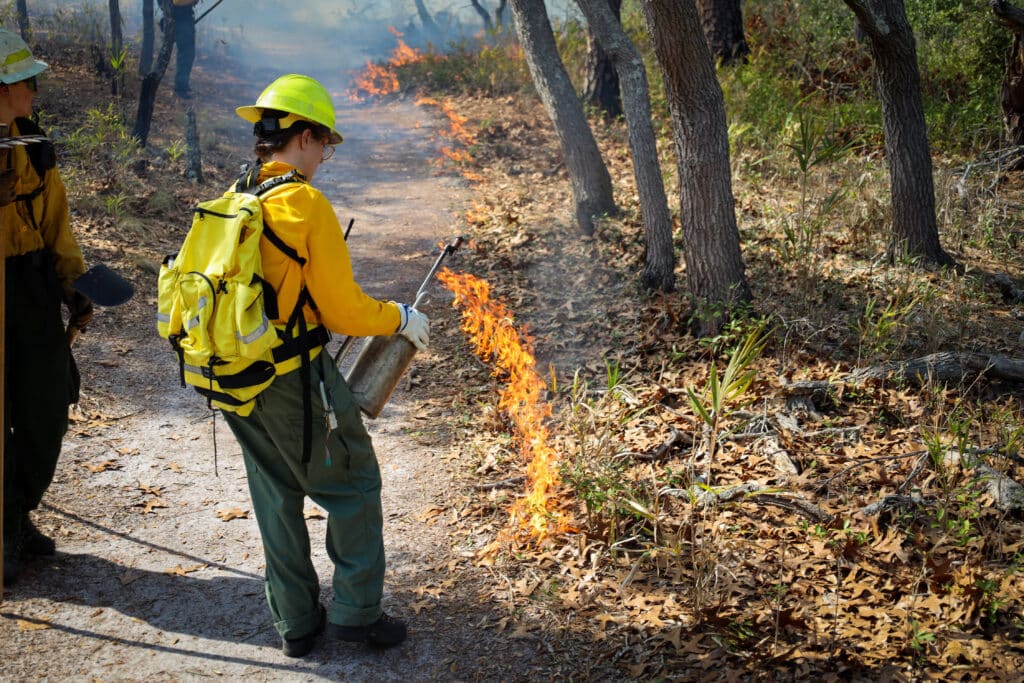 This year's event was the second for Martine Parker of Brisbane, Australia, who has worked in fire management for 23 years.
"I haven't been fortunate enough to work with many women over my career," Parker says. "A lot of women fall out of the industry because of the vulnerability of being a minority in this industry. Even though we have different terminology, different vegetation, different landscapes, the management strategies for those issues most of us face are the same.
"What is empowering at this training is to hear what other people are going through. It kind of gives you that oomph you need to keep going and going. It's not just poor little me on my own dealing with others."
Parker returned to the U.S. for another WTREX session less for the classroom work than for the camaraderie.
"I wanted to be more involved in the networking, the leadership and the training component of WTREX," she says. "I still reach out to the people I met [in 2019 in Tallahassee, Florida]. I continue to pick up good information and training on fire behavior that I believe I can apply back home."
What About the Animals?
Prescribed fires, like any burn event, can be dangerous without the proper tools, safety equipment and training — and not just for humans. However, each of WTREX's prescribed fires was planned with native animals in mind.
"Where we are burning is a fire-adapted ecosystem, meaning that historically fire would come through here every few years," says NC State doctoral candidate Jennifer Fawcett, who began her academic career pursing veterinary medicine. "For many years, there was an era of fire suppression, which was detrimental to the ecosystem.
"Through prescribed fires, we are able to get rid of the invasive species of plants. We are careful to manage the wildlife by burning portions at a time. Because the animals here are biologically fire-adapted, they know to run away, fly away or burrow in a ground pocket.
"Overall, burning the underbrush here is good for the overall health of the native plant and animal population."