Students
Say Hello to Our 2023 Incoming Class
The newest members of our Wolfpack are here, and there are a lot of them! Get to know our largest-ever incoming class, and meet three new students who are ready to Think and Do.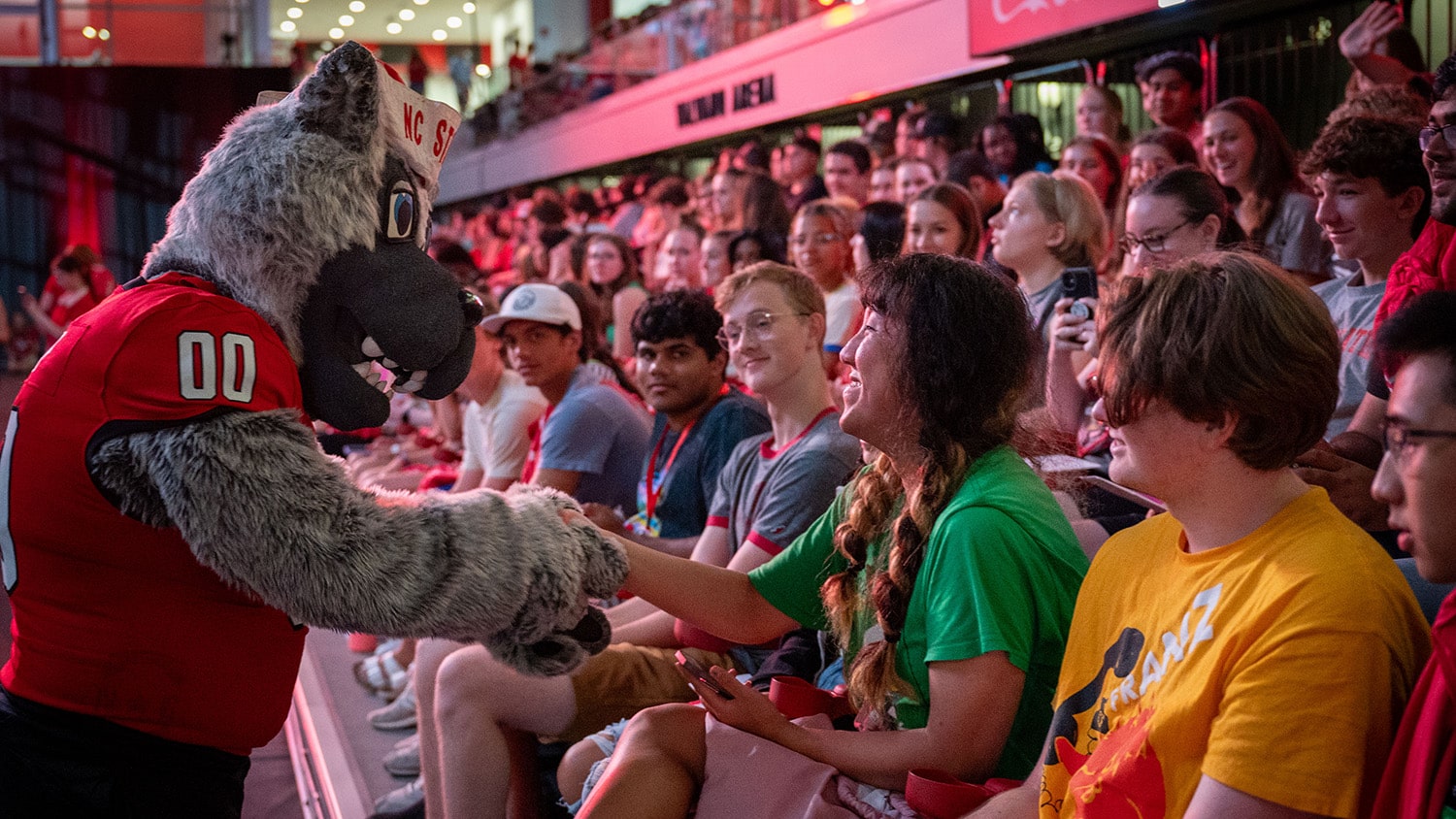 It's been one month since the newest members of our Wolfpack arrived on campus. One month of classes, clubs and classic NC State experiences. One month of finding their way around and finding their people.
They're getting to know NC State, and we — for the fourth year in a row — are getting to know our largest class in university history.
7,112
New Undergraduate Students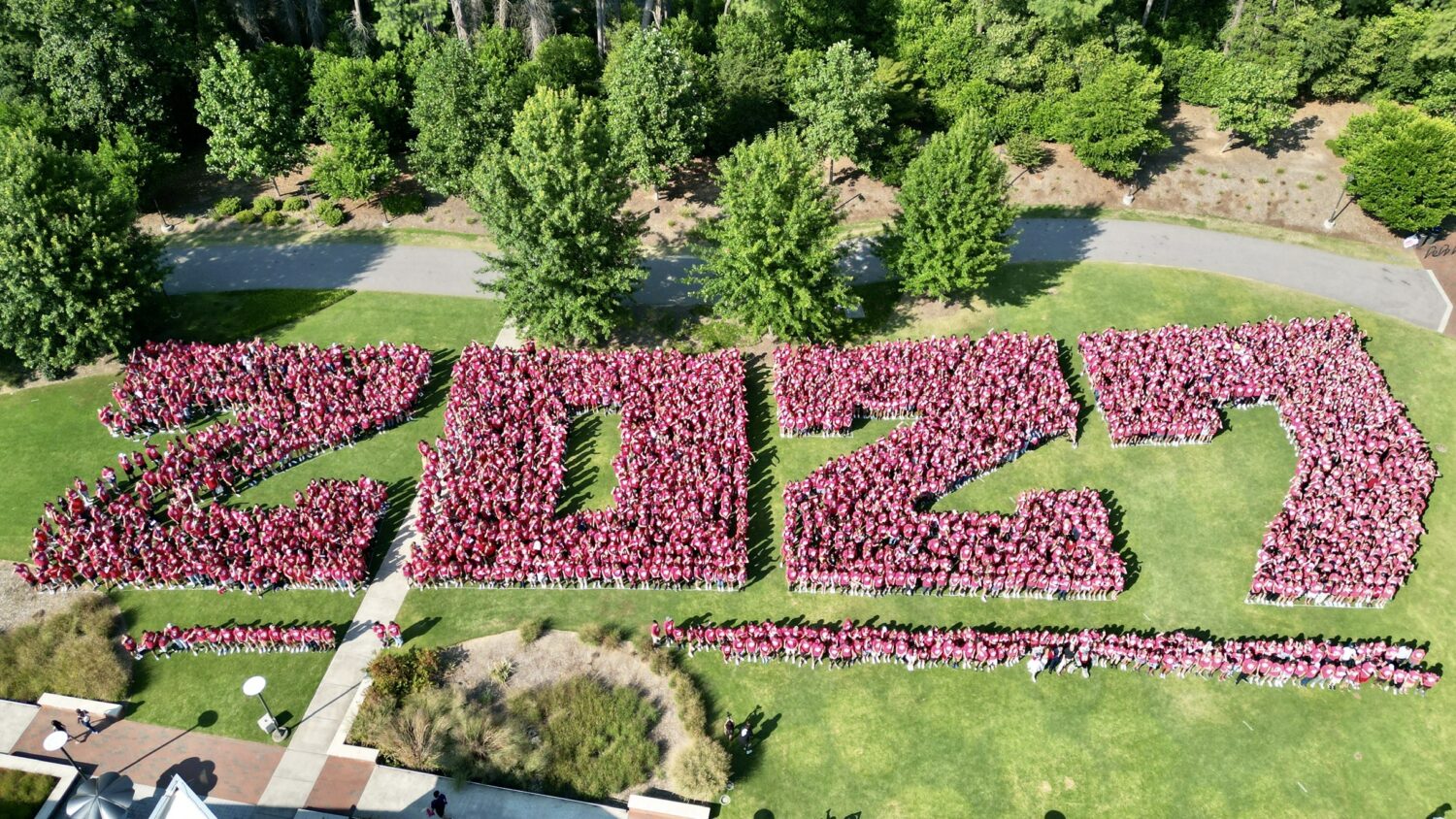 The students who joined our Wolfpack this fall come from 98 North Carolina counties, 47 states and territories, and 55 countries. They showed up ready to Think and Do, to bring their big ideas to life and to be part of a community that is shaping the future — together.
Three of them sat down with us to share their stories, the values and ambitions that brought them here, and the dreams they're ready to pursue. Meet the newest members of our Pack.
---
Valeria Carranza-Rueda: Her Camino to NC State
Growing up in Laurinburg, North Carolina, a town with roughly 15,000 people, Valeria Carranza-Rueda initially wanted to go to college out of state to expand her horizons. But her experience at CAMINOS, an NC State pre-college program that focuses on Hispanic/Latinx students, convinced her that the Wolfpack could help her grow personally and professionally.
"At CAMINOS, I got to meet a lot of faculty, staff and students who mentored me," said Carranza-Rueda. "That convinced me to come to State because it created a bigger sense of community that I didn't have in my small town."
When Carranza-Rueda was two years old, her family emigrated from Honduras. She said the prejudice toward immigrants she experienced in her town motivated her to create opportunities for herself and other Hispanic/Latinx students. Using what she'd learned at CAMINOS, Carranza-Rueda worked with a friend to organize El Primer Paso (The First Step). The event consisted of a presentation for college representatives at Richmond Community College — where they both attended an early college program — followed by a Spanish-speaking panel to help Hispanic/Latinx students and their families learn the ropes of applying for college and financial aid.
"Some of the students ended up applying to CAMINOS and other pre-college programs, so that was really nice to see," said Carranza-Rueda.
That convinced me to come to State because it created a bigger sense of community that I didn't have in my small town.
As a recipient of the Thomas Jefferson Scholarship — a competitive, dual-degree program of the College of Humanities and Social Sciences (CHASS) and the College of Agriculture and Life Sciences — she plans to major in philosophy and nutrition science at NC State. She hopes to use these degrees to shape a career in agricultural legislation.
"I've always been interested in law and doing my part to reform the justice system. I think having a background in philosophy will allow me to approach law and ethics with a more analytical perspective," said Carranza-Rueda, who is also an Impact Scholar in CHASS.
An opportunity serving as a page at the North Carolina House of Representatives earlier this year convinced her to focus on agricultural law. She got to sit in on an agricultural committee meeting, where she met a state representative that offered her a job shadowing opportunity.
"I've always been around agriculture and know the importance of it," said Carranza-Rueda. "My small town is a big agricultural community; my parents work in agriculture as well."
Like she did with El Primer Paso, she wants to use the knowledge she gains at NC State to build up her community back home.
---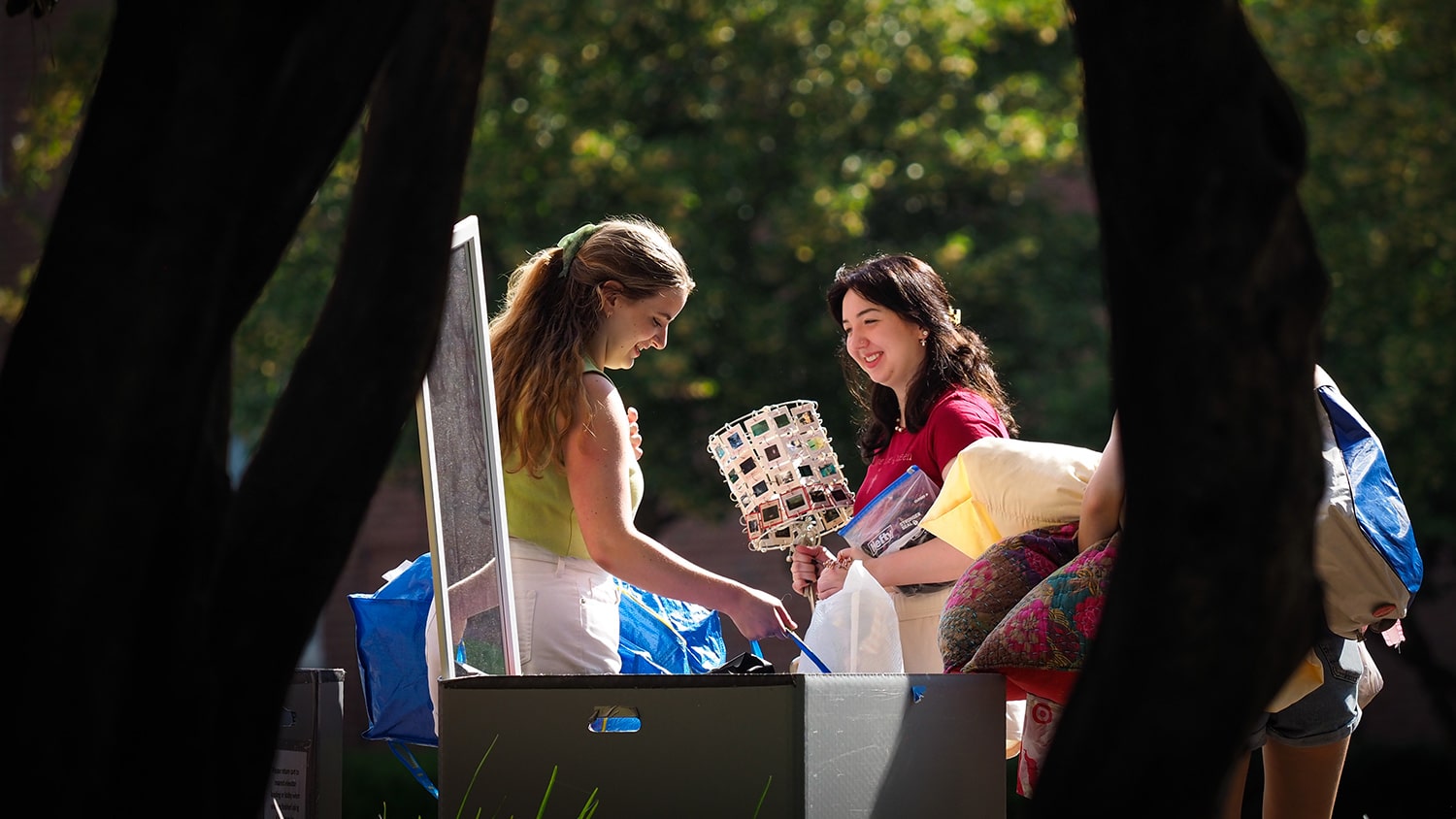 This year, NC State received a record-breaking 44,782 undergraduate applications. First-year applications increased 12% and transfer applications increased 6%. Our enrollment growth continues to defy national trends — students want to be part of our Wolfpack.
The growth in this year's incoming class is largely attributed to a 13.5% increase in the number of new transfer students enrolling at NC State this fall, but we also saw increases in first-year students and graduate students.
At the same time, getting into NC State continues to become more competitive. Our first-year student acceptance rate decreased from 47% in 2022 to 39.7% in 2023.
39.7%
First-year Student Acceptance Rate
44.7%
Transfer Student Acceptance Rate
4.279
Average Weighted GPA for New Students
---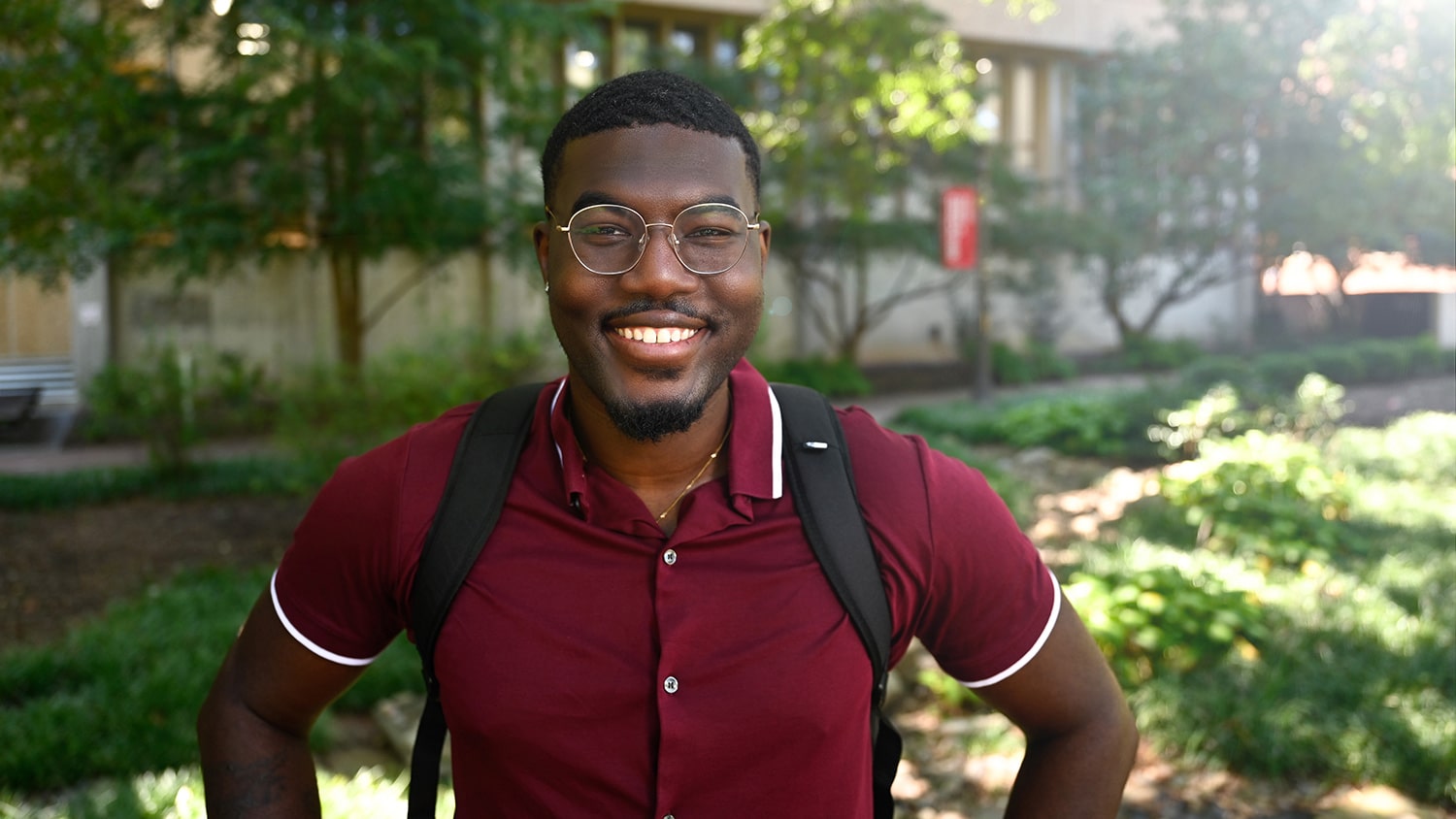 Alcedos Vanterpool: Studying, Supporting — and Achieving — Student Success
When Alcedos Vanterpool's funding fell through at the start of the pandemic, he called his mother and told her he might not go to graduate school after all.
"If you could have heard this woman on the phone," he said, laughing. "She was like, 'Absolutely not. You're going to get this degree. We're going to figure something out.'"
Growing up, Vanterpool's mother was always involved in his and his sisters' education — doing everything from coaching his football team to serving as president of the Parent Teacher Association. She was instrumental in pushing him to pursue higher education, and supporting him when things got tough.
"I'm pretty open about it — I struggled a lot in college, academically," he said. "Eventually, I was academically dismissed for a year. I was trying to figure out what I wanted to do with my life … And she was supportive throughout everything. Everything."
Vanterpool enrolled at Rutgers University to pursue his Master of Education in College Student Affairs, but his mother didn't get to see him graduate. Shortly before he completed his degree, she passed away from COVID-19.
College is hard, but as long as you really lean into your support system, I don't think there's anything that folks can't do.
Now, inspired by his own journey in higher education — and in tribute to his mother — Vanterpool is pursuing his Ph.D. in educational leadership, policy and human development, with a concentration in higher education opportunity, equity and justice. His research interests center around Black male student success, equity in access to education, and the role of government and policymaking in student success.
"One of the driving forces that I remember, growing up," said Vanterpool, who grew up in the Bronx attending New York City schools, "was when we were studying for a standardized test and a teacher told us, 'If you don't pass, they're building a jail cell for you.' That was my first introduction to the school-to-prison pipeline.
"It's almost full-circle: hearing about this program, all the wonderful things that I could potentially study and the people that I could study under — that's what made me decide, yes, NC State is where I'm going to go."
In addition to his coursework and research, Vanterpool is teaching a freshman seminar for first-year students of color, helping them get acclimated to NC State. In it, they focus on goal setting, understanding their values and finding agency over their college experience.
31%
First-year and Transfer Students of Color
15%
Domestic and International Graduate Students of Color
"College is hard, but as long as you really lean into your support system, I don't think there's anything that folks can't do," said Vanterpool. "It was important to me, when I was applying to programs, to see folks that look like me achieving these degrees — just knowing that it's possible. You'll hear that thing in the back of your head saying, 'You don't belong here,' or, 'Maybe you should go back to wherever it is that you came from,' or that you can't do the things that you want to do. And I'm just saying, silence that. Understand that you can do whatever you put your mind to.
"That's what my mom told me."
---
NC State offers more than 200 doctorate, master's and certificate programs. The new cohort of 2,767 graduate students includes 100 new Doctor of Veterinary Medicine students. With more than 120 online and distance education programs to choose from, 20.5% of new graduate students elected to pursue their degrees online.
15,126
Graduate Applications
26.7%
Graduate Acceptance Rate
---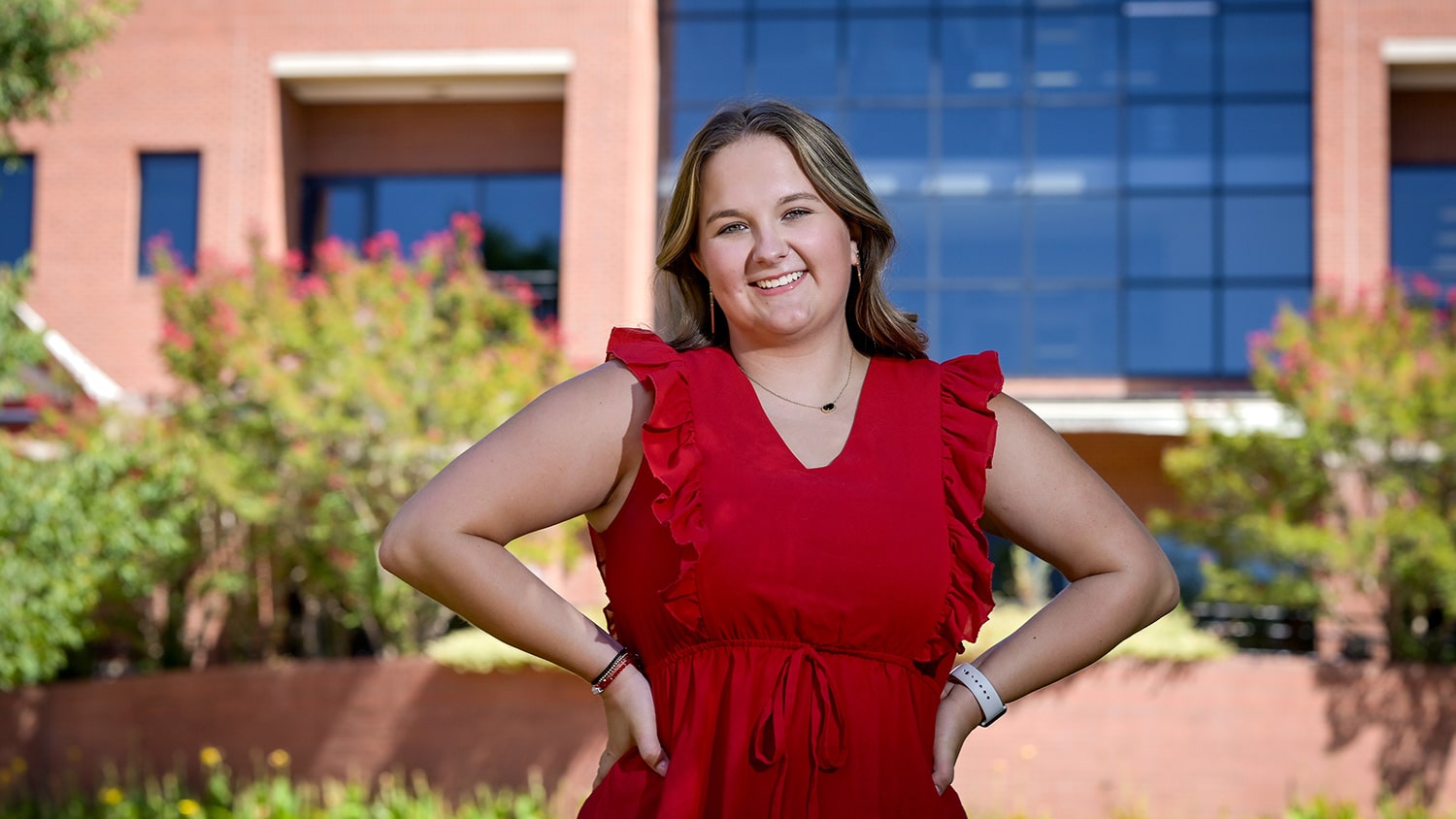 Bailey Walters: Wide Ambitions Lead to the Wolfpack
For third-generation Wolfpack student Bailey Walters, family connections sparked her interest in NC State, but her own hard work earned her a place in the Pack.
Raised in Farmville, North Carolina — an agricultural Pitt County community of fewer than 5,000 — Walters cherished her rural upbringing, even as she yearned for educational experiences she couldn't find in a small town. Pushing herself to excel in the classroom, she graduated as valedictorian of her high school class. But she aimed even higher. In her junior and senior years, Walters took part in an accelerated education program at Pitt County Community College, completing an associate's degree in art in May.
"I've always been an ambitious person," said Walters. "As my mom likes to say, 'I march to the beat of my own drum.'"
84%
of first-year students are North Carolina residents
29%
of North Carolina students come from rural counties
Along her march, Walters realized that her biggest ambition lay in pursuing a path that could lead her to a career as a pediatric physician's assistant (PA). She didn't know what form that path might take, however, until she attended a Pack Preview event in Greenville in 2022. There, she met Chloe Patterson '23, who would soon be leveraging her bachelor's in polymer and color chemistry (PCC) from the Wilson College of Textiles to forge her own path into the PA field.
Walters learned that the PCC degree is a specialized chemistry degree focused on polymers — the molecular building blocks of many common materials — with applications in a wide range of fields, from fashion to medicine. She realized it was the perfect degree to help her stand out to the competitive PA program she one day hopes to attend.
"I've already started seeing the value of what I'm learning in my classes and how it will apply to my future as a PA," said Walters.
For now, Walters plans to take full advantage of her Wolfpack experience. She aims to pursue a Master of Science in Textiles alongside her PCC degree, so she can graduate with both. An avid dancer and athlete, she looks to get involved in dance and — hopefully — club tennis. She's already applied to become a peer mentor with the Campus Health Center. And she even plans to add a second associate's degree — in science — by transferring a credit she'll earn at NC State.
As a Goodnight Scholar and a Textile Pioneer Scholar, Walters is thankful for the communities connected to both programs, which are helping her find balance amidst her busy schedule. She's just as excited for the chances she'll have to pay that support forward.
"NC State's whole philosophy is to Think and Do and give back to the community," said Walters. "I hope to use my education to give back to communities — like those in Pitt County — that helped me get to where I am."
---